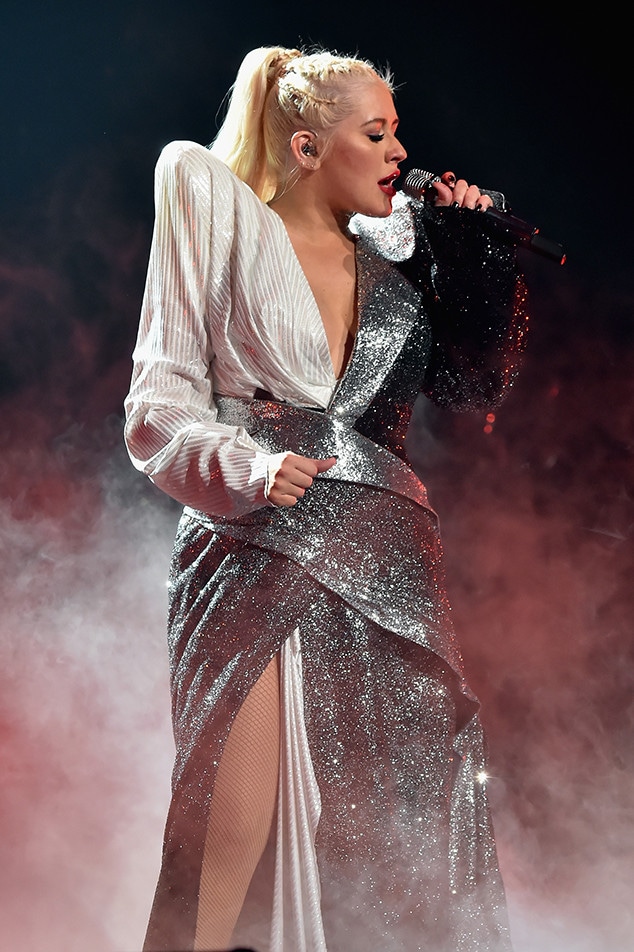 Kevin Mazur/Getty Images for Live Nation
Christina Aguilera had a very special guest join her on stage at her Tuesday night show in St. Louis, Mo.
While performing her hit "Beautiful" at the Peabody Opera House, the singer had her 4-year-old daughter, Summer Rain, sit beside her. Even though the five-time Grammy winner is used to performing in front of crowds, it looks like her little one had a bit of stage fright.
"Summer begs me to come out every night onstage!" the proud mama wrote alongside a video of their sweet mother-daughter moment. "And then gets shy...but loves it...she's taking it all in early..."
To make her daughter more at ease, Aguilera gently stroked her hair and held her close. She also invited the audience to sing along.
"Beautiful, Sum! You hear that?" Aguilera excitedly said as her youngest listened with protective headphones over her ears. "Aw, I love you guys."
At one point, Aguilera informed her little one the song was actually older than she was—two years, in fact.
"Summer, this was way before you were born," she said.  "Mommy was wearing Chucks." 
Watch the video to see the beautiful moment.
Summer isn't Aguilera's only child. The star also has a 10-year-old son named Max.
Balancing motherhood and her Liberation Tour isn't always easy.
"Tonight wasn't easy getting here," she said last month during her concert at Radio City Music Hall in New York, per People. "Summer was not happy about tonight's performance at all, but she finally went to bed. My 4-year-old is dying for me to be offstage so she can spend time with me and my oldest is like, 'Can I go home and play Fortnite now?' I'm like, 'Ugh… thanks.'" 
However, she'll soon be able to spend even more time with her kids. Her tour ends Nov. 13.