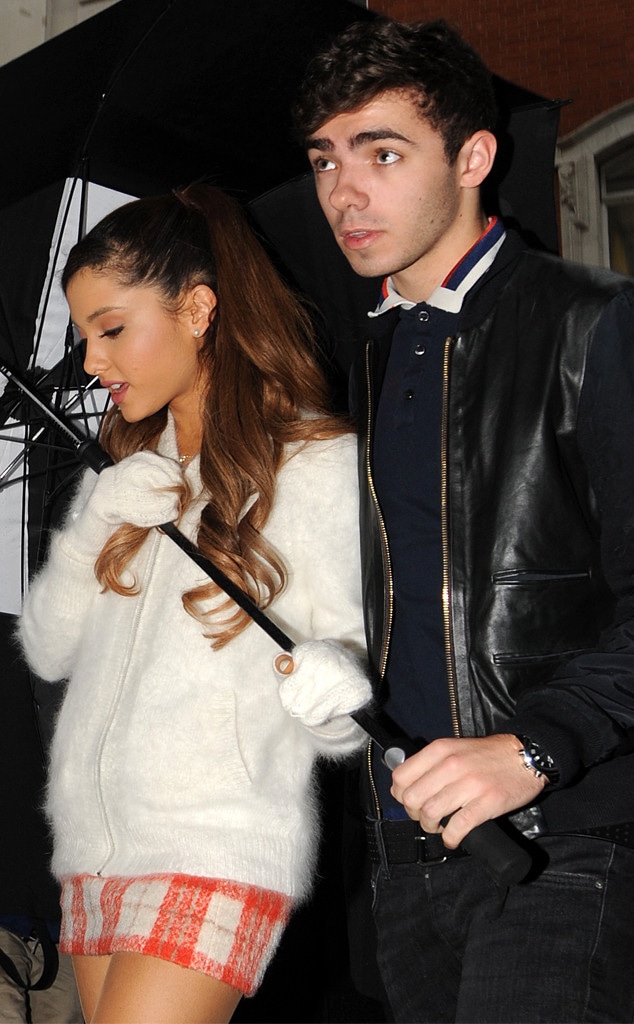 SAV/FilmMagic
Apparently, Nathan Sykes didn't make a lasting impression on Ariana Grande.
Over the weekend, Grande released a new song titled "thank u, next," in which she referenced four of her famous exes. While Ricky Alvarez, Pete Davidson, Big Sean and the late Mac Miller were name-dropped, Sykes was left out. "That's good!" he laughed, after TMZ stopped him at LAX Wednesday for an impromptu interview. Although he somehow hasn't heard the chart-topping song, Sykes said, "I heard it's very good, though. I hear it's fantastic, so that's amazing."
To be fair, Sykes probably wasn't at the top of Grande's mind.
In August 2013, Grande was about to release her debut album, Yours Truly, after making a name for herself on Nickelodeon. Meanwhile, The Wanted was trying to make it in the U.S. Sparks flew when Grande and Sykes teamed up for the song "Almost Is Never Enough," and seemingly overnight, they became one of Young Hollywood's most talked about new couples. Sadly, their romance came to an end after just four months—about as long as Grande's engagement to Davidson lasted—when the couple announced their breakup in December 2013.
Since their split five years ago, Grande hasn't spoken much about Sykes in interviews. Perhaps that explains why Sykes has no hard feelings about being left out of "thank u, next." When artists are "happy with the music they're releasing," the singer told TMZ, "I think that's great."
(The exes even teamed up post-split for the song "Over and Over Again" in 2016.)
Grande previously told a Twitter user said she played "thank u, next" for at least two of her exes before she shared it with the world. In the song, she sings, "One taught me love / One taught me patience / And one taught me pain / Now I'm so amazing / Say I've loved and I've lost / But that's not what I see / So look what I got / Look what you taught me / And for that I say / Thank u, next / Thank u, next / Thank u, next / I'm so f--king grateful for my ex." Asked what Grande learned from him, Sykes looked away from TMZ's camera and smiled. "That's not a question for me," he said with a major grin. "I don't tell anyone what they can learn from me."
Sykes was similarly at a loss for words when he was asked what he had learned from dating Grande. "Um...you know what? That is a question. I think it's a long time ago. You never, you never...well, I suppose you just grow as a person, don't you?" he rambled. "[I was] very young when that happened. It's been a long time. I've obviously grown up a lot. It's a long time ago." Asked whether he'd ever get back with Grande, he reiterated, "Like I said, it's a long time ago."