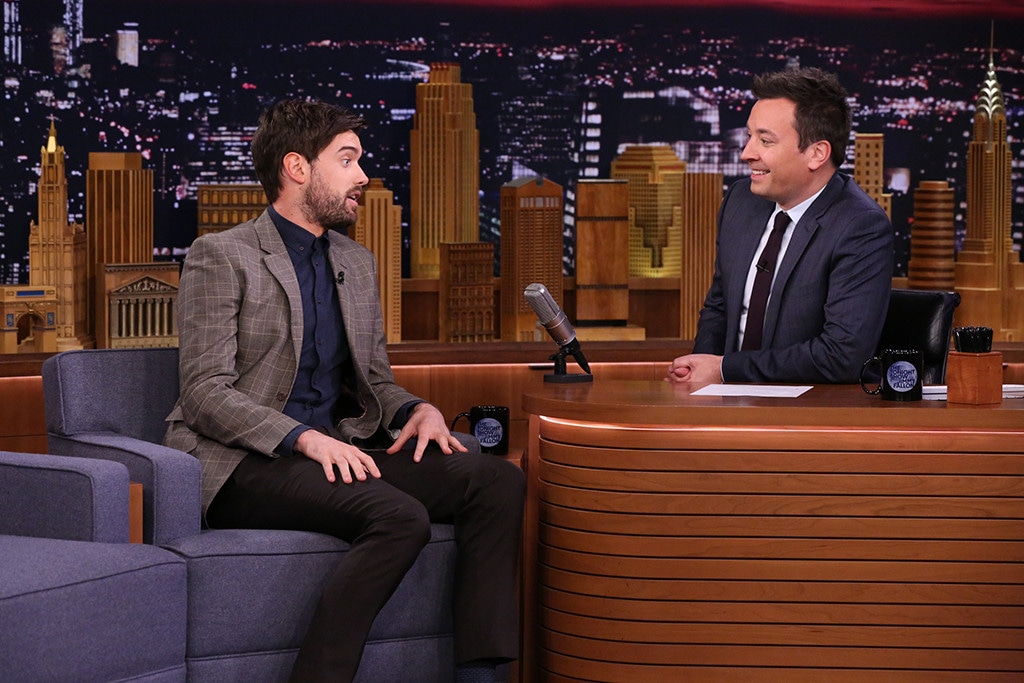 Andrew Lipovsky/NBC
Comedian Jack Whitehall thought he'd landed the role of a lifetime when he was cast in Disney's Frozen—and he did. The problem was, his one line ended up on the cutting room floor.
Jimmy Fallon brought it up on The Tonight Show Wednesday, where Whitehall was promoting The Nutcracker and the Four Realms. "It's technically my second Disney film; I was actually in Frozen," he said, barely eliciting any applause. Whitehall was "so excited" when his agent called with the offer. "I played Gothi the troll in Frozen. We all remember Gothi, yeah? One of the main parts," he said. "I had one line: 'I troll-fully pronounce you man and wife.' It's a great line!"
Whitehall felt like he "nailed" his line recording. "I went away and I told anyone I had ever met that I was going to be in Frozen." When the film was released in 2013, Whitehall went to the theater to watch his scene. "I see my character, the troll, in the enchanted forest—the fat little fellow up there on the screen. He goes to clear his throat, he's about to do the line, and the camera cuts away to Princess Elsa and she starts singing. I was shouting at the screen, Jimmy! I was like, 'Excuse me! Elsa! Zip it, bitch! Gothi has something to say! Gothi had a line!' Shut up!'"
Needless to say, Whitehall admitted, "I was asked to leave the cinema."
To find out what the heck happened, Whitehall called his agent. "I go, 'I went to see the film. My line doesn't appear to be in it.' He went, 'Oh, Jack. I'm so sorry. I forgot to tell you. Disney called and unfortunately your part in the movie has been reduced to a nonspeaking role.' Uh, it's animation! A non-speaking role? That means I'm not in it!" he said as Fallon howled with laughter. "And he goes, 'Calm down. You gotta just let it go.' I was like, 'Don't give me let it go!'"
Clearly, Whitehall joked, "I'm over it now."
The comedian's agent tried to reassure him that the credit would "look great" on his IMDB page. Reviewing it with Fallon, Whitehall laughed, "I am the 81st listed cast member of 82: 'Gothi Troll, uncredited voice.' I am below the guy that made the grunting noises for the reindeer! That is my credit!" Fallon tried to help him find the silver lining, saying, "At least you didn't have to go do press and try to sell the Frozen, or do a junket and all that stuff." But alas, Whitehall did do that. "A junket for a movie I'm not in?" he said, looking at a still from a junket interview Disney U.K.'s YouTube channel. "Look at that smug face. You're not in the film, mate!"
Five years later, Whitehall said he has big plans for Gothi.
"There's a Broadway musical now of Frozen, so I'm going to go to that," he teased. "I'm going to go dressed as a troll, and when it comes to my scene, I will shout my line out for the audience!"
(E! and NBC are both members of the NBCUniversal family.)