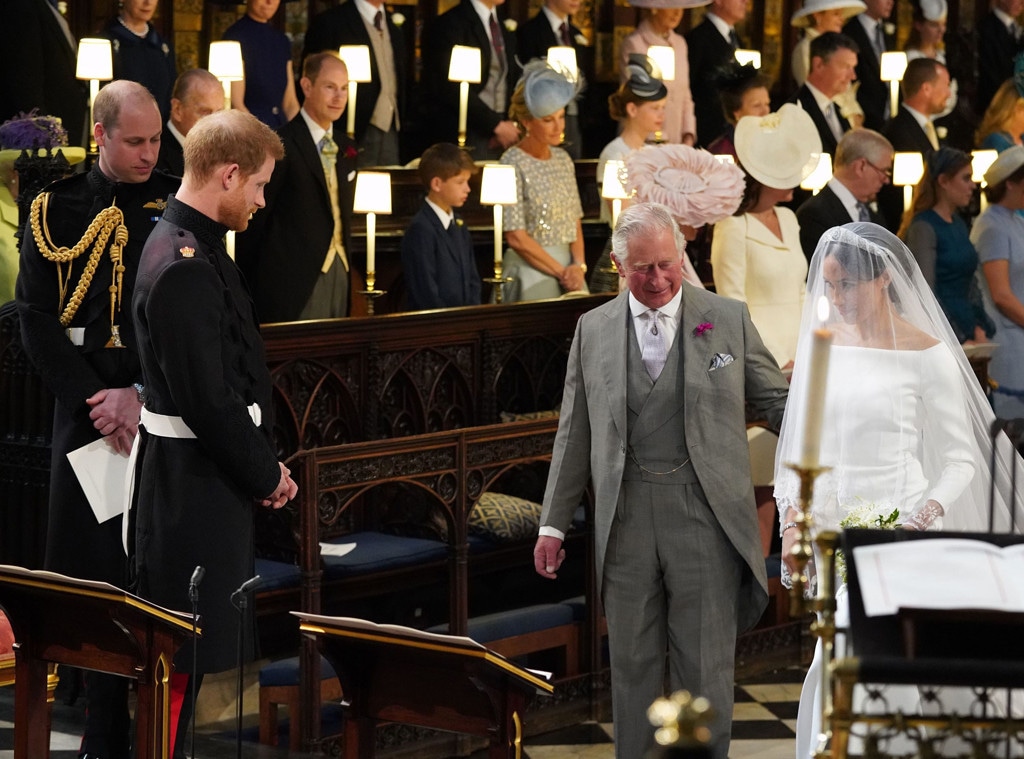 REX/Shutterstock
Meghan Markle and Prince Harry's royal wedding was a day to remember for all members of the family.
In BBC One's documentary called Prince, Son and Heir: Charles at 70, Prince Harry praised his father Prince Charles for stepping in and walking Meghan Markle down the aisle on their wedding day in a last-minute casting switch.
Just days before their May 19 nuptials at St. George's Chapel at Windsor Castle, Meghan's dad, Thomas Markle, pulled out of doing the honors after suffering an apparent heart attack. He did not attend the wedding, either. Upon that news, Kensington Palace published a note on behalf of the Duchess of Sussex. "Sadly, my father will not be attending our wedding," she said. "I have always cared for my father and hope he can be given the space he needs to focus on his health."
When Thomas' health became a cause for concern, the Palace released a statement that said, "This is a deeply personal moment for Ms. Markle in the days before her wedding. She and Prince Harry ask again for understanding and for respect to be extended to Mr. Markle in this difficult situation."
Prince Charles was then asked to do the honors, a request that he was reportedly "touched" by.
One day before the wedding, it was formally announced that the Prince of Wales would escort his future daughter-in-law inside the chapel. The Palace said in a statement, "Ms. Meghan Markle has asked His Royal Highness The Prince of Wales to accompany her down the aisle of the Quire of St. George's Chapel on her Wedding Day. The Prince of Wales is pleased to be able to welcome Ms. Markle to The Royal Family in this way."
According to the new BBC documentary, Prince Charles accepted the offer immediately and did not hesitate at all. "I asked him to and I think he knew it was coming, and he immediately said 'Yes, of course, I'll do whatever Meghan needs and I'm here to support you,'" Prince Harry revealed. 
The Duke of Sussex added, "For him that's a fantastic opportunity to step up and be that support, and you know he's our father so of course he's going to be there for us."
At one moment in the wedding, Prince Harry could apparently be seen mouthing the words "Thank you" to his father. "Just because he's my father that doesn't mean I can just sort of go, 'Okay, that's all, I'll take it from here,'" Prince Harry explained in the documentary.
Camilla, the Duchess of Cornwall, mentioned in the documentary that she thought that moment "was very touching" and "a lovely gesture."
Another "lovely gesture" was Prince Charles' beautiful wedding gift to Meghan. It was revealed that he gave her a diamond tennis bracelet in the days before the ceremony.
Aside from an absolutely beautiful royal wedding a little less than six months ago, Prince Charles and the rest of the royal family are now gearing up for another grandchild! On Oct. 15, Kensington Palace announced that Meghan and Prince Harry were expecting their first child together and that the baby was due "in the Spring of 2019."
Prince, Son and Heir: Charles at 70 airs on Thursday on BBC One.