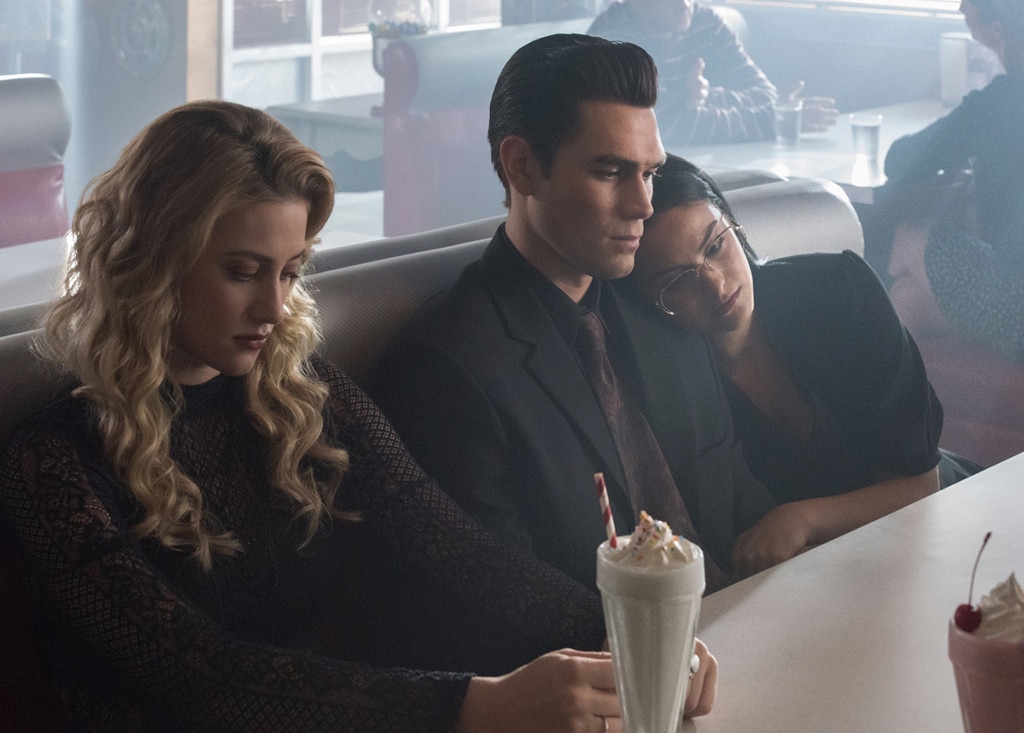 The CW
Riverdale has now returned from its trip into the past, and a few things have become very clear. 
First of all, no one should be playing Griffins and Gargoyles. Second of all, we didn't know the late '80s/early '90s were so cute, fashion-wise. And third, what a past the parents of Riverdale once had. 
Alice (Madchen Amick) sat down with Betty (Lili Reinhart) and told her the story of how she and her not-yet-friends began playing the role-playing game one day during Saturday detention, and things got a little out of control. Alice (played by Reinhart) was pregnant at the time with Betty's mysterious half-brother Charles (who's also the half-brother of Betty's boyfriend Jughead but that's a discussion for another time), so she did not partake in the same drugs that the rest of the group was taking. 
She did participate in the game, which was led by Penelope (played by Madelaine Petsch), though she kept discovering mysterious game set ups she was not responsible for. The group, which also included FP (Cole Sprouse), Fred (KJ Apa), Sierra (Ashleigh Murray), Hermione (Camila Mendes), Tom (Casey Cott) and eventually Hiram (Michael Consuelos) grew extremely close as they snuck into the school to play the game...until Principal Featherhead (Anthony Michael Hall) went missing. 
Let's discuss the many, many things we learned over the course of the episode, and after, in a chat with creator and executive producer Roberto Aguirre-Sacasa.
The Deep Dark Secret
Principal Featherhead ended up dead with blue lips after drinking from one of the goblets in the game, a murder plot clearly meant for someone else. After the death and in fear of getting in trouble, the entire gang decided to break up, stop playing the game, and become different people entirely. 
Aguirre-Sacasa says Betty may not immediately share what she's learned, but "a lot is going to happen with this secret for sure." When we asked about ramifications for this secret-keeping, even after all these years, the answer was "Oh yeah, for sure." 
Be Concerned 
At the end of the episode, Betty walked in on Jughead, Cheryl, Toni, and their Serpent pals playing the game, with Jughead/Cole Sprouse more deranged than we've ever seen him, ranting about how he's about to ascend to the next level. (Aguirre-Sacasa's response when we pointed out how much fun Sprouse was clearly having with that line: "Yeah, no kidding.") 
"We really pay that off in the next episode," Aguirre-Sacasa says. "I think we really do earn that story and we see how deep Jughead is." 
And should we be worried for Jughead?
"Um, I definitely think you should be concerned."  
Dark Pasts
Some of the parents had some unexpected and not so unexpected backgrounds. 
Fred was just like Archie, struggling to choose between baseball and being a rockstar (remember when that was Archie's main plot, alongside sleeping with his teacher?) and following in his dad's footsteps. But after the death of his dad during the course of the episode, Fred decided to go into the family construction business, putting his "Dream Warrior" days behind him. (Can we talk about how good that performance was, though?) 
He also broke off his fling with Hermione, a good little Catholic girl with a rebellious side, who then went right on over to Hiram. 
Speaking of Hiram, Michael Consuelos did a stellar job simply just looking like his dad, and we're going to need him to come back again sometime. (Actually, we'd like several more flashback episodes like this, please.)
Alice was a rebellious loner from the South Side who wasn't sure what to do about her pregnancy, and FP was the BMOC, a sports star who was trying desperately not to join his dad's gang. After the death of Featherhead, FP joined the Serpents and Alice reinvented and attached herself to a young Hal. 
Sierra, meanwhile, was a political junkie in a secret unapproved relationship with Tom, which she gave up on after Featherhead died. 
But the real backstory shock came from Penelope, who revealed she had been picked out of an orphanage by the Blossom family just for her red hair, and had been raised to be Clifford Blossom's life companion. She was ready to fight back, until after Featherhead's death. It's a new revelation for Mrs. Blossom, and it explains a lot about why she's now so screwed up, and also goes right along with the creepy incest that keeps going on in this family. 
Stolen Moments
Now, while most of that wasn't a shock, we did also learn about a few moments between some unexpected pairs. Hermione and FP got close during the game and almost kissed, and Fred comforted Alice in a way that felt a little more than just friendly...and then they actually kissed. 
"We were lonely, Betty," older Alice explained. "We were young, attractive, in the same room. It was just once, a brief fling between two people that existed in that one moment." 
Sure, Alice. 
Who's the Guilty Party?
Someone is responsible for poisoning people, both in the past and the present, but Aguirre-Sacasa says it's not quite like how we were all asking "Who is the Black Hood?" last season. 
"I would say it's probably more complex than the Black Hood," he tells us, confirming that the show will explore the theory that whoever did it then is doing it again now. "It would, in some ways...it would absolutely make sense." 
The Return of Charles Smith
We were reminded multiple times tonight of Alice's pregnancy, and that does not seem to be by accident. Fake Chic told us last season that Alice's real firstborn had died, but since when could we trust fake Chic? 
"We didn't see Chic's body, and remember, that may or may not have even been Chic, which means that the real Charles Smith is out there," Aguirre-Sacasa says. "So there's lot of threads we can pull on if we want to continue that story...It's definitely something we might see this season." 
Prison Break? 
We just wanted to know if Archie was going to get out of prison soon, and the answer is...maybe? 
"I'll say this: things are going to get worse before they get better for Archie, and then things are going to get a lot worse for Archie. He has been having a blast, doing all this prison stuff and boxing and all that, but you know, things change pretty quickly in Riverdale. Don't be surprised if Archie isn't in juvie too much longer." 
Getting Ambitious...and Mysterious
Aguirre-Sacasa had one final tease for what the rest of the season holds, and basically you're going to need to hang in there. 
"There are a lot of mysterious, seemingly disparate elements bubbling in Riverdale. Some of them are linked, some of them are directly linked, some of them are more tangentially linked, but we're telling a big story that sort of encapsulates everything from season one. It's probably our most ambitious story yet." 
Riverdale airs Wednesdays at 8 p.m. on the CW.