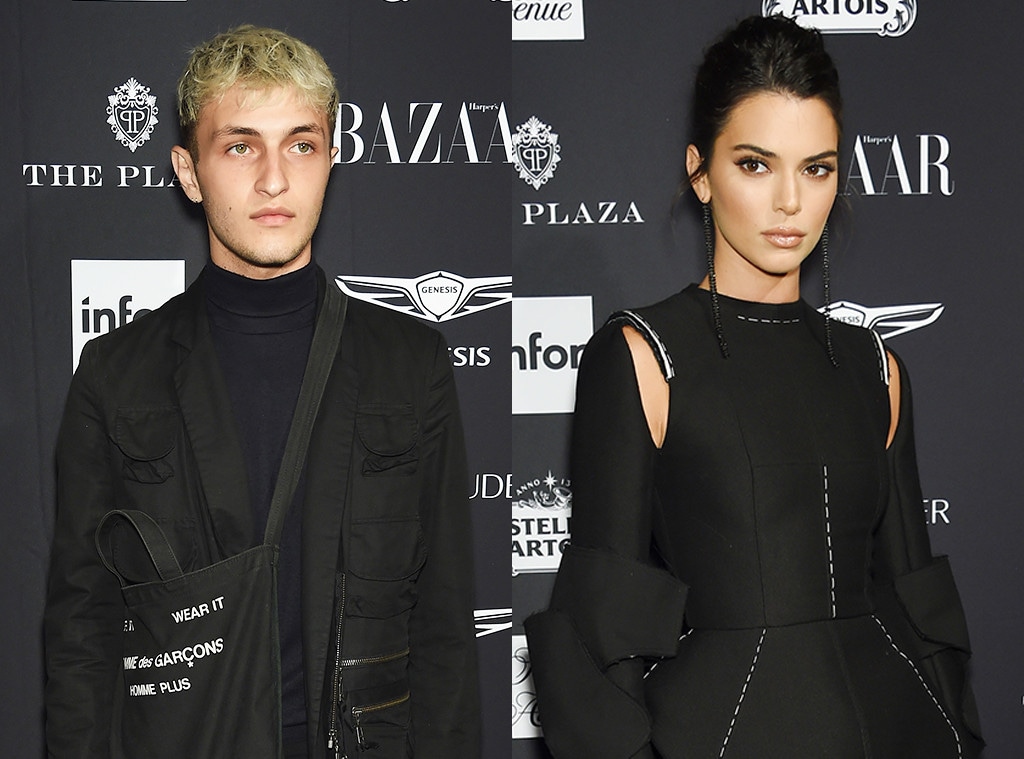 Dimitrios Kambouris/Getty Images for Harper's Bazaar
Alexa: Play Drake's "In My Feelings."
Over the past few days, Anwar Hadid has been getting pretty raw about his feelings on his Instagram stories. On Monday, the 19-year-old model posted a few photos to the social media platform that seemed to allude directly to his occasional romantic fling, Kendall Jenner, and her reunion with Philadelphia 76ers player Ben Simmons. She and Ben had been together over the summer where they traveled to Mexico together and hung out, but their fling had apparently "cooled off," according to a source.
Kendall spent the weekend in New York City where she celebrated her 23rd birthday with her friends and prepared for the 2018 Victoria's Secret Fashion Show. She also added a 76ers-Brooklyn Nets basketball game to her already busy schedule. According to Page Six, she spent quality time with the athlete in Philadelphia a few days prior.
Here's where Anwar got cryptic. In one part of his Instagram story, he wrote over a very zoomed in picture of what looks like fabric, "I wonder if I could be loved as deeply as I love."
He then shared a picture of what is most likely his arm with the question, "Why are you still in my mind" written in pen on it.
It's calculated timing, if anything.
On Wednesday, Anwar gave his followers a lengthier explanation about his feelings and why, to cite Drake, he's "in" them. "Guys i live too feel im not sad im in a constant wave of emotions :)," he wrote over a photo of his leg as he sat during some sort of lecture.
Gigi Hadid and Bella Hadid's baby brother went on to elaborate a bit more. "I used to be afraid to feel things cuz i felt as if the feelings of abundant happiness couldn't be obtained forever, but openly feeling is now my only source of inspiration," he wrote. "And now that im not afraid to express my thoughts and feelings i kinda feel like everythings pretty mellow."
Anwar's emotional and mysterious posts vis à vis his relationship with Kendall aren't all that surprising. In June, the two of them were seen kissing at the 2018 CFDA Awards afterparty. In 2016, Kendall posted a photo of her making a kissing face at Anwar and captioned it "dibs?" They also shared a friendly smooch during 2018 New York Fashion Week at the Harper's Bazaar ICONS party.
Kendall, after all, is best friends with Gigi and Bella, so she's been an indelible part of the Hadid family for some time now.
Alexa: play Drake's "Take Care."