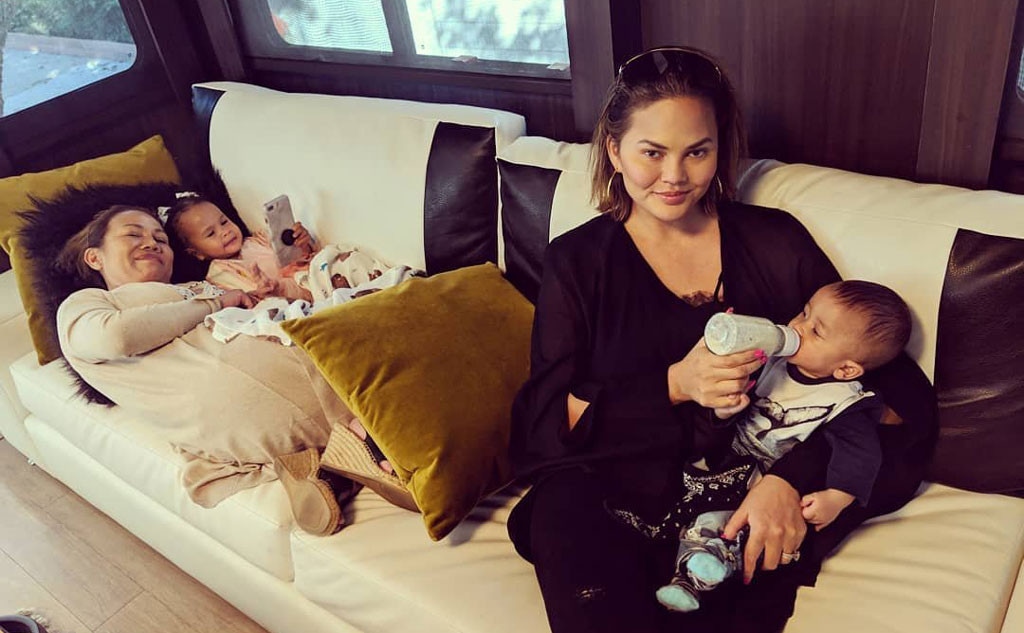 Instagram
Chrissy Teigen is so over the comments about her parenting skills, which is why she decided to clap back at a hater who attempted to criticize her for not breastfeeding.
Earlier this week, John Legend, 39, posted a photo to Instagram of his family backstage at The Voice. The sweet snap shows daughter Luna, 2, smiling at a phone while lying on a couch next to her grandma, Vilailuck Teigen. The pic also shows Chrissy, 32, at the other end of the couch, feeding son Miles, 5 months, from a bottle.
"Wild scene backstage at @nbcthevoice," the "All of Me" singer, who will be a coach on season 16 of the reality competition show, captioned the family photo.
In the comments of the post, one Instagram user asked, "You no longer breastfeed?"
After seeing the comment, seemingly meant for Chrissy, the Lip Sync Battle co-host hilariously replied, "John never breastfed Miles." The exchanged was then captured by Instagram account @commentsbycelebs, who posted it to their page.
"She's so witty, I would just say 'bitch mind your business,'" one Instagram user commented on the exchange. "This is why I'm not famous. Lol."
In response, Chrissy told the fan, "I say that, I just don't type it :)."
Watch:
Chrissy Teigen Says Baby Miles Is Just Like Hubby John Legend
It seems that Chrissy didn't really like the photo in the first place, as she commented on John's Instagram post, "You need to ask for photo approval you MONSTER."
After reading Chrissy's comment, John replied, "I asked Luna. She said print it!"
#CoupleGoals.