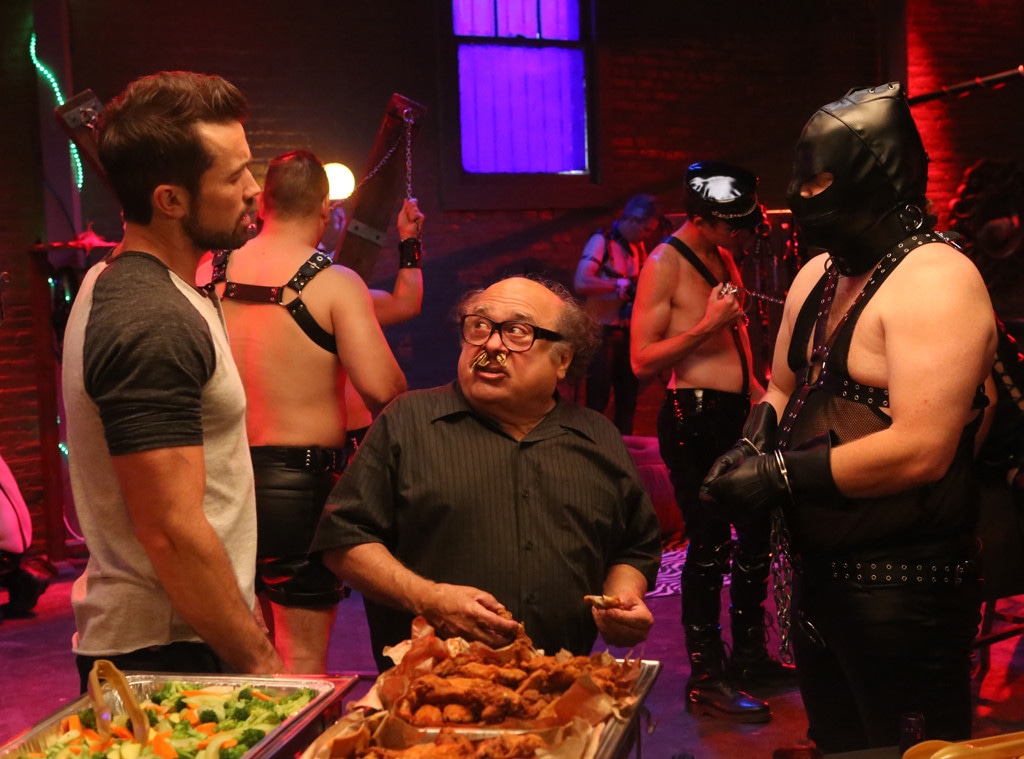 FXX
It's Always Sunny in Philadelphia is a wonderfully bizarre show. The long-running comedy, which wraps up its 13th season on Wednesday, Nov. 7, is no stranger to, well, being strange. However, in "Mac Finds His Pride," the comedy went to another level—poignancy.
After years of jokes and innuendos, series creator Rob McElhenney's character, Ronald "Mac" McDonald, came out of the closet, and in "Mac Finds His Pride," he came out to his father through a rather stunning choreographed dancer number. It's a personal triumph and moment of growth for Mac, and surprisingly Frank (Danny DeVito).
During the episode, Frank and his increasingly disfigured and injured face, took Mac around to find his place in the gay community so he could be the token gay in the gang's pride parade float. They hit up an S&M dungeon and a drag brunch in an effort to make Mac more comfortable.
Ultimately, Mac needed to feel comfortable with himself, embrace his sexual orientation, and confront the "storm" that was going on inside of him, all the while coming out to his dad. That storm was illustrated through an impressive dance routine with a female playing god. It took McElhenney roughly four or five months to learn with choreographers Alison Faulk and Leo Moctezuma.
"Yeah, that took months. I don't really know how to dance. I've never really been a dancer. And I still can't dance. I can just do that routine," he said.
The cast, which also includes Kaitlin Olson and Charlie Day, performed a table read of "Mac Finds His Pride" at the 2018 Television Critics Association press tour. There, McElhenney said exploring Mac's sexual orientation and this episode was something that slowly evolved over time. "And then, this year, Charlie and I decided that this was something we were going to focus on, at least for one particular episode," he said.
McElhenney, whose mother came out as a lesbian when he was young, said he felt like the show handled Mac's coming out "pretty well," but "at the end of the day, it was still an episode of comedy and I just assumed that people were laughing along with us." However, that changed when he looked at social media.
"And through social media, I had a massive response of our fans in the LGBTQ community that reached out and told me how moved they were and how important it was to them that they felt represented on a show that they loved. And I just was not expecting that," McElhenney said. "I mean, thousands and thousands and thousands of people. And I just didn't think that we were that kind of show, and it turned out that we were for people. And so we wanted to honor that and do something that, you know, felt very different from what we normally do, that we would create an episode that seems like it's going in one direction and then pull the rug out from underneath."
Day, who wrote the episode with McElhenney, said over the years the show has been able to tackle a variety of different topics and genres.
"I mean, one of the great things that we get to do is try different things with our episodes, and some of the uncharted waters, if you want to call them that, were genuine emotion," Day said. "And once we stumbled on the episode becoming more about Frank being more tolerant and accepting something, we thought, well, this is something we haven't really done, which is our characters rarely change or learn. And it was nice to tell a story that way. Maybe it's just because we're getting older, but and we still have most of the episodes are still pretty typical in the format of just they're there to be funny. But it was nice to try something, for lack of a better term, heartfelt."
It's Always Sunny will return for season 14 on FXX.