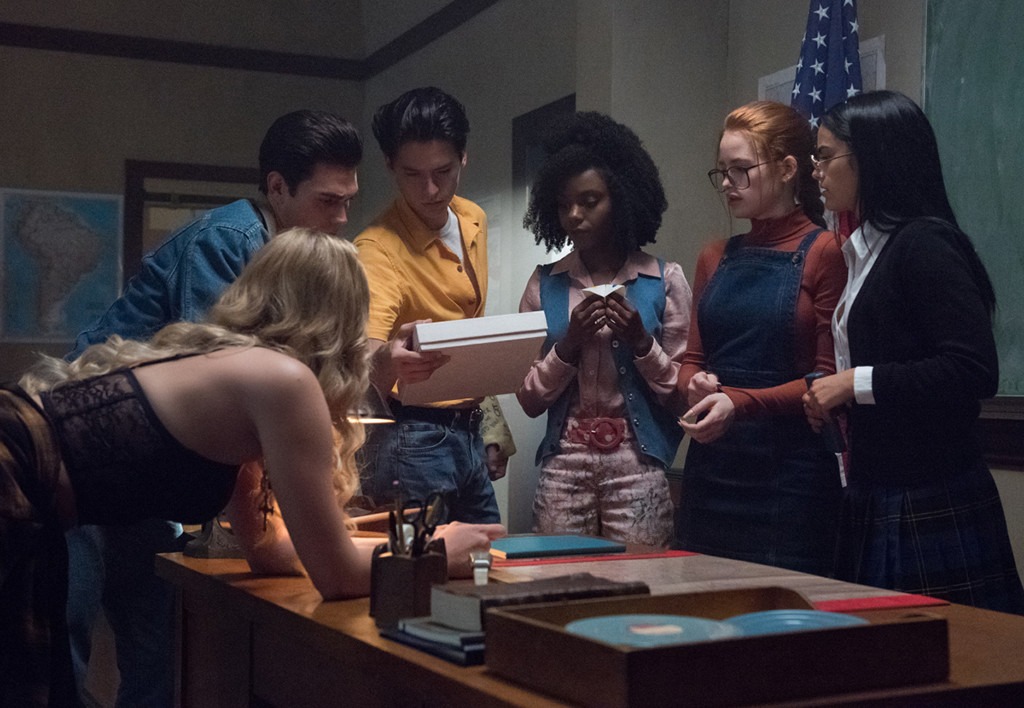 The CW
Riverdale is going even more retro than usual this week. 
The CW drama is revealing some long-buried secrets in "The Midnight Club," an episode which mostly takes place somewhere around the late '80s/early '90s and features the show's young stars playing younger versions of their on-screen parents—most of whom actually conveniently had their younger years immortalized on screen. 
The ep is filled with 80s music and 80s costumes and new revelations about the parents of Riverdale, but it's not all fun and games...or at least it's not all fun. Once upon a time, the future parents all got really into a little game called Griffins and Gargoyles, and given the fact that the game has gotten a couple of kids killed in present day, it probably wasn't just a harmless board game back then either. The secrets we're about to learn are probably equally not harmless. 
So yes, there are some real important things to learn in the episode, but let's all also admit we're here to have a great time watching these kids play their parents in the '80s, OK? 
The fact is, they all look great. And according to showrunner Roberto Aguirre-Sacasa, the cast really took the roles and ran with them. Lili Reinhart went all in on researching Madchen Amick in Twin Peaks, which began when Amick was 19. Luke Perry was 24 when he played a teen on Beverly Hills, 90210, and KJ Apa has his Luke impression down. Skeet Ulrich starred in movies like The Craft and Scream when he was 26, and Cole Sprouse just so happened to have just turned 26, and did his best to pick up some of the physicality of Ulrich in those movies. 
"I think the kids did probably more homework than I would've given them, you know what I mean?" Aguirre-Sacasa tells E! News.
The Riverdale team had a small but significant task ahead of them, combining its regular retro vibes with a different kind of retro vibe. Fortunately, there's a secret to Riverdale High that helped a lot. 
"We had decided that the school itself wouldn't change much because Riverdale High was frozen in time, the physical structure," Aguirre-Sacasa explained. "But you're right, we do have a retro, timeless vibe that is kind of like the '50s, so doing a flashback episode to the '80s or early '90s, it felt like let's go for the true late '80s aesthetic. Most of that was costume choices." 
Reinhart as young Alice is especially impressive, as it should be, since Aguirre-Sacasa says it's really Betty's episode. 
"Alice is telling Betty the story, so it's a real showcase," he says. "It's a showcase for all of them, but I think Cole and Lily just look great and have great stuff...but everyone's great in it." 
As for that game of Griffins and Gargoyles, which fits in perfectly with this world that feels like it could be about to welcome a Stranger Things crossover at any moment, it is apparently very playable in real life. 
"I'm looking at a manual right now," Aguirre-Sacasa said. "Early on, a few of the younger writers who are more into this stuff created a mythology of Griffins and Gargoyles and wrote a rule book and wrote character sheets and all that stuff. So there's definitely a method to the madness."
If you're hoping to get your hands on the game, however, you might be out of luck. Aguirre-Sacasa says there was talk of that until he revealed how the storyline unfoled (you know, with death).  
"They were like, maybe not a good idea," he said. "It's not a good idea. I'd much rather that [fans] played the Riverdale Monopoly or the Riverdale Clue." 
Aguirre-Sacasa teased that during the episode, we'll not only learn about the relationships and quirks of the parents as teens, but we'll also find out what the game could do for them. 
"This was a great chance to kind of tell the story of how each of the kids was feeling a void that the game filled," he explained. 
And whatever else we're about to learn is going to have some major "game-changing" ramifications going forward. 
"It really does add dimension or a layer of mythology to the parents that we haven't seen before," Aguirre-Sacasa teased. "It definitely sets up a lot that's coming in the rest of the season." 
For now, before things get real dark, just enjoy some side-by-side comparisons of the Riverdale teens and the teenage-ish actors they're emulating. 
Riverdale airs Wednesdays at 8 p.m. on the CW.