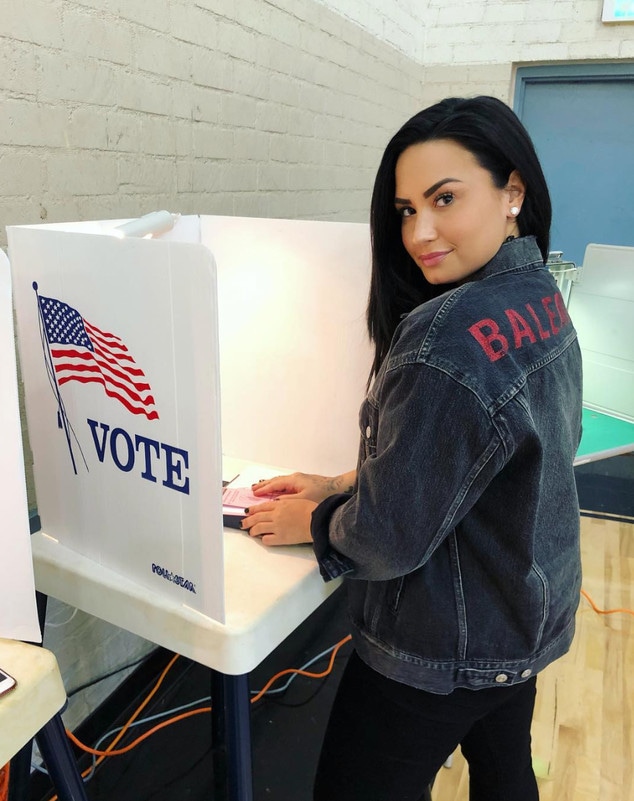 Instagram
Demi Lovato is making her voice heard on Election Day.
As millions of Americans head to their neighborhood poll station, the music superstar returned to social media with an important message for her fans and followers.
In her first post since leaving rehab, Demi shared a picture from an undisclosed polling location that proved she wanted to cast her vote.
"I am so grateful to be home in time to vote!" she wrote to her 70 million Instagram followers. "One vote can make a difference, so make sure your voice is heard! Now go out and #VOTE!!!!"
Within 25 minutes, close to 1.5 million people "liked" the post. In addition, a few famous friends expressed their support for the talented singer.
"Bless up!!!!" DJ Khaled shared in the comments section while Kehlani left a "strong" emoji.
After completing three months of treatment at a rehab center, the pop star was spotted over the weekend hanging out in Los Angeles. In addition to grabbing dinner in Beverly Hills, E! News learned that Demi enjoyed an evening at Universal Studios Hollywood's Halloween Horror Nights.
"Her treatment is ongoing. She will be having therapy sessions and attend meetings," a source explained to E! News. "It's going to be a lifelong commitment and her treatment will not end because she is out of rehab."
And while Demi continues to work on her health, she's joining many celebrities who are using their voices to express the importance of voting across the country.
Take a look at our gallery above and see who is casting their vote for a variety of political races.