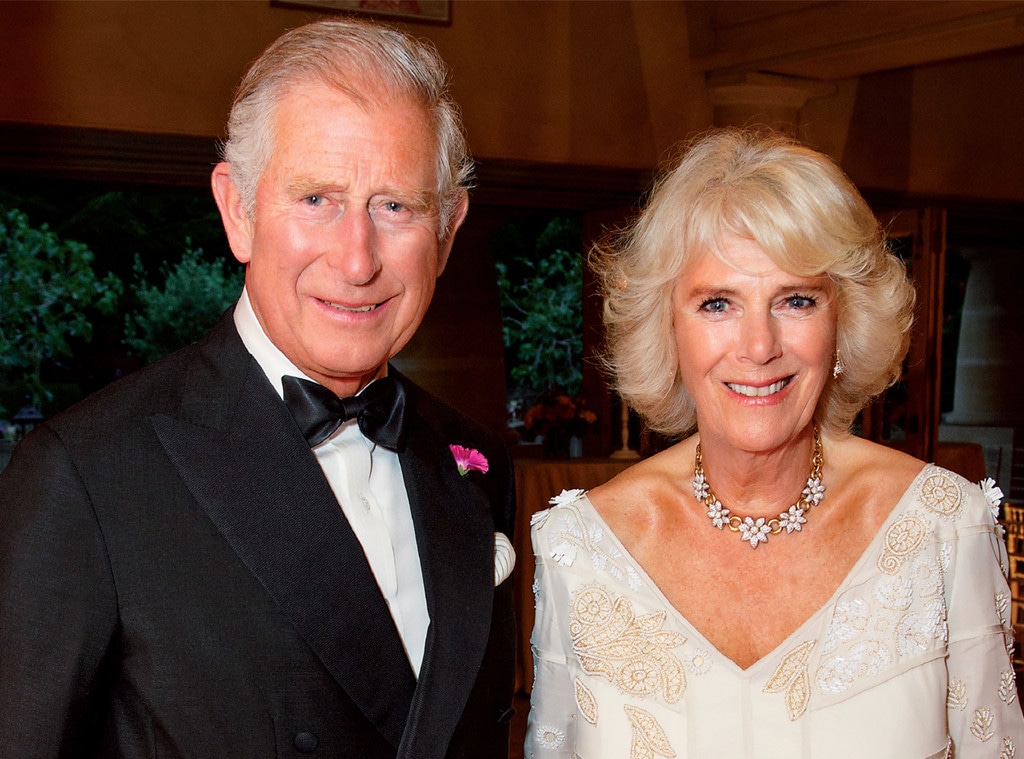 Hugo Burnand via Getty Images
Not everyone was in a celebratory mood. As Camilla, Duchess of Cornwall marked her 71st birthday this past July with a visit to the Isles of Scilly and a slice of carrot cake, the Internet did its thing. Those with too much time on their hands flooded the official Twitter accounts of the royal residences to leave vile and hateful remarks on their birthday messages to Her Royal Highness. 
"She does not deserve to be in the royal family just like her husband #LadyDiana."
"She will never be Princess Diana's equal."
"She is the reason behind the destruction that happened to the family, she didn't leave him alone even though she knows he is married and he has children. Nothing could stop her from her intentions. We will never forgive her."
Suffice it to say there are a number of people not content to forget about the past—and perhaps they're the same group who will always rush to villainize the woman no mater how much the situation falls under the it takes two to tango category. 
The star-crossed saga that is Camilla and Prince Charles' love story has been well documented by pretty much every tabloid and royal biographer in existence. Introduced by mutual friend Lucia Santa Cruz, they met at a polo match in the summer of 1971 and were instantly smitten. But 23-year-old Camilla Shand, a former receptionist and the on-off girlfriend of British army officer Andrew Parker Bowles wasn't deemed a suitable match for the future king. 
That honor went to a charming, 19-year-old nursery school teacher with impeccable style and appropriate lineage. Charles' courtship of, and subsequent wedding to Lady Diana Spencer was deemed a fairytale, but behind the scenes it quickly devolved into somewhat of a nightmare. 
As the world now knows Charles simply struggled to quit his first love, despite her own marriage and family with Bowles and advice from his dad, Prince Philip to give it the old college try. "My father-in-law said to my husband, 'If your marriage doesn't work out, you can always go back to her after five years,'" Diana told her voice coach, as revealed by tapes unearthed for a 2017 Channel 4 special. "Which is exactly—I mean, for real I knew that it had happened after five—I knew something was happening before that but the fifth year I had confirmation."
The pair were urged to keep up appearances, with former butler Paul Burrell writing in his 2003 book A Royal Duty, "Both the Prince and the Princess were told that they must learn to compromise, be less selfish and try to work through their difficulties for the sake of the monarchy, their children, the country and its people." But as Diana famously relayed in her 1995 interview with Martin Bashir, she wasn't content to live in a crowded marriage of three—well, four, if you count her fling with polo player James Hewitt—and by 1992 the couple had announced their intentions to separate, paving the way for Charles return to Camilla. 
The former lovers' coupling would only grow more complicated after Diana's tragic 1997 death. It would take a year for her to formally meet Prince William and Prince Harry, another until the duo were intentionally photographed outside her sister's birthday party. By the time they finally felt comfortable to make their way down the aisle, exchanging vows in an April 2005 civil ceremony at Windsor Guildhall, it was decided that when Charles was finally named King, the Duchess would be named Princess Consort out of deference to Diana. 
Flash forward more than a decade though, and the public stance has softened to the point there are rumblings she will eventually become Queen Consort. "It's now 21 years since the death of Diana in 1997 and public attitudes have changed, and continues to do so, with a greater acceptance of Camilla today than there was say 13 years ago...," Dickie Arbiter, the Queen's former press spokesman, recently opined to Hello! "The Duchess through her work has shown herself to be a good support to her husband and to the Queen thus making her not only an asset to the country but to the institution of monarchy." 
That's become an increasingly popular assessment. Speaking to Vanity Fair's James Reginato for his December profile on Charles, a self-described London man-about-town, known to socialize with the royal set, outlined the reasons Camilla is particularly suited for the role. "She never complains, she never explains," noted the source. "She's not an intellectual, but there's nothing lightweight about her. She's not a bulls--tter and she doesn't take any bulls--t." 
LEON NEAL/AFP/Getty Images
She's had enough of that for one lifetime, thanks. In the immediate aftermath of Diana's passing, Camilla became an easy scapegoat, a tangible presence that people could direct their anger towards, their anger and outrage about a brilliant life snuffed out too soon. Camilla-related hate mail sent into the likes of Tatler read so extreme that editors felt the need to phone threats into the police. 
For the better part of a year, she recounted in a 2017 interview with The Mail on Sunday's You magazine, she was essentially a prisoner in her own home.  "I couldn't really go anywhere. But the children came and went as normal," she noted of son Tom Parker Bowles, now 43, and daughter Laura Lopes, now 40, "they just got on with it—and so did great friends." 
Determined to make the best of it, "I would pass the time by reading a lot—more than I'd ever have been able to in a normal life. I thought, well, if I'm stuck here I might as well do something positive like read all the books I want to read, and try to learn to paint—though that wasn't a huge success!—and after a while, life sort of went on." 
Despite her insistence on looking on the bright side, she admits it was every bit as tough as one might imagine. "It was horrid. It was a deeply unpleasant time and I wouldn't want to put my worst enemy through it," she said. "I couldn't have survived it without my family."
Eventually the tide began to turn, thanks in large part to Charles' deputy private secretary Mark Bolland and his strategic plan to earn public acceptance for Camilla. Highlighting the more than 90 charities she supports (among them are those that focus on health, literacy and supporting victims of rape, sexual abuse and domestic violence) was key, but it likely wouldn't have worked if Camilla wasn't so darn likable. 
Even the more jaded participants of the royal rota, the press corps members tasked to cover the goings on of the royal family on a daily basis, have a soft spot for Duchess Camilla. "We think the world of her, we adore her. She's an amazing woman," Sun photographer Arthur Edwards, who famously snapped Diana on a bench in front of the Taj Mahal during his 41 years cataloging the royals, told Reginato. "She always shows up with a great smile and is never, ever grumpy." 
Echoes another correspondent, "She's my favorite royal, by a country mile. She knows all our names, she fosters a sense that we're all in this together. She gives you a little gleam in her eye and will find a moment to look at our cameras." While the photographer finds William, Kate Middleton and the other younger royals to be more of "control freaks" when it comes to their coverage, Camilla and Charles are "far more relaxed." 
Camilla is thought to deserve the lion's share of credit for that ease. "She's made a massive difference in him," one longtime correspondent told Reginato. "He's much more relaxed now. They are always laughing and chatting, they have a great affection and humor between them." 
It's a magnetism even a casual observer can sense with Charles regularly referring to his bride as "my darling wife". When photographer Alexi Lubomirski, the same man tapped to shoot Harry's wedding to Meghan Markle, arrived at Clarence House to take portraits of the pair for Vanity Fair, "As soon as they looked at each other, there was a sparkle in their eyes—that's when the magic happened," he noted. "You feel like they are a young couple in love." 
Having come to terms with her past (the man about town informed Reginato she's watched The Crown, but confessed to him she "wasn't looking forward to the bits to come,") she's also comfortable with the decidedly ancillary role that awaits.
"She knows that he is the boss, the star," her nephew Ben Elliot, a co-founder of the Quintessentially Group, told Vanity Fair. "She does everything she can possibly do to support him." That includes a bit of maneuvering behind the scenes. "She can change his mind in a way nobody else can," Communications Secretary Julian Payne noted. "Every so often, I can go to the Duchess, cap in hand. She's your last card. If she thinks it's the right thing, she'll say, 'Leave it with me...'"
Together, the spry pair make the sort of solid team that will be a steadying force for the monarchy. "They are both clearly great on their own. But two and two makes five in a big way here," says Elliot. "You can see it when they're together. They enjoy each other's company so much. You can see it best when they are dancing together—such genuine, deep-down affection and love. They both get the giggles—she first, then he tries to hold it together." 
Of course, they've held it together where it truly counts, having survived the worst years of their union and come out stronger on the other side. The Daily Mail's Angela Levin even observed Queen Elizabeth II (who once reportedly referred to Camilla as "that wicked woman") talking animatedly with Charles' bride at a Buckingham Palace horse-training session. 
So these days there's plenty to laugh about, particularly with Camilla's especially wicked brand of humor often keeping the couple in stitches. "They have a lot of fun together," one aide told Levin. "It would make him so happy if she were made Queen, and he will obviously do his best to make it happen." 
Because for all the new fans the duchess has gained over the years with her willingness to play the game and her genuinely open, infectious personality, her number one has always been close at hand.