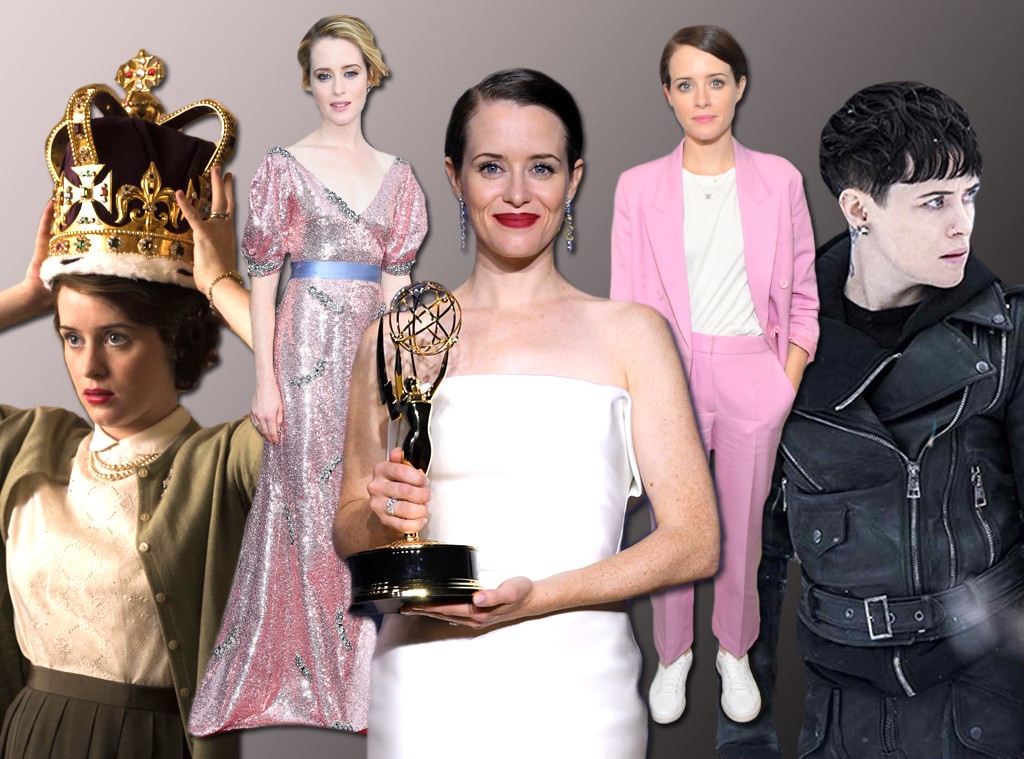 E! Illustration
Not too long ago, Claire Foy sounded fairly appalled by the idea of becoming some "celebrity." 
"I don't want to get involved with that whole circuit, it's not me," the actress, then best known for starring in a BBC miniseries of Dickens' Little Dorrit, told Britain's Independent in 2011. "I've been to a couple of red-carpet events; everyone's taking your photo, and you know one person there. It feels strange, like arriving at a party with no friends in sight. Why would you do that?"
Alas, then she became Queen. Photo ops and red carpets are kinda part of the gig.
Fast-forward seven whirlwind years and Foy is fresh from an Emmy win for playing Queen Elizabeth II on The Crown, she's on the big screen as astronaut Neil Armstrong's wife Jan in Damien Chazelle's First Man and next up she's doling out her own literal brand of justice as hacker-vigilante Lisbeth Salander in The Girl in the Spider's Web, opening in theaters Friday.
Salander, from the late Stieg Larsson's best-selling Girl With the Dragon Tattoo series, was previously played by Noomi Rapace, in the original Swedish-language trilogy of films, and by Rooney Mara in the well-done but ultimately one-and-done attempt to remake the trilogy in English.
Now, in a 180-degree turnaround—at least style-wise—from her star-making role as the reigning queen of England, Foy has dipped into her own well of feelings about justice, fairness and the unfortunately ongoing battle of the sexes to portray the heroine of few words and an endless to-do list.
"What's wrong with being an angry person if it's anger toward something we are terrified about?" Foy told The Hollywood Reporter recently in explaining her character's raison d'etre, which is to punish men who hurt women—in no small part by draining their bank accounts like a tech-savvy Robin Hood, but also by humiliation and exacting a physical toll.
Talking to THR, Foy was actually on Capitol Hill when Brett Kavanaugh was about to be confirmed to the Supreme Court, and she was seething after a brief exchange with a guy waving a #MeTooFraud poster.
"It just breaks my heart, how other human beings just care so little about people," she said. "That person must not have any idea of what those women have been through. I have a real problem with people not understanding the effect that they have on other people."
The Girl in the Spider's Web is indeed landing at a pivotal time in our culture, and while she might not have seemed like the obvious choice, the chameleonic Claire Foy was just the actor to slip into Lisbeth's leather jacket.
And not just because she joked to THR about wanting to key the side of an 18-wheeler trucker sporting a "Black Smoke Matters" banner and "violently hurt" the #MeToo naysayer. ("Which is obviously bad," she added. "I can't. Because he's a lot stronger than I am.")
Foy has a take-charge vibe about her and manages to radiate poise—it's the resting British face, perhaps—even at her most uncertain moments. And there have been a lot of those.
"When you have anxiety, you have anxiety about—I don't know—crossing the road," she told The Guardian Weekend magazine this fall, talking about a condition that's plagued her since she was a kid. "The thing is, it's not related to anything that would seem logical. It's purely about that feeling in the pit of your stomach, and the feeling that you can't, because you're 'this' or you're 'that.' It's my mind working at a thousand beats a second, and running away with a thought."
Frazer Harrison/Getty Images
Foy's parents divorced when she was 8 and she and her two siblings were raised by their mother in the Greater Manchester town of Stockport (which, incidentally, voted to remain in the European Union in 2016).
"As divorces go, on a scale of one to 10? I don't remember a thing—so, 10, amazing," she told the Independent in 2012.
Also to Guardian Weekend, she says that she developed anxiety "as a tool to survive, definitely. To try to hold on to everything. To try to feel safe." She recalled, "If I knew a day was going to be ruined by anxiety, that was good in a way, because it meant I knew what was going to happen." (Six years prior, she had quipped to the Independent while munching on a breakfast Danish, "I'm lucky I have a fast metabolism... my whole family does... everyone's got a lot of nervous energy so we burn it off.")
Foy, who professed to seeing Titanic more than 100 times and being "obsessed with Leonardo DiCaprio" as a teen, studied drama and film studies at Liverpool John Moores University, where it was suggested that she go to drama school. 
Fairly fresh from a year-long program at the Oxford School of Drama, she only had a couple of TV episodes under her belt in 2009 when she was cast as the titular character in the BBC's Little Dorrit, which eventually aired in the U.S. on PBS' Masterpiece Classic.  
"I've worked in supermarkets, put tags in baseball caps and provided security during Wimbledon, but I never thought acting would be something I'd be any good at, or make a living from," she told the Independent in 2011. In another interview the following year she again told the paper, referring to the classic "she's the next so-and-so" narrative she had started attracting: "I'm not being funny but I'm never going to be Keira Knightley. It's that thing of going, 'the next... the next...' I hate the idea of being touted as something that I have never tried to make myself be. I mean, I might not do anything."
Even after she had signed on for The Crown, Foy remained practical, telling The Guardian, "I'm never going to be a film star and I'm not chasing it. I'm very happy playing interesting parts."
Of course, at the time, she didn't exactly have a reason to presume otherwise. 
Her first big-screen break, her "and featuring newcomer Claire Foy" moment, came, in all places, opposite Nicolas Cage in the 2011 medieval fantasy-thriller Season of the Witch, playing a young woman who's been accused of being a watch and bringing about the plague, or Black Death. Coincidentally, considering the title of her latest movie, that character was known only as "The Girl."
"As a character, she's very...you never quite work her out," Foy described "The Girl" to Trailer Addict, "and I think that's important, because neither do the men."
It was exciting to her as a young actress, she continued, to be playing neither a femme fatale nor an innocent, but someone in between. "This girl is so intelligent," she said, "that she is able to pit all the men against each other and she can read people so well, and she can find out exactly what they're thinking, and use it against them."
Not a bad skill to have as a queen, either...
Over the past decade, Foy has set out to pick meaty roles for herself (Season of the Witch's 9% fresh rating on Rotten Tomatoes aside), from Amy Dorritt, a resourceful sort who cares for her family when her father lands in debtors prison, to the thrillingly layered Lady Macbeth opposite James McAvoy's aspiring king onstage in Macbeth, to the crafty but ill-fated Anne Boleyn in the Masterpiece-by-way-of-BBC miniseries Wolf Hall.
She was certainly queen of the costume drama already.
So while she was steadily sharpening her acting chops, mainly in her native Britain, Foy remained under Hollywood's radar—which as she mentioned, suited her just fine. Among other things, it allowed for her to have an actual private life.
"Isn't it rather odd telling total strangers about the personal things in your world?" she told the Independent in 2011. "It's all still new to me, but I can just imagine my friends saying, 'Cheers Claire, but I didn't really want to be in the newspaper.'" Posing for photos was "just so embarrassing. Everyone is expecting you to know what to do because you're an actor but I haven't a clue."
Foy herself was a big homebody, she shared, "any home really—my mum's, and of course my own. I love eating food there and chilling in bed with a cup of tea. I used to live with five friends when I first moved to London; it was brilliant, but intense—I couldn't do it any more. Now the best part about going out for the day is that I get to come home at the end of it."
By then, Foy had started dating British actor Stephen Campbell Moore, whom she met making Season of the Witch.
Not that she was willing to share that tidbit just yet.
"He knows how it feels, and understands that going away all the time is just part of the job," Foy observed, admitting only that she had a boyfriend who was also an actor. "But it's not why I'm dating him; it's because he's a lovely person, though I won't tell you who he is."
By February 2012, the cat was out of the bag, but Foy wasn't entertaining suggestions for Brangelina-type nicknames.
"A celebrity couple, Jesus Christ," she scoffed to the Independent. "I saw someone recently who I went to school with who was saying something like that and I nearly punched her."
Photo by Dave M. Benett/Getty Images
She and Moore had shot a pilot together for a BBC4 medical drama and apparently they were quite transparent.
"I don't think I could ever do a play with him, however," Foy added, "because it's too much. You're in a room and you're constantly being taken apart, and told to do this again and again. You don't really want the person you're with see you being told 'You're s--t' all day and every day. Anyway, he's a brilliant actor, so I'd be lucky to be in anything that he's in, to be honest."
Later that year, Moore underwent surgery to remove a tumor on his pituitary gland, which doctors found when he went in to see about a serious, sudden bout of anxiety he was suffering. Foy remained by his side throughout, her own resilience coming in handy as well.
The actress battled juvenile rheumatoid arthritis as a child, putting an end to her dream of being a ballet dancer, and when she was a teenager she developed a benign tumor behind her eye.
Responding to a photographer for the Independent saying she had an "amazing face," Foy told the paper 2012, "I don't know what you're supposed to say when people say stuff like that... it's just my face, I'm quite lucky to have a face." 
When she developed the tumor, "I was like a Cyclops and it was all a bit scary, and I was on steroids for about a year and a half afterwards that makes you put on a lot of weight and have really bad skin. It's quite good when you have something like that, because the amount of time you've got to look in a mirror when you're working... the amount of time people talk about your face... It's quite good to have some sort of perspective, because it's just a face."
She and Moore married in 2014 and welcomed daughter Ivy Rose Moore in March 2015, just months before Foy was set to embark on the life-changing journey that was The Crown—the first season of which cost a reported $130 million to make, making it Netflix's most expensive series at the time.
"I'm too conscious of looking like a dick," Foy told The Guardian in August 2015, regarding her continued aversion to the trappings of celebrity. "That's the difference between a star and a normal person. I've never been someone who walks into a room and people gasp."
But she plays one on TV! 
The Crown's first season landed on Netflix in November 2016, Foy became the actress to watch, and The Crown became, and remained, one of the most talked-about shows on any platform, the apparently insatiable thirst for luxurious dish on the U.K.'s most famous family spreading through the States like royal-baby fever.
Foy won her first Golden Globe barely two months later, in January 2017. The show was also named Best TV Series, Drama, at the Globes. Then Foy won the first of her two consecutive Screen Actors Guild Awards and that September was nominated for her first Emmy.
Throughout, Foy continued to abide by her personal tenets of anonymity as much as was humanly possible, but alas the game was up. She was not only a star, but in demand.
The Crown took precedent, but the structure of the cast-shifting show meant that she was only committed to the throne for one more season. In the meantime, she lined up the 2017 romantic tearjerker Breathe, which marked Andy Serkis' directorial debut; Steven Soderbergh's  psychological thriller Unsane, which came out in March; First Man and The Girl in the Spider's Web. 
And yet you'd probably still be in the majority if you didn't know what was going on with Foy behind the scenes if she didn't let you in on the action occasionally.
She opened up to British Vogue last fall about shooting season one just four months after giving birth, which led one day to her being "halfway up a Scottish mountain, with engorged boobs and no way of getting down to feed my baby. I had to ring my husband and tell him to give her formula. It was like someone had stamped on my heart and, as I sat in a Land Rover trying to get a broken breast pump to work, I felt I'd made the worst mistake of my life."
That turned out not to be the case (bringing Ivy Rose to the set eventually helped, including when the cast shot on location in Africa), though life did inevitably get more complicated.
David M. Benett/Dave Benett/Getty Images
In the summer of 2017, Moore underwent surgery to have another pituitary gland tumor removed. Not only was it a more life-threatening situation this time, but as a husband and father the stakes were greater regardless.
"You realize you're not the most important person in that process," Moore told the Telegraph in September 2017, about eight weeks after the procedure, "and everybody who loves you goes through far worse. My daughter didn't know what was going on, at all. But my family did, and I could see it in them."
Asked about Moore's health scare recently, Foy told Vogue, "That's Stephen's thing to talk about, really, but he's doing really well, which is a miracle."
Talking about how life had changed since his wife's career went "stratospheric" (his word), Moore also said last year that it hadn't changed all that much for them behind the scenes. 
"I fell in love with her not knowing if she was a good actor or a bad actor, it didn't make any difference to me," he said. "All of that stuff is just a bonus. It's all very nice, but our life is completely separate to our profession.
"And, actually," he continued, "she's remarkably free. She very rarely gets stopped [by fans]. She's lucky because in her roles she often looks very different to how she looks in real life. She doesn't look like the queen."
Last winter, however, the couple split up after more than three years of marriage, as quietly as they conducted themselves while they were together.
Dominique Charriau/WireImage
"We have separated and have been for some time," Foy said in a statement in February. "We do however continue as great friends with the utmost respect for one another."
Foy being Foy, that was about it as far as publicly peeling the onion went, but she and Moore have remained close and are co-parenting Ivy Rose. "It was always going to be like that, anyway, because I always wanted to go back to work," she told Porter Edit recently. "But there's only one mum, and there's only one dad."
"I'm incredibly lucky that I have a child with someone I deeply love and who is my best friend," Foy also says in Vogue's November issue, which features the newly minted movie star on the cover. 
She was single, Foy noted, adding, "I'm 34, and I genuinely can't even think about anything apart from taking care of myself and taking care of my daughter, to be perfectly honest. But you never know."
Meanwhile, motherhood is her No. 1 priority, and now with the last round of publicity in her wake and no pressing holiday plans, it's beginning to look a lot like Christmas.
"I'm going to go festively mental. I love twinkling lights. Decorate the whole house!" Foy said. "Christmas becomes less exciting as you become older. Then suddenly when you have a child you go, 'You're excited! It's great!'"
And next year, when Ivy starts school, she'll be firmly rooted in London. Her brother, sister and mother, who helps out a lot with her granddaughter, all live in the city too, as does Moore.
Just as they did seven years ago, she and Moore still share "the reality of both doing the same job, understanding the complexities of it."
Jordan Strauss/Invision/AP/Shutterstock
As for what continues to go on inside Claire Foy's head, therapy has helped with the anxiety and the "lots of thoughts about how s--t I am," she told the Guardian in September, acknowledging it was somewhat disappointing that success (she admits it!) hadn't solved her problems.
"We laud success so much, and think that if you're successful, you're special," she said. "Maybe it changes some people. But what I found really disconcerting was that it hadn't changed me at all. Ultimately, all the same old crap is going on."
She told Porter Edit that she's pretty much accepted that life is going to have its ups and downs, romantically, professionally and everywhere else.
"A long time ago, I gave up on the idea of happiness," Foy said. "I think you can be incredibly, deliriously happy one minute, and be miserable the next...I've realized that my life is quite dramatic, and that's OK. I'm really happy, but… " She paused. "I'm not sorted, at all. I don't expect any moment to last."