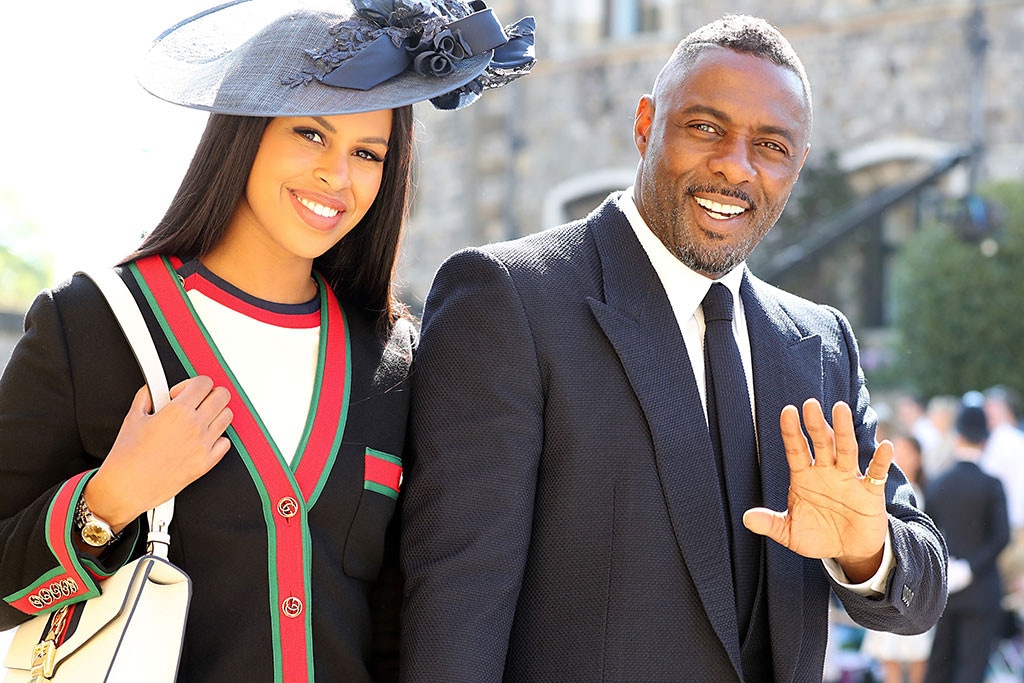 Danny Lawson/PA Wire
Maintaining Internet boyfriend status is a commitment. One must possess the requisite charm, maturity and authenticity with just the right amount of humility. Despite being a part of the "it" show/movie/album of the moment, they have to be accessible and while it's not necessarily mandatory that they be single, it helps to have an air of mystery surrounding their love life. No one like to think about their virtual love interest up and leaving them for some women they came across IRL. 
And so Idris Elba, he of The Wire, Luther, Dark Tower, fill-in-a-hot-new-movie-here fame, who has said his ideal woman is "someone who's regular", was the perfect fit for years, joining the ranks of Tom Hiddleston, Oscar Isaac and Internet Boyfriend OG Benedict Cumberbatch. 
Before he proposed to model girlfriend Sabrina Dhowre, at a movie premiere no less, his private life was shrouded in enough intrigue that one could believe he was just waiting for the right woman to share his days and his most GIF-able moments. 
And as it turns out, he was. Despite his acting trophies, Order of the British Empire title, a thriving career that often sees him switching between his roles as thespian, in-demand DJ, Muay Thai fighter and clothing designer and enough raw magnetism to earn him the title of People's current Sexiest Man Alive, the 46-year-old father of two considered himself sincerely lacking in the romance department. 
Yes, he'd enjoyed his share of relationships, two of which resulted in marriage, but they had a tendency to fall apart. And the actor, with his alluring accent, overabundance of charm and impossibly cut abs, was left looking like the insatiable playboy who couldn't be pinned down. "I think I'm the most misunderstood partner ever," he lamented to The New York Times last year. "I've had many failed relationships but not because I'm an ass, just because there's so many complexities to relationships and perhaps I'm very guarded, just like Luther's guarded. And being guarded, people presume things and I often haven't corrected them.
"They just have so much of who I am wrong, they feel like I must be a playboy. I must be noncommittal. I must be the kind of guy that jumps in and out. And, you know, I suppose if you look at my history or you know anything about my history or you can read on Google who I was married to or what's happened, you know, it might appear that way. But it's completely misunderstood." 
For starters, he went through that awkward, insecure phase just like everyone else. Sure, at the all-boys school he attended in East London, he played first-string football, basketball, cricket, hockey and rugby, but the 6-foot-3 son of African immigrants (his mom Eve hails from Ghana; his dad Winston, Sierra Leone) "was very tall and skinny," he noted in his People interview. "And my name was Idrissa Akuna Elba, okay? I got picked on a little bit." Then he turned 14, managed to eke out some facial hair and "I was the coolest kid on the block," he said. "Grew a mustache, had some muscles, bonkers." 
He had big dreams, too, but it took a beat to get them off the ground. He immediately took to the drama class he signed up for in school, finding comfort disappearing into Shakespeare's prose—"Even with people looking at you, when you're playing a character, you're so hidden," he explained to GQ in 2013—but then he ran out of money and was forced to make ends meet as a shop clerk, a tire fitter, a wedding DJ. Until one night in the 90s just before he reported for the graveyard shift welding side panels onto Ford Fiestas in the same London factory where his father toiled, he decided to make a move—purchasing a one-way ticket to New York City. 
For much of the next decade, he bounced back and forth between New York, where he worked as a bouncer at comedy club Carolines and, at times, a pot dealer as he tried desperately to score acting gigs and his native London, where he was romancing makeup artist Hanne Norgaard. But when he turned 26, he decided to make an honest stab at ending their back-and-forth-romance, making her his wife and bringing her over to the States. "I liked the idea of being married," he offered to GQ by way of explanation. "I was focused in one what I was trying to do in my life. And my girl supported me." 
Donato Sardella/WireImage
Still unable to crack into the industry, though, "I had to keep going back and forth to New York, to London, to try and make a bit of money real quick." His bride struggled to adjust to her new home and the nights spent alone in their Jersey City apartment, made all the more tough by the fact that she was expecting their first child. "We just had a hard time," he said. "The next thing you know, we broke up." 
As they prepared to welcome their daughter Isan, now 16, he moved out, couch-hopping when he could and spending other nights parked in his Astro van. "I mean it was like, 'F--k, where did I go wrong?' I had a lot of promise in England, you know?" he recalled of the toughest moments. "'What the f--k are you doing here? Your visa's going to run out soon. You're going to have a baby. What the f--k are you doing. That's what's going through my head." 
Mere weeks before Isan's 2002 arrival, he got the call—he'd earned the part of drug kingpin Stringer Bell on a new HBO series, The Wire. "My (then) wife as about eight and a half months pregnant," he recounted to Playboy. "If I didn't get it, I was going to leave the U.S."
Instead he decamped to Maryland for the Baltimore-set series, this time as a single man. And when a pal set him up with property lawyer Sonya Hamlin in 2006, he fell hard. "My friend just said hew as a really nice guy," Hamlin would later detail to The Daily Mail. "He wasn't a superstar back then." Both homebodies, she said, they would often lounge around their shared home watching TV, listening to music or cooking Jamaican food. But one night in April, they flew to Las Vegas to catch a Floyd Mayweather match and decided, on a whim, to elope. 
"We had been together several months already, and knew it was right," she said. "We were both madly in love by then, and we were like, 'Let's just do it!' We were both excited. It was a mutual decision. As far as we were concerned, we were going to spend the rest of our lives together." 
Instead, some six weeks after he bought her a diamond ring and whisked her off to the Little White Wedding Chapel for sunset vows, their union unraveled. She blamed the outside influences who told him being tied down "was going to ruin his career. He was being told it was an important part of his image to be a single sex symbol and being married would damage that." But Elba insists the undoing of such a serious relationship was, as always, more complicated that. 
Though certainly his line of work hasn't exactly served him well in his private life. As he told Playboy, "I've been in and out of relationships, I've been married, and it's hard to keep a relationship when you're an actor."
Though his unfortunate luck seems to extend beyond that. Take the romance he enjoyed next with a Florida-based woman. In early 2010, years into their coupling, she gave birth to a boy they named Otega and Elba was thrilled. "The celebration of having a son—from a man's perspective, it's massive," he told GQ. And so he celebrated, excitedly telling friends about the arrival, and even mentioning it to The New York Times. 
Then his mom came for a visit, took one look at them ("He didn't look like me," Elba admitted) and instantly new the truth. "She said, 'That's not your son,'" he told The New York Times. "So I just did a paternity test." 
The negative result left him floored. "To be given that and then have it taken away so harshly was like taking a full-on punch in the face: POW," he said. "You know, the truth is—like, even admitting it, I'll probably get laughed at for the rest of my life. But it is just tragic, and it happened. But I wasn't knocked out. I stood right the f--k back up, and I ain't aiming to take another punch in the face ever again. Do you understand what I'm saying? It happened to me. I moved on." 
Frazer Harrison/Getty Images
In the summer of 2013, as a trio of his biggest films, Pacific Rim, Mandela: Long Walk to Freedom and Thor: The Dark World, were hitting the big screen, he connected with makeup artist Naiyana Garth. Together for three years, she blessed him with the 2014 arrival of their son Winston, a moment he calls one of his two happiest. "Being witness to the birth of my children is the biggest and best thing ever," he told People. 
But by mid-2016, just after he scooped up double SAG Awards for Luther and his role in Beasts of No Nation, he found himself single again, a situation he perhaps forecasted when chatting with The Daily Mail a year earlier. Asked to name his biggest disappointment, he responded, "My personal life. I sacrificed it to be where I am as an actor. So my relationships have suffered."
David Fisher/REX/Shutterstock
In a what goes around, comes around turn, though, he has his career to thank for his latest love match. While filming The Mountain Between Us in Canada in late 2016, he made the acquaintance of Somali-born Dhowre, a former Miss Vancouver. And by the following September, the normally press-shy star was so smitten he was finding it hard to stay quiet. "Falling in love while making a movie about falling in love is pretty special," he recounted to People as he began squiring Dhowre, 29, around to press events, starting with the Toronto International Film Festival premiere for Molly's Game. "It definitely got noticed because I try to keep my personal life different," he continued. "I think it's an interesting space, especially for her. She'd never done a red carpet before and I tend not to do that. It was nice actually."
So nice that by this February he found himself going back on the vow he'd made to Essence to never wed again. "I don't think so, he told the mag last year. "Marriage is an institution of sorts. And I've done it. It's not for everybody. It's not my life calling." 
Blame the inescapable draw of Valentine's Day or perhaps a gut feeling that this time it was destined to all work out, but ahead of a Feb. 9 preview for his crime flick Yardie, Elba found himself dropping to one knee on stage at London's Rio Cinema, proposing to the woman that's become a fixture on his Instagram page. 
Or perhaps it's his pledge to never operate in absolutes and to sometimes, when the mood strikes, simply go for it. "Life isn't about thinking about what you should have done," he summed up to People. "I think everyone should adopt the philosophy that tomorrow is not promised so just go for it today. You might as well do it to your heart's content."