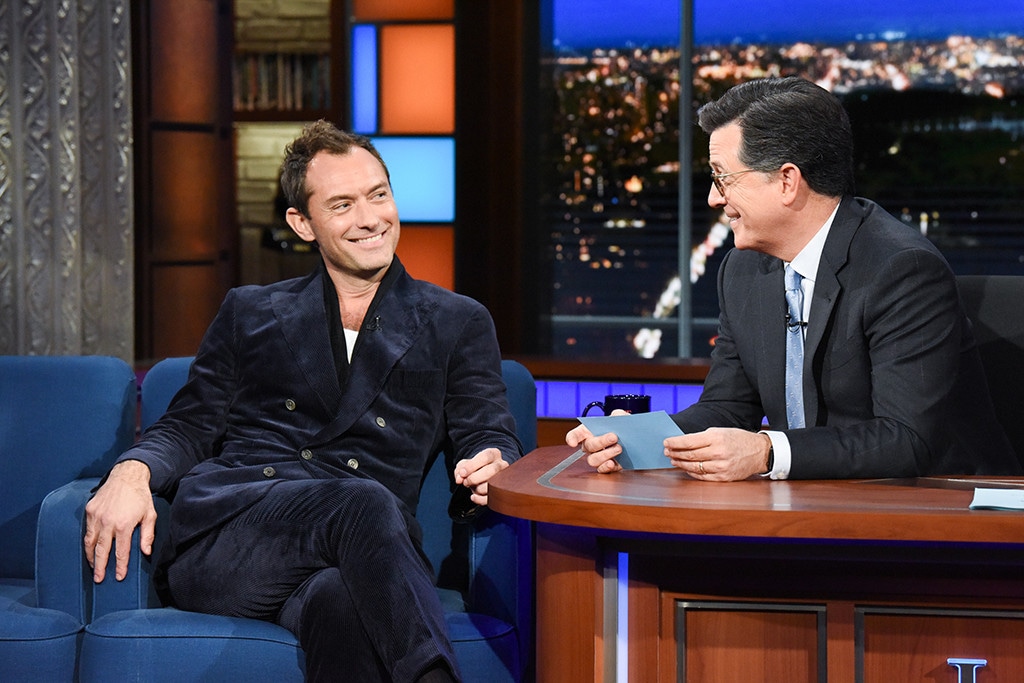 Scott Kowalchyk/CBS
When the first trailer for Fantastic Beasts: The Crimes of Grindelwald dropped, fans were divided over whether Albus Dumbledore (Jude Law) mispronounced Gellert Grindelwald's name to sound like Grindel-vald instead of Grindel-wald. Stephen Colbert got right down to it on The Late Show Monday, asking, "In the first movies, they called him 'Grindel-wald.' What's the deal?"
"It's a very good question," said Law, whose character did not appear in Fantastic Beasts and Where to Find Them. "I dive straight in calling him Grindel-vald, assuming—because I had this very good friendship with him—that I got it right. Eddie Redmayne—who plays, obviously, the great Newt Scamander—pointed it out halfway through the film. He said, 'I don't call him that; I call him Grindel-wald.' But it was too late [to do anything]. I think it's because Albus knows him well. At some point, Gellert said, 'Uh, can you please call me Grindel-vald?' I'm sticking to that."
Law should have asked J.K. Rowling, as she created the character. After all, she blew fans' minds when she revealed in 2015 that most people had been saying Voldemort's name wrong. He-Who-Must-Not-Be-Named (Ralph Fiennes) pronounced it "Grindel-vald" in 2010's Harry Potter and the Deathly Hallows – Part 1, making it likely Redmayne has been saying it wrong.
After he was cast in Warner Bros.' fantasy film, the 45-year-old actor told Colbert, "I went to her immediately. As soon as I got the part, I thought, 'I've got this responsibility to all these fans of this wizarding world.' Also, I really wanted to meet J.K. Rowling! It seemed like a pretty good in-road. So, yes, I spent an afternoon with her, and she told me everything [about] Albus Dumbledore. It was wonderful and insightful. And what an opportunity for an actor, you know? I had this direct route to the detailed background and inner workings of my character. It was fantastic! She's a phenomenal, formidable, smart, fun woman—really, really great company!"
Law couldn't say much else about the film (in theaters Nov. 16). Blaming the studio, he said, "They're very polite. It's always like, 'We assume you're not going to share this with anybody.'"
Albus was previously played by Michael Gambon and the late Richard Harris in the Harry Potter film series, which served as a springboard for Law. "I realize I'm in a rare position where I'm playing a character who's already been played in his old age; that doesn't often happen," he said. "But because of that, I get to sort of layer up all these complexities and inner dramas and turmoils and personal tragedies, even. I'm not giving anything away, am I? No, I'm not. We get to unpack all of that in detail now that we're back in the 1920s. So, it's a good position to be in."
The sequel is darker than its predecessor—which makes sense, as fans of the Harry Potter novels already know Albus' relationship to Gellert (Johnny Depp) dates back to their youth. "That is a very defining part of his past," Law told Colbert. "He had this intense, intimate, extraordinary and explosive relationship. It propelled the two of them in opposite directions."