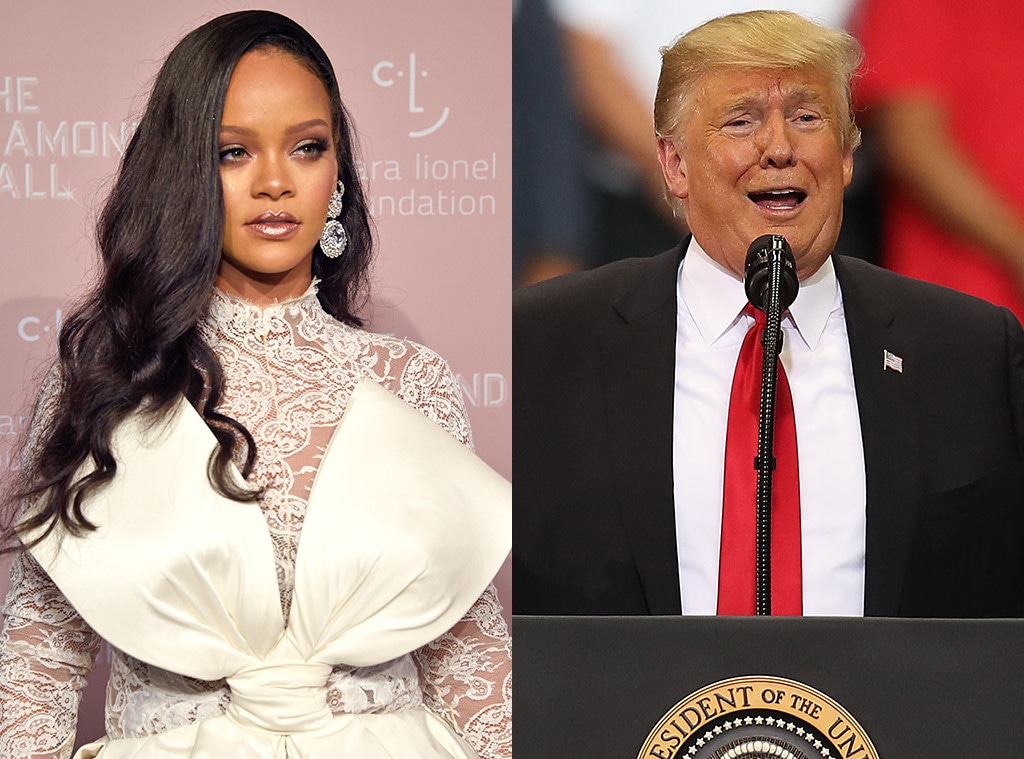 Getty Images
President Donald Trump may have to find a new song at his rallies.
Over the weekend, The Washington Post's White House bureau chief Philip Rucker attended a political event and tweeted about his experience.
"It's been said a million times, but here's a million and one—Trump's rallies are unlike anything else in politics," he shared with his followers. "Currently, Rihanna's 'Don't Stop the Music' is blaring in Chattanooga as aides toss free Trump T-shirts into the crowd, like a ball game. Everyone's loving it."
As it turns out, Rihanna saw the tweet and had some thoughts.
"Not for much longer," she wrote to the reporter. "Me nor my people would ever be at or around one of those tragic rallies, so thanks for the heads up Philip!"
This isn't the first artist to express their dismay at President Trump playing their music. Steven Tyler wanted the former Celebrity Apprentice host to stop playing Aerosmith songs at campaign events.
Adele also denied his permission to use her music on the campaign trial.
As for Rihanna, she recently took a stance when she reportedly passed on performing at the 2019 Super Bowl halftime show in support of Colin Kaepernick.
"They offered it to her, but she said no because of the kneeling controversy," a source told Us Weekly. "She doesn't agree with the NFL's stance."
Earlier in the month, Rihanna also explained to her followers why it's important to vote this Tuesday on Election Day. She would also express her support for Andrew Gillum who is hoping to become Florida's first African American governor.