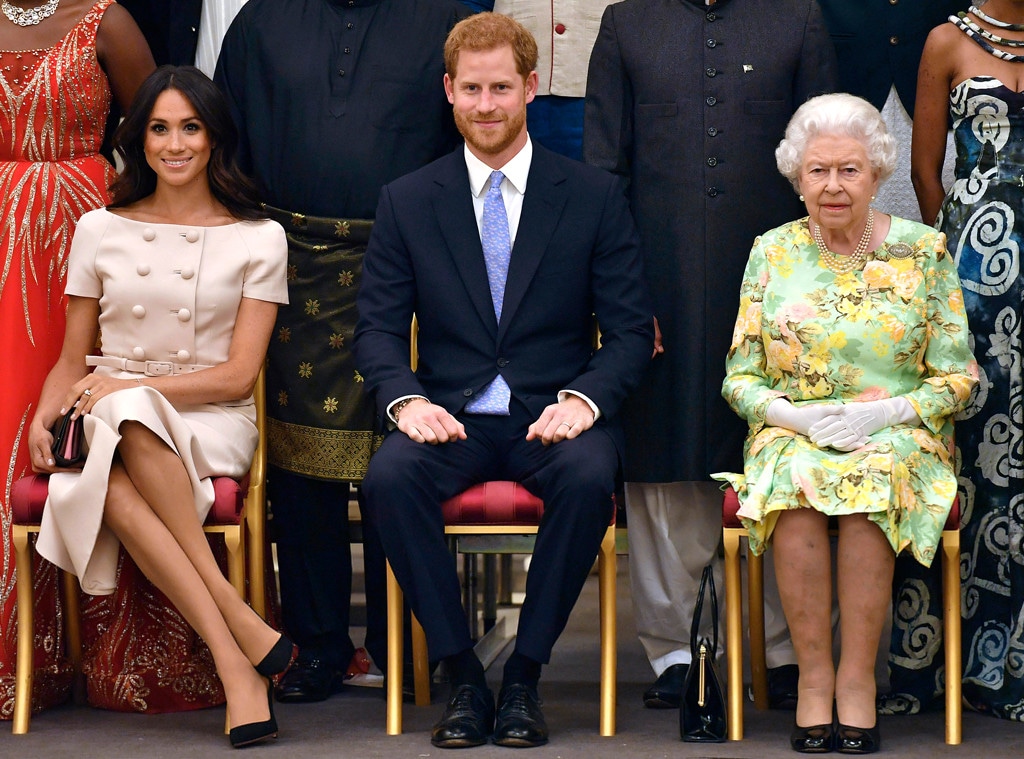 John Stillwell/PA Wire/AP Images
The bottles of Pol Roger Brut Reserve were already uncorked, the well-heeled crowd infused with a mix of bubbles and celebratory spirit as they toasted to Princess Eugenie and her new husband Jack Brooksbank. 
Armed with the knowledge that the eyes of the world would be trained on her waistline for the next 16 days as she toured the Southern Hemisphere with Prince Harry, Meghan Markle knew this was the moment to covertly pull her father-in-law Prince Charles and his bride, Duchess Camilla, aside and inform them of the happy news, that just a few months after their extravagant May vows, the newlyweds were with child. Naturally "delighted", as a Kensington Palace rep revealed in a statement, the pair offered up their congratulations along with Harry's beloved grandparents Queen Elizabeth II and Prince Philip. 
Few words enthrall prospective grandparents more than, "I'm pregnant." It's the type of announcement that can enrich an already close relationship between a woman and her in-laws or go a long way to smoothing out any rough edges. And Meghan, she falls firmly into camp number one. 
As the haters were tsk-tsk-ing Harry's choice of mate for being too American, too divorced, too Hollywood and, yes, unfortunately, too black for some people, being born to an African-American mother and a Caucasian father (though in the eyes of the most critical, would anyone be deemed worth of Britain's most eligible prince?), the royal family was accepting her, arms wide open. 
Having been there, endured that, Kate Middleton offered Harry's then-girlfriend an open invitation to pop by the Kensington Palace apartment she shared with Prince William anytime she needed to talk shop or simply exchange tales of adapting to life in The Firm while Charles quickly bonded with the Northwestern University theater and international studies double major over their shared love of art, history and culture. And Queen Elizabeth? For all the worry the monarch would disapprove of her beloved grandson choosing a (gasp!) divorcée as his bride, she took to the well-educated former actress at once. As one insider told Us Weekly, "The queen became fond of Meghan at their first meeting." 
James Gourley/BPI/Shutterstock
The same could be said of Kate, who scored one of the first introductions with the woman that left Harry so enraptured that pals began whispering about an upcoming wedding well before they crossed the one-year threshold. 
Eager to impress, Meghan, 37, arrived to their January 2017 meeting at Kensington Palace armed with a present in honor of Kate's recent birthday. A shrewd move, it went a long way to impressing the mom of Prince George, 5, Princess Charlotte, 3, and 7-month-old Prince Louis who offered her blessing and council in return. 
As Harry shared in their November engagement interview, "I'd been seeing her for a period of time when I literally didn't tell anybody at all. And then William was longing to meet her and so was Catherine, so you know being our neighbors, we managed to get that in a couple of—well, quite a few times now, and Catherine has been absolutely..."
"She's been wonderful," Meghan chimed in. 
"…amazing, as has William as well, you know, fantastic support," Harry finished up. 
DAVID HARTLEY/Shutterstock
Knowing how easy it would be for Meghan to maneuver across their shared courtyard sight unseen, Kate, 36, issued a blanket invitation for her to pop round with any questions that might arise the further she and Harry got in their courting process. 
While a source notes that Kate didn't give Meghan any specific advice, "since very early on she made it clear that should Meghan ever need something, or just want to chat, she shouldn't hesitate to get in touch. Kate knows how difficult it is navigating one's way through this very different world. It was important to [Harry] that Meghan and Kate got to know each other, as she has experienced many of the challenges Meghan now faces."
Fast forward nearly two years and while the pair may not necessarily be besties, they're certainly close enough to wile away an afternoon together in the Wimbledon stands, with The Crown historical consultant Robert Lacey telling People that Kate and the queen seem to be Meghan's "closest friends and partners in the official set-up."
She's got quite the strong ally in Charles as well. From the moment Meghan had made the acquaintance of the avowed environmentalist at Harry's 2016 birthday getaway in Scotland, she was charmed. "She told Prince Harry he was wonderful, welcoming, warm, hard-working, kind and stable," royal biographer Robert Jobson wrote in his book Charles at 70: Thoughts, Hopes and Dreams. 
The future king was equally impressed, with a source telling royal author Angela Levin the pair bonded over Meghan's interest in earlier members of the royal family and those that painted portraits of them, a topic of particular interest to art lover Charles, who has been known to produce his own watercolor masterpieces. As a result, the source told Levin, Charles found his son's girlfriend to be "incredibly smart" and, thanks to her years working as an actress, a role that requires extensive media training, inordinately suited for the type of scrutinized existence that she would have as Harry's wife. 
Of course at that point none of them could predict the type of melodramatic storylines that would soon encircle the new Duchess of Sussex. While they may have anticipated critiques of her wardrobe, her accent, her every move during walkabouts, they certainly couldn't have expected it would be Meghan's own kin that would turn on her. 
And while most would think that such down market antics might not sit well with Harry's blue blooded kin, they actually helped Meghan fit right in. No stranger to controversy, the royal clan and their famously stiff upper lip have weathered abdicated thrones (King Edward VII forfeited his lineage to wed twice-divorced American Wallis Simpson in 1936), affairs (Princess Diana held back no details of Charles' infatuation with Camilla or her own infidelity in her infamous 1995 interview with Martin Bashir) and even a little light extortion when Sarah Ferguson, Duchess of York, was caught on tape in 2010 negotiating a 500,000-pound fee from a reporter in exchange for access to ex-husband Prince Andrew. 
Watch:
Meghan Markle Reveals Beautiful Wedding Gift From Prince Charles
"There have been so many traumas and crises within the person life of the royal family," the source noted to Levin in her Daily Mail article. "And many royal divorces. That's why the Duchess of Sussex's troubled family background has endeared her to Charles even more." 
During the worst of the hullabaloo, as Thomas Markle was going on about Scientologists and Stepford wives and how terrified he inexplicably thought his daughter was beneath her beaming smile, Charles and Camilla (who's also gone out of her way to let Meghan into the fold, remembering what it feels like as an outsider) invited the newlyweds up to the Castle of Mey, the family's coastal Scottish estate for a nearly weeklong stay of reading, walking dogs and indulging in long chats. 
A source told royal biographer and Vanity Fair contributor Katie Nicholl that the stay strengthened Charles's relationship with both his son and his new daughter-in-law.  
"The wedding was a real turning point," the source noted of Charles, who graciously filled in for Meghan's dad after heart issues forced him to pull out of escort duty and warmly reached for her mom Doria Ragland as they left the chapel. "Charles showed so much love towards Harry and Meghan, and I think Harry will be eternally grateful to his papa for stepping in and giving Meghan's hand in marriage. The bond between them is very close."
For the new duchess, he's served as part paternal figure, part guardian angel. "Charles has been very supportive of Meghan and everything she is going through with her own father," reported the source. "He's got a real soft spot for her and thinks she's the best thing to have happened to Harry." 
It's a sentiment he shares with his mum. While some were quick to project onto the queen, assuming the 92-year-old monarch would feel some type of way about her beloved grandson settling down with a divorcée a few years his elder who's filmed some fairly racy love scenes for her role on Suits and once made ends meet as a Deal or No Deal briefcase model, she was able to quickly cut through that artifice and get to know the poised, philanthropic woman who had left Harry so besotted. 
"Everything I heard from the sources I spoke to was that she really felt from the outset that Meghan was a positive person in Prince Harry's life," Nicholl told ET ahead of the wedding. "That she made him very happy and that she was really very supportive."
Though Meghan was understandably nervous in the lead up to her September 2017 sit-down with the queen, she left Balmoral having earned the affection not just of her gaggle of corgis ("I've spent the last 33 years being barked at, this one walks in, absolutely nothing," Harry noted in their engagement interview), but the monarch herself. "Not just because she's the charming woman who brought happiness into her grandson's life," a source revealed to Us Weekly, "but also because she quickly demonstrated that she's intelligent, polite and keen to learn."
Meghan received her first official crash course that December when the queen, setting outside years of no ring, no bring tradition, extended an invite for her to tag along for the royal family's three-day Christmas celebration at Sandringham. 
KGC-22/STAR MAX/IPx 2017/AP Images
"Attending as a fiancée is a first for the family," a source admitted to Us Weekly, but the queen agreed to bend the rules for Meghan whose loved ones are based some 5,000 miles away in her native Los Angeles. Kate didn't attend the highly scheduled formal fete until after her 2011 vows to William, but then she always had the option of enjoying the holidays at home with her clan in nearby Bucklebury. "Given that Meghan doesn't have family in the U.K.," noted the source, "it's only right that she spends Christmas with Harry and his." 
Of course Harry has long had a way of getting his grandmother to acquiesce to his every request, but when he asked her for permission to let his future bride tag along she didn't require much convincing. Sharing that she was "delighted" to have Meghan join in, the source said, "It is a family occasion, after all, and Meghan is very much family now." 
Steve Parsons/Pool Photo via AP
To hear Harry tell it, Meghan nailed each mandatory activity and wardrobe change from the gag gift exchange to the Christmas day church service to the three-course holiday meal. (To alleviate some stress, they bunked at William and Kate's Anmer Hall estate so Meghan needn't worry about, say, bumping into the queen en route to the bathroom.) "It was fantastic," he reported on BBC Radio 4's Today program. "She really enjoyed it. The family loved having her there." 
And come this December, Sandringham's team of butlers and chefs may be preparing an extra setting. A new report suggests that the queen is planning to include Ragland on this year's guest list, a gesture thought to be made with the pregnant duchess' comfort in mind. 
If so, it would be another unprecedented move from the queen. While Kate's family has joined in for Christmas morning church service, they never went so far as to stay at Sandringham. But when you consider how fond she's grown of her newest in-law, perhaps it's not all that surprising. "While Meghan and the queen come from two very different backgrounds and generations," the source notes to Us Weekly, "there's a warmth between the two that's genuine and loving." 
And that was even before she announced that she was carrying the queen's eighth great-grandchild, so one can only imagine the sweet surprise that awaits Meghan in her Christmas day stocking and the celebrations that lie ahead.