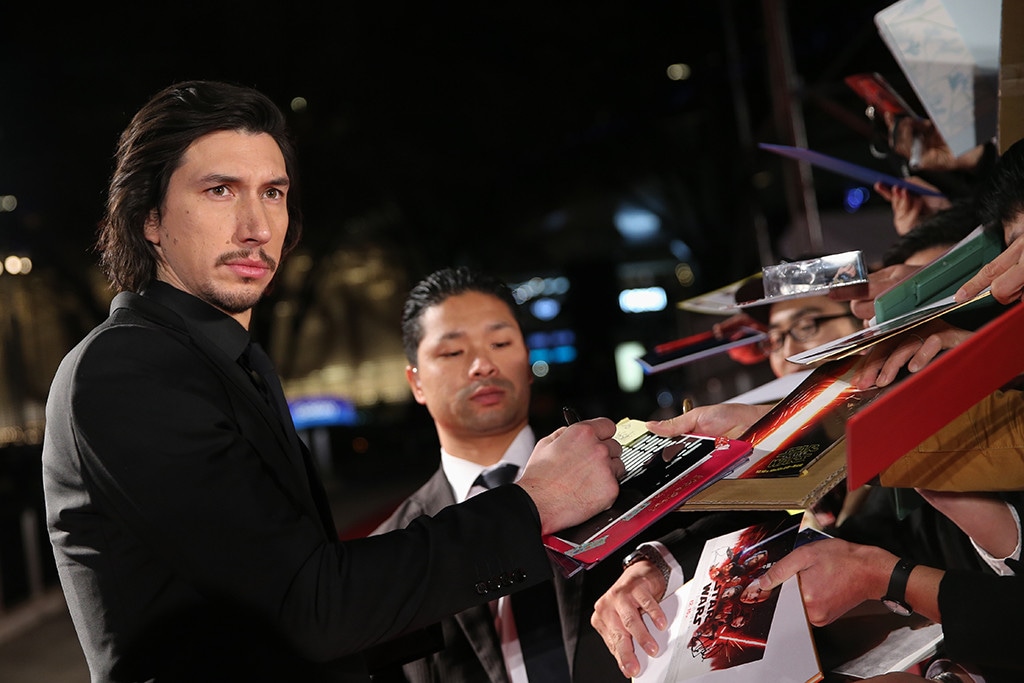 Photo by Christopher Jue/Getty Images for Disney
Adam Driver knows his worth, and he won't sell his soul—not even for charity.
In a wide-ranging conversation with Vulture published Monday, the 34-year-old actor spoke frankly about what he will and won't do to support Arts in the Armed Forces, the nonprofit organization he started a decade ago. Through various fundraising efforts, the organization says it aims to bring "high-quality arts programming to active duty service members, veterans, military support staff and their families around the world free of charge." Driver, who served for two years and eight months in the United States Marine Corps, could leverage his celebrity status to promote his cause—particularly as he's a prominent player in the current Star Wars trilogy. But, as he tells the magazine, the fame game isn't something he's interested in playing.
Admittedly, Driver said, "In terms of this nonprofit, we could probably be doing even better financially if I wasn't one of the people at the head because I'm so unwilling to do so many things—or talk to people in general." Moreover, he said he wants to avoid "getting into favors."
"It's not about me and Star Wars. It's about the people that we're trying to serve," Driver said, matter-of-factly. "And if you don't get that, then I'd rather not be associated with your money."
It's something Driver has thought a lot about—especially as AITAF gears up to celebrate its tenth anniversary Nov. 12 with a special Broadway performance of Sam Shepard's True West.
"I didn't used to feel comfortable fundraising. Like, 'Yeah we're interested in your mission but could you take a picture with my daughter? She's a big Star Wars fan and if you do that I'll give you $100,000.' No, I'm not going to take it. Is there nobody that is just philanthropic for the sake of it? Is there always some picture with your kid? I don't want AITAF things to turn into Star Wars events," said Driver, who was never deployed. "But then you say, 'No,' and you've pissed somebody off. I don't know that I ever handled that badly; I just took it too personally."
Even now, Driver added he will "still say no" to people who make similar offers.
"It has to be the right thing or it can feel disgusting. Some people are good with being like, 'It feels uncomfortable, but imagine what you can do with that money,'" the reluctant star told Vulture. "So, I'm starting to get more comfortable with that idea because we're raising money not only for a military nonprofit, but a performing arts nonprofit. It's difficult. We're not saying, 'Give us $100 and it'll go towards $100 of art.' We're giving something that you can't quantify."
Driver said he "isn't wired" to game the system to his advantage. "This is an ongoing thing I'm trying to figure out. Sometimes I feel like I'm doing [AITAF] a disservice, but I don't want people to give us money for me. I want to cultivate donors that we'll have a lasting relationship with," the Brooklyn-based actor explained. "So, it's not just, 'Give me a check and we'll keep this as impersonal as possible.' I'm trying to make things meaningful. Do you know what I'm saying? I'm not quite explaining myself...I'm trying to say things to you here that I don't normally say."