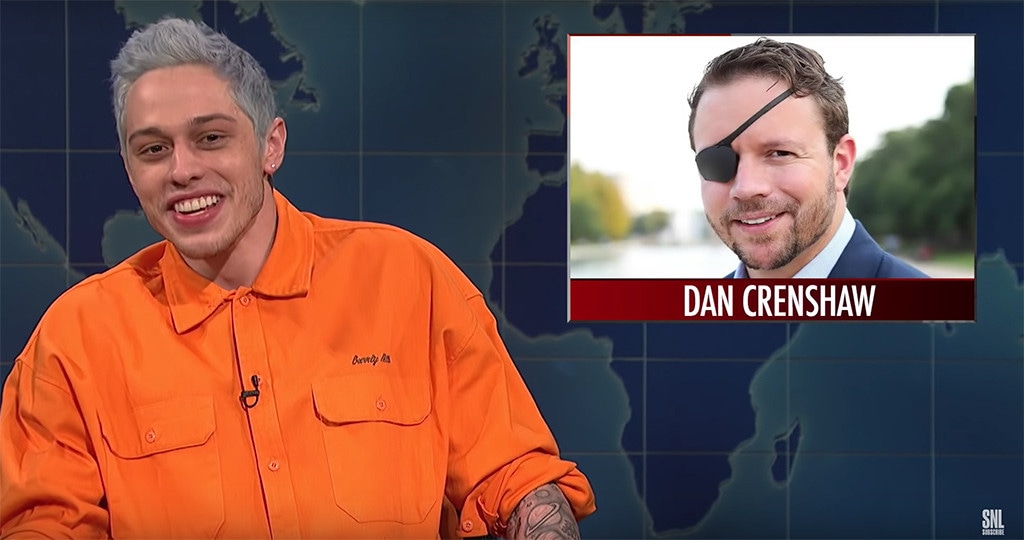 YouTube
Kenan Thompson appeared on Monday's episode of Today and spoke out about the backlash Pete Davidson is facing for a joke he made on this weekend's episode of Saturday Night Live.
On Saturday, Davidson mocked several political candidates based on their physical appearances. His targets included Dan Crenshaw—a Republican congressional candidate from Texas who lost his eye while serving with the U.S. Navy SEALs in Afghanistan in 2012.
"You may be surprised to hear he's a congressional candidate from Texas and not a hitman in a porno movie," the comedian said during a "Weekend Update" segment. "I'm sorry. I know he lost his eye in war or whatever."
Both Davidson and SNL came under fire for the joke. Now, Thompson is admitting his co-star crossed the line.
"My father is a veteran—you know, Vietnam—and I personally would never necessarily go there," Thompson said. "But it's tough when you're fishing for jokes. Like, that's how stand-ups feel. Like, there's no real filters out there when they're trying to go for a great joke or whatever. We try to respect that. But, at the same time, when you miss the mark, you're offending people. So, you have to kind of like be a little more aware, in my opinion."
Thompson then acknowledged his fellow cast member "definitely missed the mark."
"I think he was more so commenting on the fact that the joke maybe didn't land as hard as he wanted to as opposed to being like 'I don't care about veterans.' You know what I mean?" Thompson said in Davidson's defense. "I think Pete's a very, you know, humble dude, and he's got a big heart. I don't think he goes out to offend people. You know what I mean? But, you know, stand-ups are very like—they're the ones that help us laugh through the most awful things in the first place. So, they're always fishing in weird places. That was an unfortunate outcome."
Both Davidson and SNL declined NBC News' request for comment.
Crenshaw took to Twitter on Sunday to react to Davidson's joke.
"Good rule in life: I try hard not to offend; I try harder not to be offended," he wrote. "That being said, I hope @nbcsnl recognizes that vets don't deserve to see their wounds used as punchlines for bad jokes."
He also spoke about losing his eye and Davidson's comment during an interview with Fox News. 
"Listen, I have thick skin, all right? The SEAL teams—we poke fun at each other all the time," he said. "But I have certain rules for when my friends poke fun at me and it's simply this:  It has to be original; it has to be witty and it has to be actually funny and this wasn't funny."
Still, it doesn't look like Crenshaw is looking for an apology.
"I want us to get away from this culture where we demand apologies every time someone misspeaks," he told TMZ. "I think that would be very healthy for our nation to go in that direction. We don't need to be outwardly outraged. I don't need to demand apologies for them. They can do whatever they want. They're feeling the heat from around the country right now and that's fine."
"But I would like him and Saturday Night Live to recognize something," he added, "which is that veterans across the country probably don't feel as though their wounds they received in battle should be the subject of a bad punchline for a bad joke. Here's the real atrocity of all this: It wasn't even funny, right? It was not original. It was not funny. It was just mean-spirited and that's how I feel about it."
Watch the video to see Thompson's interview. 
(E!, NBC and NBC News are all part of NBCUniversal).