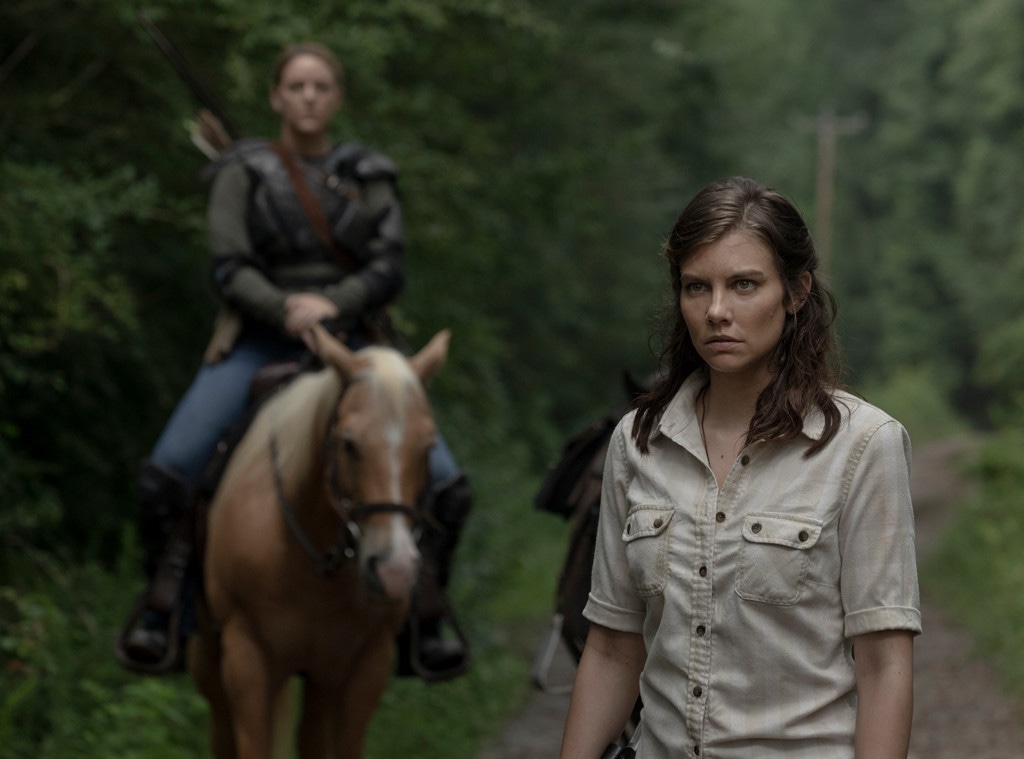 AMC
The Walking Dead said goodbye to Andrew Lincoln (sort of, he'll be back as Rick Grimes for some movies), but that wasn't the only exit in the Sunday, Nov. 4 episode of the hit AMC series. The episode, "What Comes After," also featured the last time viewers will see Lauren Cohan—at least in season nine.
"That's the last of her for this season," showrunner Angela Kang told The Hollywood Reporter. President of programming at AMC David Madden said, "I would hope it's not the last you'll see of her for the show, but she is not in any immediately forthcoming episodes."
Cohan was in prolonged contract negotiations with The Walking Dead ahead of season nine and signed on to star in ABC's midseason action-comedy Whiskey Cavalier opposite Scott Foley.
Cohan told EW that she has discussed what the story would be should she be able to return for season 10, but there is nothing concrete.
"So much of it is really simple because eight years is a long time to spend in one character. Eight years is a long time to spend in the emotional mash-up that Maggie's in and that Lauren is in by virtue of osmosis. I honestly just was looking at this on a multitude of personal levels, and it just made the most sense for me to do this," Cohan said about her decision to leave.
"I love Maggie and I'll always love Maggie, and we had a really good time so far. And I do say so far, because the beautiful thing I get to experience right now — which I think is such a cherished thing for me in life — is to live in the not knowing, and to embrace it. And I just feel in life generally a sense of that more than I ever have on a personal level. So naturally that was going to bleed over into that, and just taking the information at hand and making a decision based upon the facts in front of me," she continued.
In her final season nine episode, Maggie finally confronted Negan (Jeffrey Dean Morgan) and was prepared to end his life, to finally get revenge for what he did to her husband, Glenn (Steven Yeun), but when was finally face-to-face with him, she spared his life. Maggie realized imprisoned living was a greater punishment for Negan than death.
"I came to kill Negan, and you're already worse than dead. That settles it," Maggie told Negan. "It wasn't supposed to be like this," Negan cried.
The episode ended with a time jump to several years in the future.
"We've been talking to Lauren and hopefully we'll get to tell more story for her," Kang told THR. "We definitely have some things up our sleeve that we'd love to do. A lot of that is just a scheduling conversation, so hopefully that will all work out, because I think mutually we would like to continue with Maggie's story, for sure."
What happens to the Hilltop and Maggie? Tune in on Sundays, 9 p.m. on AMC to find out.