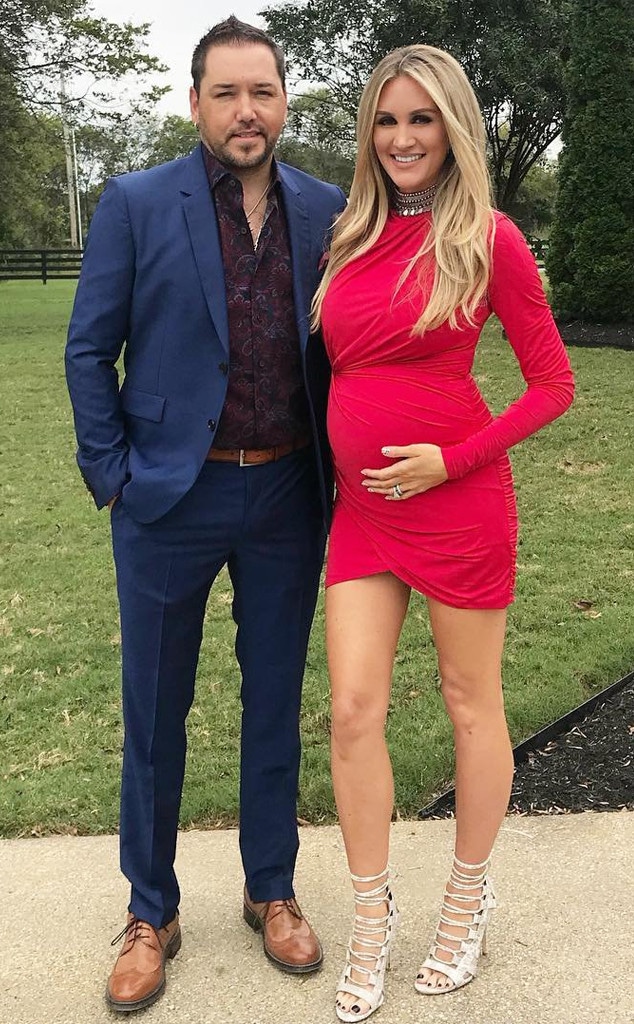 Brittany Aldean/Instagram
There's another baby Aldean on the way, and now we know her name!
On Sunday, country singer Jason Aldean and his wife Brittany Kerr Aldean celebrated their daughter at Brittany's baby shower. In August, the family revealed their second child together—and Jason's fourth—would be a girl. Now we know her name: Navy Rome Williams!
Brittany and 11-year-old Kendyl Aldean announced the name on Brittany's Instagram story earlier in the day. Brittany posted a photo on Instagram of the name Navy written out in lights and wrote, "Today we celebrate you, baby girl." 
Right before the official sex reveal, Kendyl and her big sis Keeley Aldean suspected that they'd be gaining a baby sister. "I think a girl because you've been a bit sicker with this one," Keeley said. 
According to Allenbrooke Farms owner Stephanie Allen, who helped plan and design the baby shower, the event was a huge success.
"There was so much joy in the room. Everyone was super excited to be there," Stephanie shared with E! News. "We did a happy, modern, fun, tropical vibe." 
Because Brittany is craving Dunkin Donuts and fruity pebbles during her pregnancy, guests enjoyed strawberry sprinkled Dunkin Donuts, fruity pebble treats and a delicious fruity pebbles cake from Copper Whisk Cakes.  
Jason and Brittany welcomed their first child, Memphis Aldean Williams, into the world Dec. 1, 2017. They came up with his name because, as Jason explained, he's "always been a (big Elvis Presley fan."
Brittany was diagnosed with endometriosis, so she and Jason turned to IVF treatment to have Memphis. "The IVF was probably harder than the actual pregnancy, for me, because it was just such a roller coaster and so difficult," Brittany told People in July.
The couple announced Brittany's newest pregnancy on Instagram by using Memphis as a model because she uploaded a photo of him on Instagram wearing a onesie that said "Big Brother." 
Congratulations to the Aldean family!