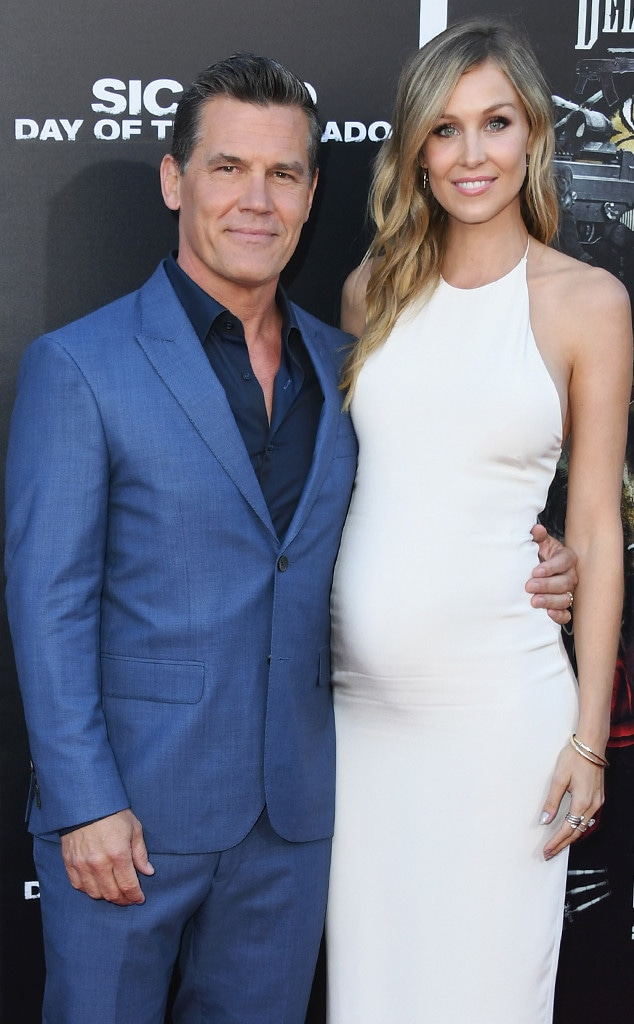 Jon Kopaloff/FilmMagi
Parenting is a snap, right?
Let's just hope Josh Brolin is a better father to "Baby Bean" than Thanos was to Gamora. The Avengers: Infinity War actor, 50, and his wife, Kathryn Brolin, 31, have welcomed their first child. The proud parents announced the joyous news via Instagram, where they'd each been documenting Kathryn's pregnancy ever since they spilled the, uh, beans six months ago.
Though they nicknamed their daughter "Bean," they actually named her Westlyn Reign Brolin. "Mama Kathryn was stellar during this miracle birth and Bean is a flawless gem through and through," Josh wrote. "We are blessed to the core and appreciate so much the love and support during this pregnancy from ALL who have partaken in our journey, directly and/or indirectly."
On Sunday, Kathryn posted the sweetest Instagram video of baby Westlyn smiling. "Our family's newest (and tiniest) member," the new mom wrote. "Nothing compares to this... nothing. My heart is totally different forever. @joshbrolin thanks for this little life of ours."
This is the first child for Kathryn and the second for Josh, who has two adult children with his first wife Alice Adair; Josh did not have kids with Diane Lane, whom he divorced five years ago. When Josh announced Kathryn's pregnancy in May, the Deadpool 2 actor joked on Instagram, "There's a new sheriff in town, and she's no bigger than a sweet potato. Hang on to your hats."
The couple spent the next few months nesting as they awaited the arrival of "Baby Bean."
More recently, Josh shared a video of his pregnant wife with his Instagram followers. "I have the greatest soul mate you can have. Bouts of darkness hit and we/she powers through it. Then moments of the power of this miracle hit and inevitable moves come. Bean. Oh, Bean. You have the greatest mama of all. You lucky lil work of art. We know you're soon to reveal yourself. We can't wait," the actor wrote. "We are grateful beyond measure. I am grateful beyond measure."
In her final trimester, Kathryn shared two underwater portraits Michael Muller had taken of her in the pool—one of which showed her nude. Feeling "charged, ethereal, exuberant," she reflected on her pregnancy Oct. 10. "I am truly in love with this homestretch, as uncomfortable and emotional as it's become, because I know she's too big now to stay in for much longer and is readying to join us out here in the world," said Kathryn, Josh's ex-assistant. "We jumped in and Willy Wonka showed us around his electric underwater paradise before we welcome her."
Parenting requires sacrifice, which is something both Josh and Kathryn realized before "Baby Bean" was born. For example, he backed out of Chicago's ACE Comic Con two months ago to be by her side. "I regretfully inform you that I'm choosing to stay home because of how close it is to the due date of our little Bean," he said on Instagram. "I was really looking forward to going, as it's something that I haven't done post-release of both Deadpool and Infinity War, but I will try and reschedule for a later date, when it makes more sense regarding my familial situation."
Josh, who married Kathryn in 2016, will return to the big screen in next year's Avengers sequel.
Congratulations to the happy family!