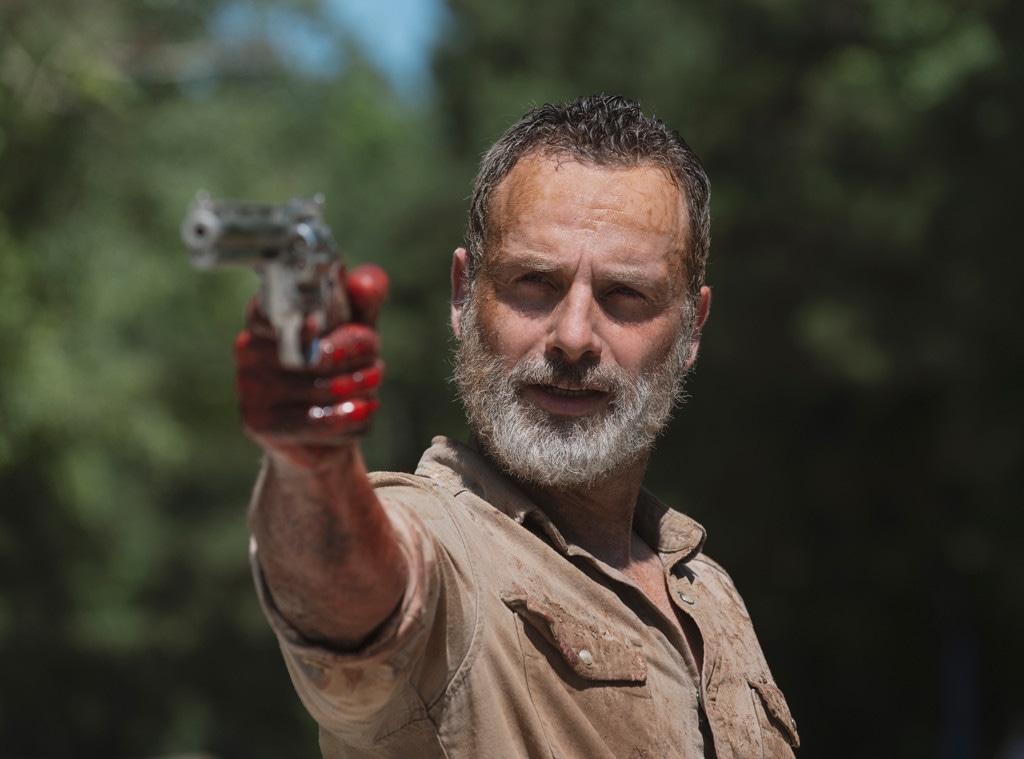 AMC
And just like that, Andrew Lincoln is off The Walking Dead. In "What Comes After," the fifth episode of The Walking Dead season nine, Lincoln made is final (for now) appearance as Rick Grimes, the show's central character since the start back in 2009. So, what happened to Rick? Read on to find out. And if it wasn't clear, spoilers follow.
Lincoln's penultimate episode ended with Rick Grimes getting impaled on a slab of concrete, caught between two herds of zombies. But Rick Grimes is a survivor. His final episode opened with him talking to himself in the hospital, right where viewers saw him in the series premiere. That was the pep talk he needed to get off the slab, back on his horse and away from the herds.
Throughout the episode, Rick struggled to stay awake and alive, flashing back to and hallucinating key moments in his past (that's how Jon Bernthal's Shane, Scott Wilson's Hershel and Sonequa Martin-Green's Sasha returned), to find the strength to carry on.
Rick eventually made his way to that infamous bridge, and, again through hallucinations of his friends and family, found the strength to carry on—and save the day one more time. He blew up the bridge he was so desperate to complete in order to save everyone he loves. But that meant his friends and family saw him die. Or did they? Rick Grimes lives, he was found by Jadis (Pollyanna McIntosh), who deemed him a "B" and sent him away with the mysterious group in the helicopters.
"I'm trying to save a friend," she said. "A friend who saved me."
Away Rick went and the zombie apocalypse continued. The episode ended with new survivors getting rescued by…Judith Grimes. No, not the infant, but a pre-teen Judith Grimes. It's a flash forward? A time jump? That emains to be seen.
The episode wasn't all Rick. Maggie (Lauren Cohan) confronted Negan (Jeffrey Dean Morgan) in prison, finally, and she seemed ready to get payback for the murder of Glenn (Steven Yeun). Negan baited her, egging her on to kill him, but Maggie realized leaving him alive is worse punishment for him. "I came to kill Negan, and you're already worse than dead. That settles it," she told him. "It wasn't supposed to be like this," Negan cried.
The Walking Dead airs Sundays, 9 p.m. on AMC.