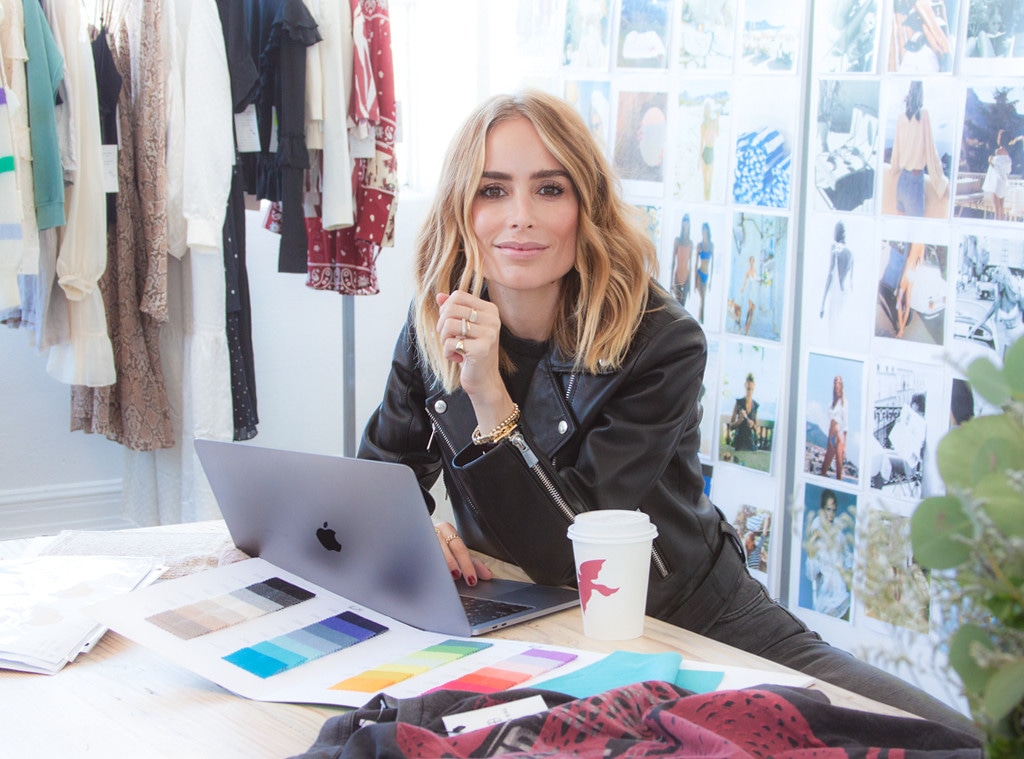 Jacqueline Lee/E!
As one of the first fashion bloggers to launch her own ready-to-wear brand, Anine Bing has successfully brought her fusion of Scandinavian and American fashion to the masses. 
Since launching in 2012, Anine Bing has grown into the feminine and edgy go-to for fashionistas all over the world, including stars like Kendall Jenner, Gigi Hadid, Lucy Hale and Kate Upton. Now, the designer's self-titled brand is sold in over 300 stores boutiques worldwide and eight flagship stores can be found in Los Angeles, New York, Paris, London, Barcelona, Madrid and Berlin. Staying true to her Instagram-loved aesthetic, she has branched out into shoes, bags, kids clothing and more.
But how does one go from modeling and blogging to international success? Here we get to know Anine as she shares what it really takes to be a trendsetter.
What was your first job?
I was a cleaner when I was young to make a little extra money. That was definitely a job that made me appreciate hard work.
What inspired you to start your own line?
I've been cutting up and mixing styles from flea markets since I was a little girl, so starting my company was a natural next step after working in various creative fields. I really wanted to create the pieces I wanted to wear and simplify everything. I felt like so many fashion companies were too complicated and didn't offer the basics I wanted to wear everyday.  I wanted to create pieces that made it easy to get dressed and look effortless without a lot of effort.
What's the best part about your career?
I love that I get to work with amazing, creative women on a daily basis. Having a company that is focused on women means that I get to surround myself with smart women and hear their thoughts every day and that is always inspiring. I also love that I get to constantly learn something new. Every day someone teaches me something i didn't know before so i feel like I am constantly growing and I'm so grateful for that.
Who are your career heroes?
I love seeing the success of my friends who I find to be so inspiring and who continue to reinvent themselves and their careers. I really admire my friend Alli Webb who started DryBar. I have also always been inspired by Coco Chanel. She came from nothing and built a brand that has really stood the test of time.
What's the best piece of advice you've ever received?
The best advice I have ever received is to go to bed by 10pm. This simple rule has changed my life and made me conscious of dedicating time to rest no matter how busy things get. I get up so early and by going to bed by 10pm, I always feel refreshed and ready to take on a new day. I can't afford to be tired or out of it so making this commitment to myself has been so important.
What's a typical day like for you?
After the kids wake me up, we usually eat breakfast together at home or on weekends we'll go to Joan's on Third, which is one of my favorite places in LA. I also have to get my coffee in, usually a tumeric latte. If I have a little extra time in the morning or if my husband takes the kids to school that day, I try to squeeze in a quick solo hike with our dog, Luca, to get some fresh air and start the day with a few minutes to myself. Then, I head to work. Some days there is so much going on off-site I don't even make it to the office. Some days I sit in meetings until it's time to go home. Depending on the day, when I get home from work I will either make dinner at home (we love pasta) or I'll order in and then Nico and I will spend time relaxing and playing with the kids outside in the backyard. Most nights I prefer quiet family time, but every once in a while I will go out to dinner with friends in the neighborhood.
Who was the first celeb to wear one of your designs?   
Rosie Huntington-Whiteley was one of the first celebrities to wear our brand and I couldn't have picked anyone better. She really embodies our essence at ANINE BING. She's effortless and cool and is a modern women who needs clothes to keep up with all she does.
Describe your customer in three words.
Effortless, dynamic, elevated.
Tell us about your office décor.
My clothing style and decorating styles are very similar. For the office, it's very minimal, inspired by the clean style of Scandinavian minimalism. We have black and white photographs by Terry O'Neill hanging on the walls and a few plants here and there but mostly it's really crisp and clean and we keep the windows open to let the sun and LA breeze in. It's a very open concept with a lot of space and room to move around in.
What piece(s) from your collection do you wear most?
I live in all of the pieces from our Classics Collection. I created this part of the brand to hold all of those pieces I turn to again and again. The classics are all the leather jackets I wear with everything, the perfect white tee and black lace bralette. These are the pieces I wear as part of my daily uniform.
To create the perfect fall wardrobe, what pieces should every woman have in her closet?
I love fall because I finally get to break out all the outerwear that I don't really get to wear much in LA. We still don't really need heavy coats but I wear them anyway. This season I think having one classic outerwear piece and one more statement-making jacket is perfect. I'm loving this camel coat and our leopard print zip up.  
Where do you seek inspiration for new collections?
I am constantly inspired by everything that is around me. That's why I love living in LA, there's always something new to see or be inspired by. It feels fresh all the time. I go to a lot of flea markets, they have always been a place where I get inspired by the antiques and patterns and materials I see.
Finish the below sentences.
Today for lunch I had… Avocado toast and a soy latte
The first website I log onto every day is… Shopify to see how the business did overnight since we have a big following in Europe and Instagram to get inspired for the day.
The last thing I Googled was… Kids lunch boxes
The last song I listened to was… "My Silver Lining" by First Aid Kit
My favorite podcast is… I've been really into NPR's How I Built This recently. It's fascinating and I learn so much.
My favorite people to follow on Instagram are… Lately, I've been loving watching my friends @firstaidkitband on their tour and I love Sara and Erin Foster. They are hilarious.
My usual coffee order is… A tumeric latte or if I'm feeling something more simple I order a latte with oat milk.
If I wasn't doing this job, I'd be… I can't really imagine doing anything else, to be honest. Definitely something else creative, I've done a little bit of everything. I might go back to music, I used to be in a band and I do miss performing.
List five things on your desk right now: I have some clippings of vintage muses that are inspiration for a future collection, some Swedish candy, a savage rose candle, a pack of gum and a sample pair of new boots we're developing. My desk is always covered in designs.
The book I'm reading is… I try to read a few pages of a book every night before I go to bed. Right now I'm slowly making my way through The Power of Now by Eckhart Tolle.