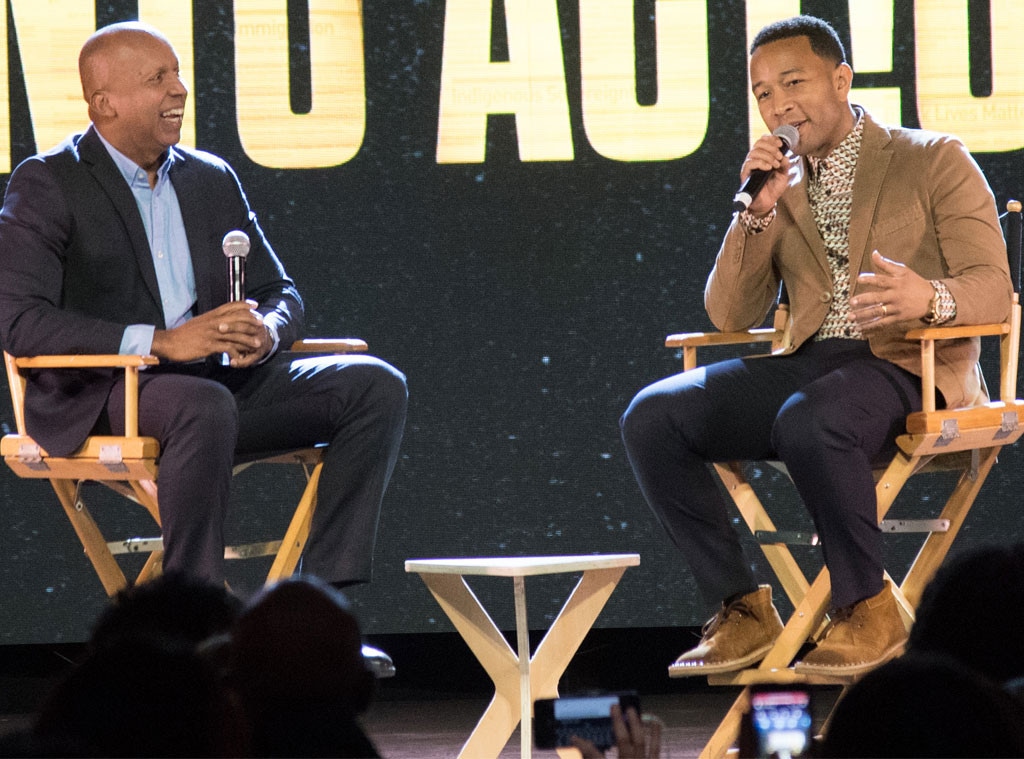 Photo by Earl Gibson III/Getty Images
John Legend has a history of doing good and using his fame and clout to cause change in the world, which is why he is the only artist who could be, and will be, presenting the 2018 E! People's Choice Awards trophy for the People's Champion Award.
The People's Champion Award was created in partnership with Erase The Hate, which is NBCUniversal Cable Entertainment's campaign to support people all over the U.S. taking action against discrimination, hate and bias, and it's a pretty big deal.
The "A Good Night" singer has won many awards throughout his career, but dubbing Bryan Stevenson as this year's People's Champion feels like an even bigger honor.
On Thursday, E! announced that Legend would in fact be taking the stage on Sunday, Nov. 11 to present Stevenson, who is the founder and executive director of the Equal Justice Initiative in Montgomery, Alabama, with this new PCAs award.
"It's our privilege to recognize Bryan Stevenson with this award for his tireless efforts in protecting the basic human rights for those in our society most in need of a champion," Bonnie Hammer, Chairman of NBCUniversal Cable Entertainment, and the woman who relaunched Erase The Hate in 2017 said in a statement.
"His passion for acceptance and equality and unending work fighting hate and bias align perfectly with our campaign's mission."
Legend as the presenter of this award is the perfect fit, because he not only understands on a personal level what types of things one person can change if they try, but on a professional level, the artist has been working with Stevenson for years. Therefore, he has seen firsthand all of the good the EJI founder has done for others.
"It is an incredible honor to present this award to Bryan Stevenson, a man whose life's work has been dedicated to fighting social injustices and advocating for civil rights," Legend said.  "He embodies what it means to be a people's champion with his fierce commitment to helping the poor, the incarcerated and the condemned."
Stevenson—who is also a public interest lawyer, civil rights icon and author of the New York Times bestseller, Just Mercy: A Story of Justice and Redemption—just recently reunited with Legend to speak during their joint panel for Into Action! The Criminal Justice Moment in Los Angeles in January, and it's not the first time this duo has sparked interest for their causes while sitting side by side.
In January, the pair talked about criminal justice reform, mass incarceration, current issues facing L.A. in particular, and so much more. When the pair gets on stage again this month, we have a feeling they will catch people's attention once more and make us stop and think about what we can do to really make a change in this world.
"I am humbled to be honored for the work I've been doing alongside our EJI staff, supporters and clients for the last three decades," Stevenson said in response to being honored.
"The work that the Erase The Hate campaign is doing to amplify ways to get involved in anti-hate work and support change makers already making a difference in local communities and across the country is so important to the collective movement against hate."
When the night comes, Legend will not only be on stage to present his longtime friend and fellow change-maker with the first-ever People's Champion Award, he will also be performing as a part of his presenter duties, which makes us even more excited to tune in to the live show next Sunday.
The "All of Me" singer joins Victoria Beckham, who will be honored with the Fashion Icon Award, and Rita Ora, who will also be a performer at this year's PCAs.
To see Legend perform and honor Stevenson live, don't miss the 2018 E! People's Choice Awards airing on E!, Bravo, Universo, SYFY and USA in 161 countries next weekend.
(E! and NBC are both part of the NBCUniversal family).