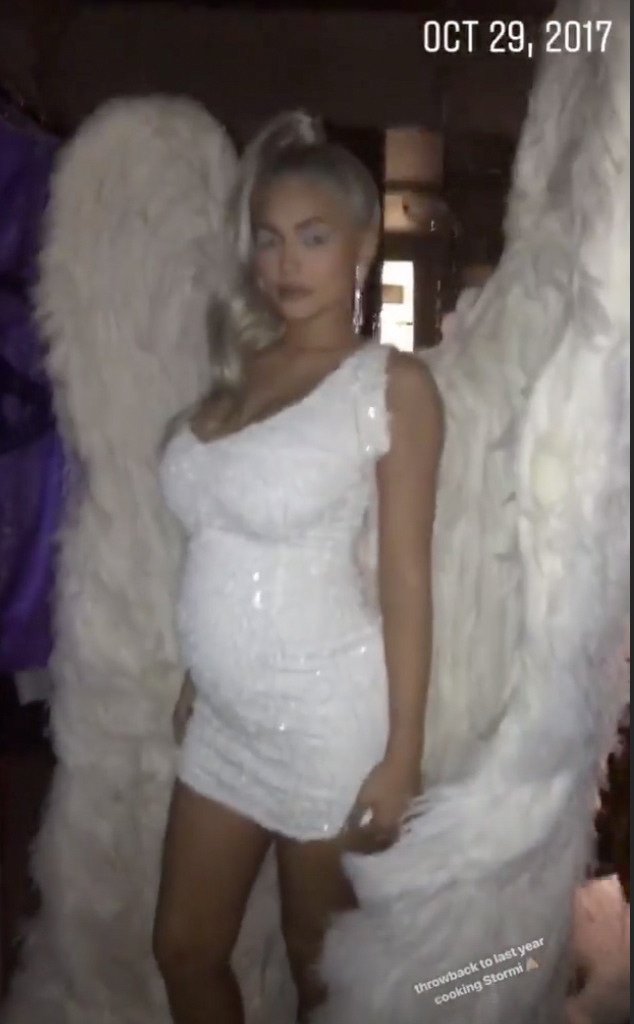 Instagram
Kylie Jenner gave fans a bit of a flashback on Wednesday after she shared never-before-seen pregnancy footage from last Halloween. 
As followers may recall, Kylie gave Instagram users a glimpse of her costume last year by posting a video of her hanging out with her BFF, Jordyn Woods. The Kylie Cosmetics head wore a white ensemble and frosty makeup in the sneak peek while Woods donned red hair and a red costume. However, the video was merely a closeup of the besties, so fans never got to see the full look or fully identify their costumes. Kylie's only clues were the  background music and video's caption, which simply stated "fire & ice." 
Fast-forward a year and the mystery has finally been solved. Kylie's throwback video—dated Oct. 29, 2017—showed her sporting giant angel wings, a white mini dress—and a big baby bump. Of course, fans now know her daughter, Stormi Webster, was born just three months later.
"Throwback to last year cooking Stormi," Kylie captioned an image.
 As for Woods, she dressed up as a devil.
Now that Kylie's little one is here, the two can rock matching, mother-daughter costumes for Halloween. This year, the new mom posted pictures of her and her firstborn dressed up as skeletons, butterflies and even a thunderstorm—a nod to her baby girl's name. However, the makeup mogul sported a few solo costumes, too. For instance, she shared pictures of her dressed up as a Barbie, a Victoria's Secret Angel and a Fanta Girl.
To see what the rest of the Kardashian clan wore, check out the gallery.