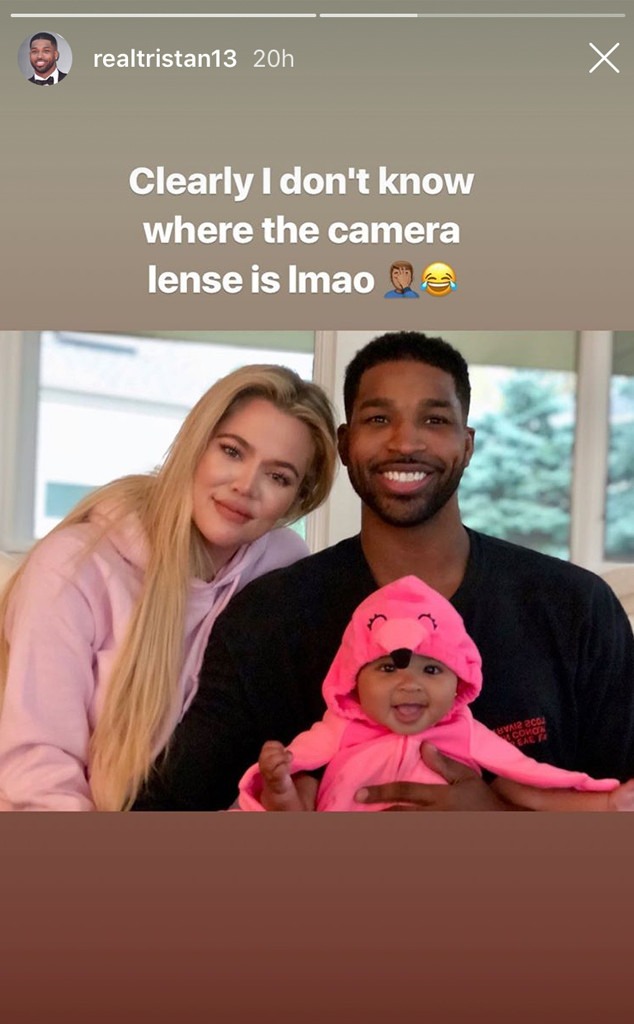 Instagram
True Thompson's first Halloween is all treats and no tricks.
Despite jam-packed schedules, Khloe Kardashian and Tristan Thompson were able to celebrate the spooky holiday together with their daughter.
As seen on Instagram Stories, the NBA player smiled from ear-to-ear as he held his baby girl dressed as a pink flamingo.
In another post, Tristan posed alongside Khloe before trick or treating. "Clearly I don't know where the camera lense is lmao," he shared with his followers. "Happy Halloween."
Earlier in the week, Khloe was more than willing to share her pre-Halloween festivities with True. As it turned out, this adorable baby couldn't decide on just one costume for the big day.
From a unicorn onesie and tiger to a pink pig outfit and Pottery Barn Kids baby panda costume, this growing girl provided plenty of aww-worthy moments on the gram. And guess what, dolls? It's almost time for Christmas card season!
"Happy Halloween!!!! It's our first Halloween together!!!! She's too cute to spook!! (Don't judge me, I have more costumes to post lol)," Khloe shared on Instagram. "Happy Halloween part 2 from Baby True (I swear she loves dressing up!)"
Tristan would reply in the comments section with "Baby Trueeeeee" and the heart emoji.
Outside of the holidays, Khloe returned to Cleveland earlier this week to cheer on Tristan at Quicken Loans Arena. As Tristan and the Cleveland Cavaliers beat the Atlanta Hawks, E! News learned that Khloe was in attendance and hanging with fans during the game.
"She was rooting for him, especially after Tristan made a good play," one eyewitness shared.
Another eyewitness added that Khloe was accompanied by a group of security guards and "looked enthused and happy" to be at the game.