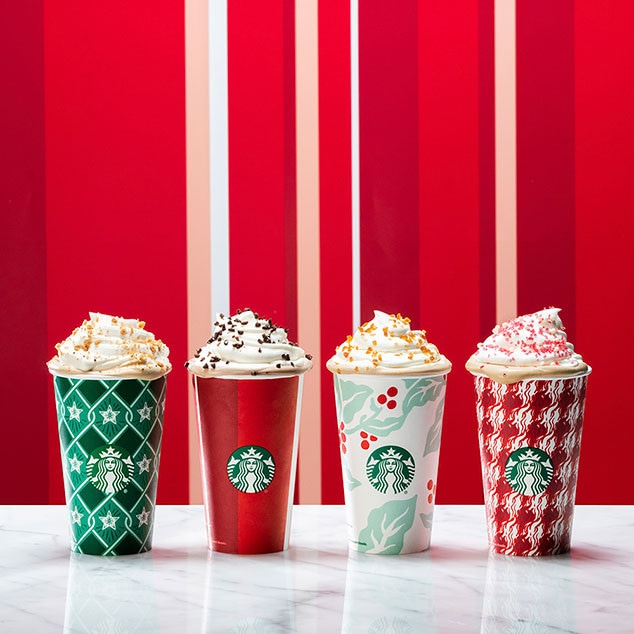 Starbucks
With Halloween in our rear-view mirror, we can officially get into the holiday spirit with some help from Starbucks. 
Yes, we know Thanksgiving is still a few weeks away, but as is customary for the coffee retailer, Starbucks unveiled it's annual holiday cup design on Thursday—and this year, there are four!
Inspired by decades of the company's Christmas blend packaging, Starbucks drew from past design elements, including a star, a branch of coffee cherries and a flame, and added in doses of vintage colors and patterns, such as mint green and argyle. 
Using the reimagined elements, the company rolled out four cups—a striped one, inspired by the colorful seam on a bag of Starbucks coffee; a flora one, that draws ripe coffee cherries to evoke the look of festive holly; a houndstooth one, a twist on the Christmas blend espresso roast reimagined as a flame; and a stargyle one, which incorporates the company's recurring star imagery against a backdrop of Starbucks green. The cups will roll out in Starbucks locations on Friday. 
 To top off the new cup designs, the company is also giving customers who order a holiday beverage on Nov. 2 a limited-edition reusable red cup. If they bring the cup back to a store between Nov. 3 and Jan. 7, they will get 50 cents off their grande holiday drink. 
For Starbucks customers, Friday will also mark the return of Peppermint Mocha, Toasted White Chocolate Mocha, Caramel Brulée Latte, Chestnut Praline Latte, Gingerbread Latte and Eggnog Latte, all available as hot, iced and Frappuccino blended beverages.
Along with the holiday flavors, the stores will also reflect the time of year with festive décor and red aprons. 
'Tis officially the season!