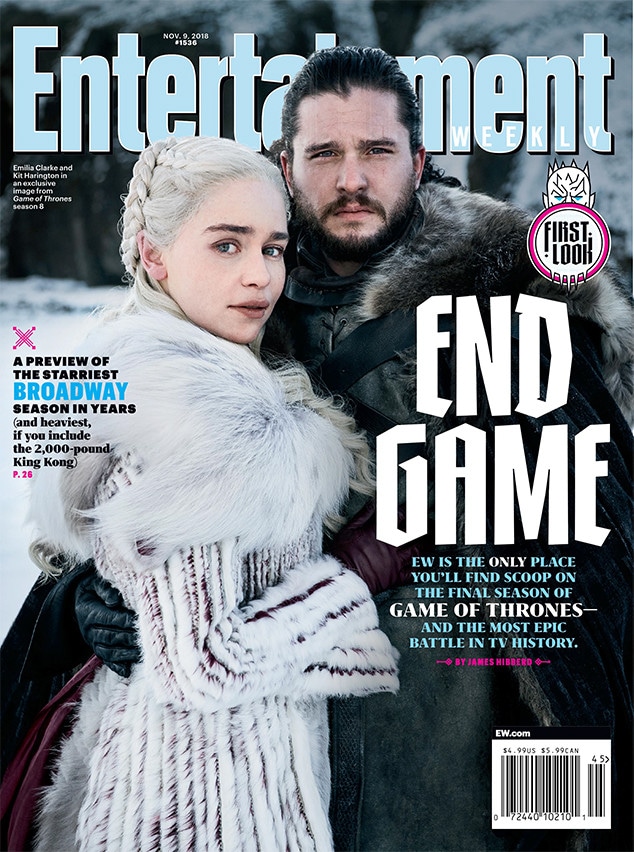 Entertainment Weekly
The final season of Game of Thrones doesn't have a premiere date yet (aside from 2019), but you can get your first look at what is sure to be an epic season thanks to Entertainment Weekly. Kit Harington and Emilia Clarke—that's Westeros' Jon Snow and Daenerys Targaryen—cover the newest issue of the mag, on newsstands Friday, and with that cover comes some scoop.
"It's about all of these disparate characters coming together to face a common enemy, dealing with their own past, and defining the person they want to be in the face of certain death," co-executive producer Bryan Cogman told EW about the final season. "It's an incredibly emotional haunting bittersweet final season and I think it honors very much what [author George R.R. Martin] set out to do—which is flipping this kind of story on its head."
Details about what happens in the six-episode final season are under wraps, of course, and producers and HBO went to great lengths to make that happen.
"I mean, we wouldn't get anything physical. We would have it on an app. We would get sent sides for the scene [we were shooting] the next day. So we would have to learn it all the day before," series star Sophie Turner previously told Digital Spy. "And once you've read it, it disappears 24 hours later, and you can never access it again. It's tighter than the White House security!"
Turner said cell phone cameras would be turned off and the cast and show itself had code names to throw off snoops.
Nikolaj Coster-Waldau also revealed the "crazy" levels the show went to. "They're very, very strict. It's reached a crazy level this year," he told Esquire. "We actually get the scripts and we shoot the scene—we only have it digitally, and when you've done the scene it just vanishes. It's like Mission: Impossible—'This will self-destruct.'"
The cast has been careful not to reveal, well, anything about the new season. However, they have spoken about their final scenes and whether fans would be satisfied with how the epic show wraps up.
"I think a TV series that's spanned eight, nine years is an incredibly difficult thing to end," Harington told MTV at TIFF. "I think not everyone's going to be happy, you know, and you can't please everyone. My favorite TV shows are Sopranos, Breaking Bad, and The Wire, and they all ended in a way that…It's never going to satisfy you."
Game of Thrones returns in 2019.