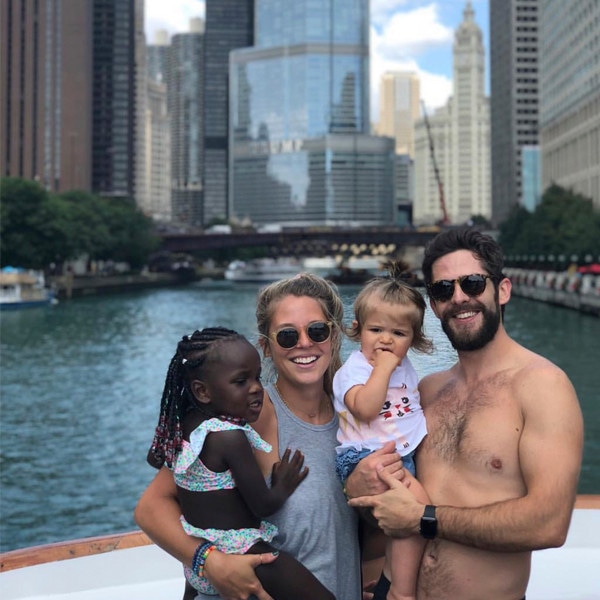 Instagram // @thomasrhettakins
We've said it before and we'll say it again: Thomas Rhett's family is "Unforgettable."
Sure, we love the country music singer's romantic date nights with wife Lauren Akins. And yes, we adore those candid pictures of their two daughters Ada James and Willa Gray.
But what fans can't get enough of is the proud parents' journey to adopting Willa Gray. Back in May 2017, the couple announced the big news to fans. Fast-forward to today and mom and dad are thinking about doing it again.
"For me and Lauren, it was one of the most amazing but also challenging experiences of our lives and it is something that totally changed our lives for forever.  Willa Gray is literally the joy of my world. I cannot imagine living my life without Willa Gray today," Thomas Rhett shared with E! News during National Adoption Awareness Month. "It's one of those things that you should really think hard about, but also know that if you do it, you are giving somebody a chance at a life they may not have had otherwise."
He continued, "[It's] something we will more than likely do again. Lauren wants a million kids so we need to get back on that train."
Before their happy family expands again, Thomas Rhett is supporting Crown Royal's The Purple Bag Project, which aims to deliver 1 million care packages by the year 2020 to active military members overseas and those impacted by natural disasters.
"I feel like so much of my wife and my vision and passion is about giving back. My wife runs an organization called Love One that helps orphanages in Haiti and in Uganda, which is where our daughter is from," the country music singer explained to us. "There's a huge passion in our heart for adoption and helping children in need.  Crown has always been a part of the charitable component and I feel like our brands align and I have always been a huge fan of the brand and it just seemed like something I really wanted to get behind."
And in between supporting the good cause, Thomas Rhett will find time to celebrate his 2018 CMA Awards nominations.  His wife has a special birthday coming up in the beginning of November. And who knows, maybe the man behind huge hits like "Life Changes," "Marry Me" and "Craving You" can persuade Lauren to star in another music video.
"We will see!  It took everything I had to convince her to even be in the 'Die a Happy Man' video. She just hates being in the spotlight," he admitted to us. "I kind of had to be like 'Babe, I can't do this with just anyone, it has to be you.' So I'm so glad she said yes because I think it turned out to be not only a music video, but a piece that I think we will have forever and be able to show our grandkids."
Listen, we told you this family was "Unforgettable."