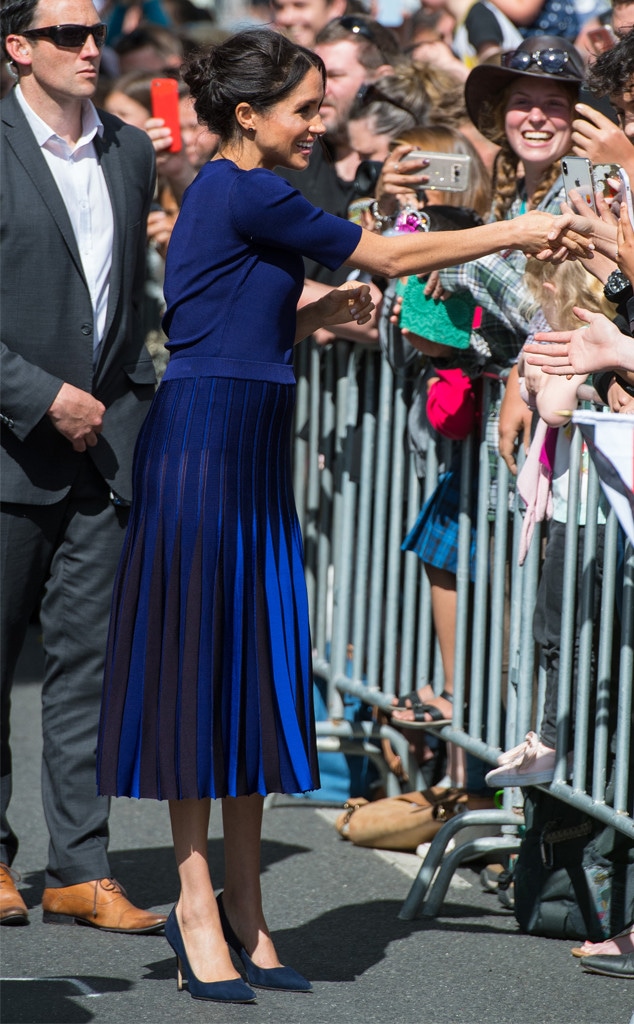 Dominic Lipinski-Pool/Getty Images
Meghan Markle made headlines on Wednesday after she wore a navy sweater and pleated skirt by Givenchy to her walkabout of Rotorua, New Zealand with Prince Harry. Royal admirers noted that her skirt was see-through—giving well-wishers a glimpse at her undergarments. 
It's unclear whether the fashion choice was a wardrobe malfunction or simply just an intentional, bolder look. While the royals have been known to dress conservatively for official engagements, Meghan hasn't been afraid to break royal protocol. Either way, Meghan looked gorgeous as she smiled and greeted fans in the crowd. She accessorized her outfit with navy suede Manolo Blahnik BB pumps and Boh Ronga Disco Logo gold studs. She also tucked her hair back into a cute little bun—one of the duchess' signature hairstyles. 
If it was the former, it wouldn't have been Meghan's first fashion faux-pas on the royal tour. During an earlier stop in Tonga, Meghan wore a red Self-Portrait dress and accidentally left on the tag.
Dominic Lipinski-Pool/Getty Images
In addition to wearing it to the walkabout, Meghan wore the outfit to the couple's visit to Rainbow Springs, where they stopped by a kiwi hatchery and named a few baby chicks.
Earlier in the day, Meghan donned a navy midi dress by Stella McCartney to a traditional welcome, or pōwhiri. She sported the same accessories, as well as a Kiri Nathan Pounamu necklace. The two certainly had a packed itinerary. Meghan and Harry also visited the Redwoods Tree Walk, where Meghan sported a dark coat, pants and flats.
Wednesday marked the couple's final day of their royal tour. Over the past two weeks, they've visited Australia, New Zealand, Tonga and Fiji. The tour was a significant one for the duo as it marked their first tour as a married couple. They also kicked off the trip by announcing they're expecting their first child.