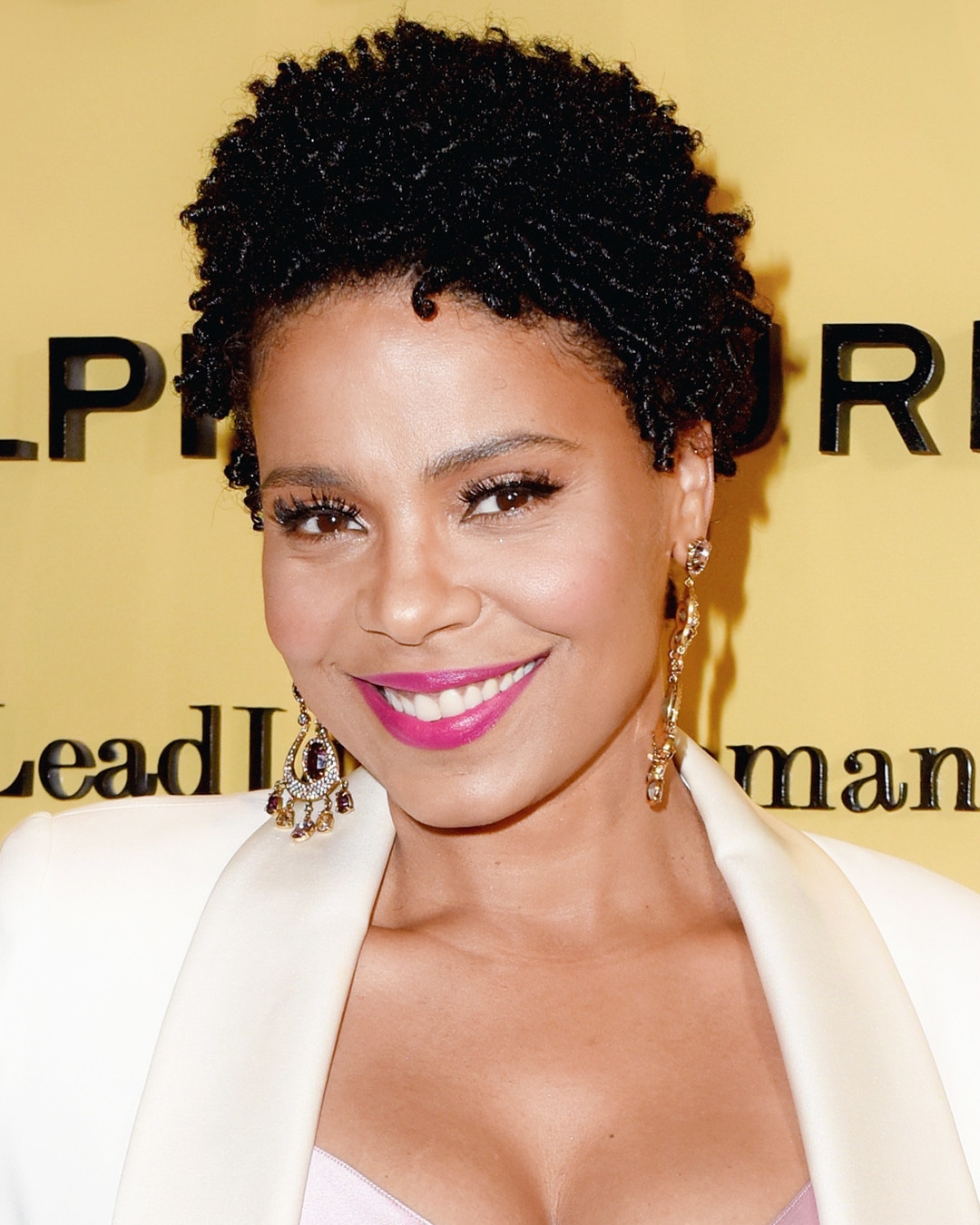 Vivien Killilea/Getty Images for Ralph Lauren Fragrances
Now that Sanaa Lathan has over 20 years of experience working in the movie business, she's reflecting on her evolution, as well as Hollywood's.
In honor of the launch of Ralph Lauren Fragrances' new "Woman" perfume and its accompanying empowerment initiative, Lead Like a Woman, the star of Netflix's Nappily Ever After shared her perspective on what it means to be a woman in the industry—and more specifically, what it means to be a black woman in Hollywood.
"I always talk about the fairy tales that we grew up on—Cinderella, Rapunzel, Sleeping Beauty, Snow White—I mean, these are the stories that we are read as little girls to show us what is valued and what is beautiful and what we should want and [black women are] not reflected in that," she told E! News at the debut of short film, Sisterhood of Leaders, hosted by Ralph Lauren Fragrances and Women in Film. "And so, what does that do to your self-esteem? For me, it's just so important. I'm feeling so great now that we are starting to see images in advertising, movies and TV that look like us because it's important."
Diversifying media isn't a new initiative she's getting behind, as she stated. Her roles in her early films, such as Love & Basketball, Brown Sugar and The Best Man, brought a black heroine to the big screen in the '90s and early 2000s. Essentially, she used these cult-favorite films to tell her own fairytales for her community, which included romance, but also intertwined stories of women dominating in sports and in the work force. 
If you're wondering how Sanaa came to dominate this specific genre, the answer is easy: She's a widely-loved storyteller and the competition wasn't as fierce as it is today. There were only a handful of working black actresses during that time. They played in the same movies together, and thus became an essential support system for each other as they dealt with the unique and "harsh" experience of being a black woman in Hollywood.
"When we were coming up—and I say we meaning like my peer group, you know, Nia Long, Gabrielle Union, Regina Hall and Regina King—we weren't allowed to wear our hair natural," she reflected. "And I'm not saying we weren't allowed, but a lot of the feedback that I would get about my hair was unspoken. You had to wear wigs and weaves to get the role. Now, this whole generation, the generation of actresses younger than I, are really starting to wear their hair naturally. You're seeing that throughout the industry, but it's still so hard...Whether it's your parents or your work environment, it's a real thing. It's a real thing that you kind of have to overcome. But it's really liberating when you do."
That's where her newest project, Nappily Ever After, comes into play. Her role is an ode to her friends, family and any woman that has been conditioned to dislike their natural textures.
"For me, Violet is so many: She is me. She is my mother. She is my little sister. She is every woman," she continued. "I call it my love letter to little black girls. We have to claim our own power, our own beauty. It's also very universal for all women, because hair is a metaphor for what society tells says you should be and so Violet shaving her hair off is her saying 'F**k you. I'm going be who I want to be.' I think every woman can relate to that."
While she's creating romances in which women are falling in love with themselves (instead of a man), the actress is happy that she's no longer one of few. Instead younger stars like Yara Shahidi, Storm Reid, Amandla Stenberg and Logan Browning are bringing a new beauty perspective to Hollywood and helping to push the agenda for self-discovery and self-love within the black community.
Things are certainly getting better. But Sanaa claims they aren't quite where they need to be. Because while you may think that what happens on the screen is of utmost importance, the actress revealed that the glam squads backstage also need to be diverse.
"I still have to fight," she said. "Every job, I have to fight to get somebody who I know knows how to do my hair and sometimes you can't get it. And oftentimes, if you can't get it, you'll make your hair decision based on whether you can get a hairdresser or not. For instance, you'll choose to wear a wig...A lot of women do that...The more women of color there are working, [the more] we have to have the same reflection behind the scenes."
Enter Vernon Francios, Nai'vasha Johnson, Nikki Nelms and Felicia Leatherwood—Hollywood's top natural hairstylists. But, like Sanaa's peer group in the '90s, behind-the-scenes of film and television, there needs to be more. 
Fortunately, she left us with good news: "This is a wonderful time for us as women," she said. "Anything that supports us in being empowered in our own lives and in careers and brings us together, I'm all for it."