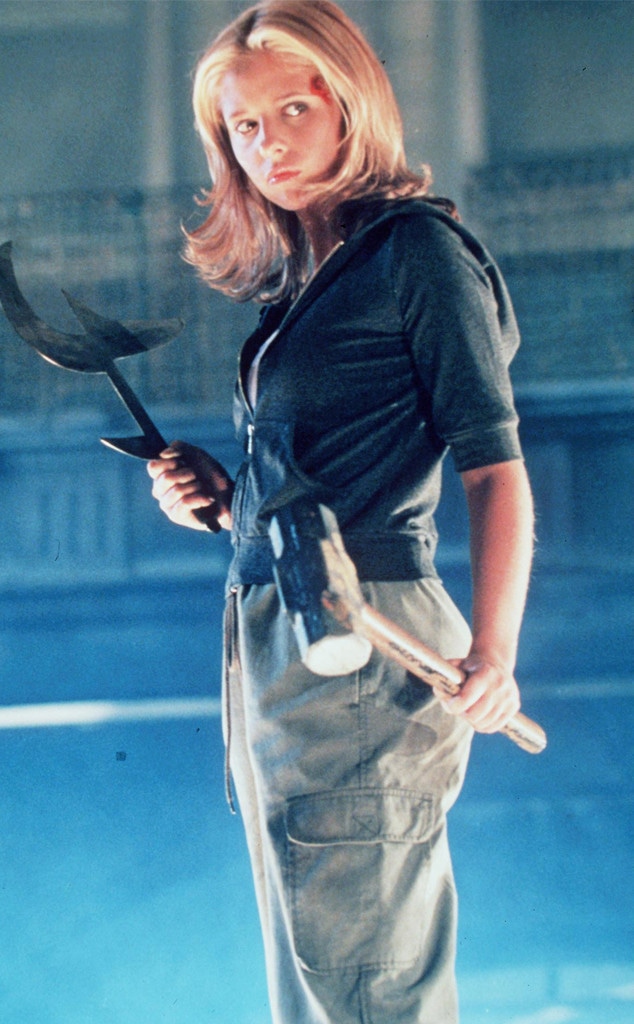 Warner Bros./Getty Images
Back in 1997, viewers were told, "Into every generation a slayer is born, one girl in all the world, a chosen one." That's the narration that opened Buffy the Vampire Slayer, the narration that introduced TV viewers to the slayer herself, Buffy Summers (Sarah Michelle Gellar), and the wicked world of Sunnydale, California. Buffy left the air after seven seasons in 2003 and now Fox is attempting to bring it back—and they should, despite what fans think. On this Halloween, before you start crafting your enraged tweet, listen as to why it's the perfect time for a slayer to return.
News of an inclusive Buffy the Vampire Slayer reboot first made the rounds in July 2018, much to the chagrin of fans around the world. To many, there is only one Buffy and that's Gellar (yes, despite Kristy Swanson playing the title character in the 1992 movie). That sentiment is shared by Monica Owusu-Breen, the writer who is tackling the project with series creator Joss Whedon.
"For some genre writers it's Star Wars. Buffy the Vampire Slayer is my Star Wars," Owusu-Breen wrote in a note posted on Twitter. "Before I became a writer, I was a fan. For seven seasons I watched Buffy Summers grow up, find love, kill that love. I watched her fight, and struggle and slay.
"There is only one Buffy. One Xander, one Willow, Giles, Cordelia, Oz, Tara, Kendra, Faith, Spike, Angel…They can't be replaced. Joss Whedon's brilliant and beautiful series can't be replicated. I wouldn't try to.
"But here we are, twenty years later…And the world seems a lot scarier. So maybe, it could be time to meet a new Slayer…And that's all I can say," she concluded.
Buffy still has a very dedicated—and vocal—fan base. Fox, Owusu-Breen and Whedon should leverage that. There's no reason there can't be a new show about a vampire slayer. In fact, there should.
A hero like Buffy—or another vampire slayer—can and has inspired millions of viewers to do good, to be better, to stand up for what's right. We need that now, more than ever. A new Vampire Slayer series totally has a place in 2018 and Buffy's legacy should be leaned on a la what Disney did with Boy Meets World and Girl Meets World.
"I think it's a great opportunity for a reboot like this to show where we are with society now, what you can do with technology. How you can explore those relationships with the same kinds of metaphors. I'm all for it. I think it's fantastic. Good for them. I hope that it becomes huge and successful, and does what it does," David Boreanaz, Angel on Buffy, said about the new show.
In the series finale, Buffy Summers created an army of slayers. In the Whedon-sanctioned comic book series that followed, those slayers were de-powered, re-powered, scattered, etc. Why can't there be a new slayer who leans on Scooby Gang veterans like Faith (Eliza Dushku), Willow (Alyson Hannigan), Dawn (Michelle Trachtenberg) or Giles (Anthony Stewart Head)? Andrew (Tom Lenk) even got involved in the Watchers Council in the comics, there are several options to tie the two shows together. The reboot/remake/revival—whatever you want to call it—wouldn't have to rely on Gellar appearing frequently, but tying the series to the OG Buffy, like Girl Meets World did to Boy Meets World, Fuller House and Full House, and the new NYPD Blue in the works plans to do, would further the mythos fans already love and attract both new and old fans, helping the series get off on a stronger foot.
The supernatural is having what could be called a "moment," thanks to Legacies, Chilling Adventures of Sabrina and American Horror Story: Apocalypse. A new or Buffy-verse show would be a welcome companion for something like the new Sabrina series on Netflix, especially in the era of #MeToo and Time's Up. Buffy, or a series about another vampire slayer, fits perfectly with the current political and social climate. There's no such thing as too many heroes for young men and women to look up to. Give us more shows about women claiming their power and saving the day (it's happening in real life, it should happen on TV).
"At the end of the day, it's all about great storytelling," Gellar previously said. "If a story lives on, then I think it should be told in any incarnation it can be told in."