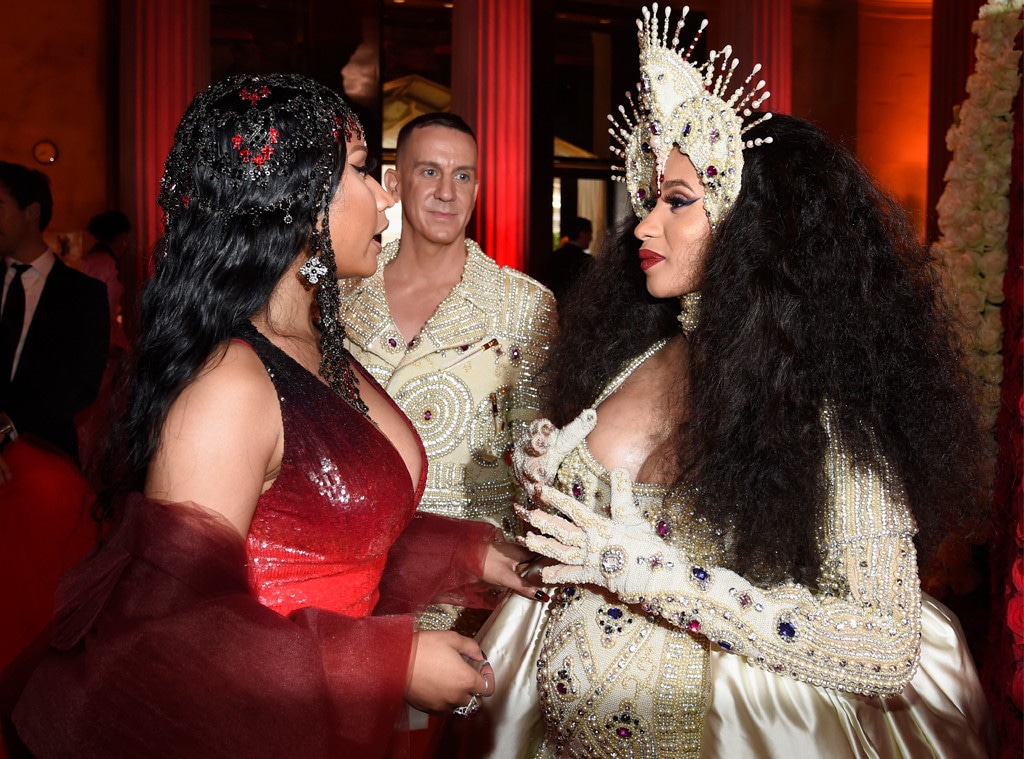 Kevin Mazur/MG18/Getty Images for The Met Museum/Vogue
Cardi B added fuel to the fire that is her longstanding feud with Nicki Minaj.
Before getting into the nitty gritty, let's rewind. On Sept. 7, Minaj and Cardi got into a heated altercation during New York Fashion Week at the Harper's Bazaar ICONS event. Video footage showed the "Bodak Yellow" rapper throwing her shoe at Minaj and yelling at her. An eyewitness at the event told E! News at the time, "It was so fast! I heard someone screaming—everyone recognized Cardi's voice—people either got out of the way or took out their phones and started filming. Nicki was surrounded by a bunch of guards and barely even looked at her. Next thing you know, shoes were flying and Cardi was on her way out." 
Cardi was photographed leaving the party with a large bump on her head, which most people believed to be from security. According to Minaj, that isn't the case. But we'll get to that.
Cardi took to Instagram later that night and called out Minaj. "I've let a lot of s--t slide! I let you sneak diss me, I let you lie on me, I let you attempt to stop my bags, f--k up the way I eat! You've threatened other artists in the industry, told them if they work with me you'll stop f--kin with them!! I let you talk big s--t about me!" she wrote in a note.
Other than a number of celebrities weighing in on the feud, Minaj opened up about it on an episode of Queen Radio, her show on Apple Music's Beats 1 Radio. "The other night, I was a part of something so mortifying and so humiliating to go through," she said. 
According to Cardi, their NYFW fight began because Minaj liked then unliked a tweet that criticized Cardi's parenting skills. Minaj denied the claims. "I would never talk about anyone's child or parenting. I don't care about anyone's parenting. I don't give a s--t," she said on Queen Radio.
After NYFW, the rivals released diss tracks, accused the other fans of song leaks and so, so much more. Now, Cardi is making good on her word of "addressing people face to face."
Earlier on Monday, Minaj brought up the Fashion Week tussle again on a new episode of Queen Radio. The "Chun-Li" rapper said that the large mark on Cardi's head after the ICONS party wasn't actually from security, but rather it was due to a hit from Love and Hip Hop star Rah Ali. "There is no way I can lie about this because there is surveillance footage from the building where the assault took place," she said. "Rah really beat Cardi's a-- really bad, like really bad."
According to Minaj's account, "Rah held her head and punched her like 8-9 times, and I could hear it, I'm talking like the hardest punch you've ever heard in your life."
The "Barbie Dreams" artist offered $100,000 for the surveillance footage to prove it.
Minaj also stoked the Cardi flames earlier in the month when she released some new merchandise that mocked Cardi's Instagram note after the fight. She made backpacks that said "Nicki Stopped My Bags" in reference to Cardi writing "I let you attempt to stop my bags."
Dimitrios Kambouris/Getty Images for Harper's Bazaar
Cardi B's sister, Hennessy Carolina, has some stake in the feud now, too. Hennessy accused Minaj of leaking Cardi's phone number. Hennessy has since deleted the accusation, but Cardi agrees with her sister. Minaj then alluded to the accusations on her show. She said on Monday, "Leaking numbers? What type of bird s--t you talking about b--h? Stop lying on me? You wanted my attention sister, you been saying f--ked up shit about me."
Now, back to today's latest update in the conflict.
On Monday afternoon, Cardi uploaded 10 separate videos calling out Minaj and unleashing an entire kettle of tea.
"Let's talk about the leaked numbers s--t, right. Tell me if this don't make sense. How come my phone number got leaked one hour after that altercation at the Harper's Bazaar party," she said in one of the videos. "How come everybody that y'all have issues with, y'all have the numbers in your camp and they numbers got leaked. My sister just got into an argument with Rah Ali, how come my sisters number haven't gotten leaked? Because y'all don't have it. How come my new number hasn't gotten leaked? Because y'all don't have it. Isn't that f--king funny? Ain't that s--t f--king funny?"
In another video, Cardi urged Minaj to "pick a side" in their fight. "How you say that I was a wild animal, that I attacked you that you was mortified that you was humiliated playing the victim but now y'all the gangster," she said. "Pick a side. Do you wanna be the victim or do you wanna be the gangster? You lie so much you can't even keep up with your f--king lies."
She added, "Miss Chun-Li, the street fighter. Get the f--k outta here."
After Cardi's phone number got leaked, she got a slew of graphic and expletive-filled text messages from random numbers, which she showed in yet another post. After scrolling through her texts, she stopped on one specific one that stood out to her the most. It read, "Hey b---h I was texting you to tell you that you're [sic] address and everything was leaked and we coming to find you and your daughter. We ain't resting till we kill culture [sic], dumb b--h. We gon put more than a knot on your head this time c--t." 
She said to Minaj in relation to the texts, "You go on your Twitter and you start liking s--t like endorsing that type of nasty a-- f--king behavior. B--h, you're f--king sick in the head."
In one of her later videos, Cardi extended an olive branch...sort of. She declared to Minaj they could just put an end to this constant bickering. She asserted, "I'm tired of the interview s--t. If you really want to talk about it, you know where to link me, we could always link up. You know who to reach out, you know. We could settle I however you want to settle it, we could talk about it, or we could fight it out."
On Monday night, Minaj took to Twitter in response to Cardi's videos, but never mentioned her by name. "I'll pay you to take a lie detector test about every claim I made on #QueenRadio. You won't," she wrote in one tweet. "I must admit you're a convincing liar."
She then called Cardi a "fkn fraud" in another tweet. "The only rapper in the history of rap who can only talk about deals and songs she's supposedly turned down cuz she can't talk about a verse she's ever written," Minaj typed.