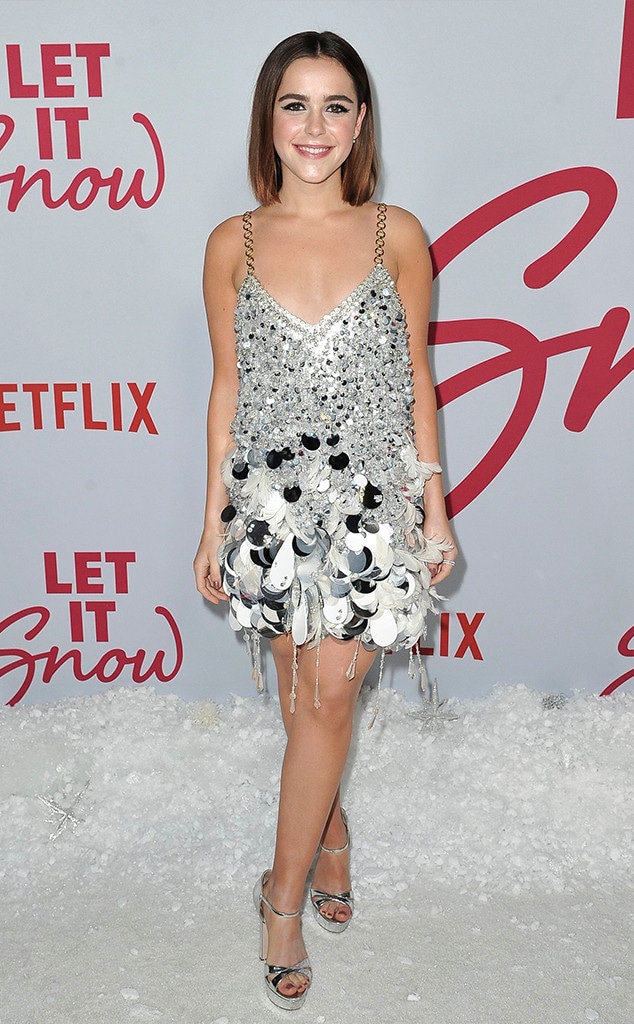 Richard Shotwell/Invision/AP/Shutterstock
Hollywood is littered with the wreckage of promising careers and unmet potential.
For every young talent like Jennifer Lawrence, who left high school to pursue acting, secured a full-time role in a TV show at 16 and won an Oscar at 22, there are a thousand people you've never heard of. Or, there are countless kids who did secure that plum role—but then that was it, for whatever reason.
Kiernan Shipka doesn't plan on being one of those countless others and, so far, she's showing all the telltale signs of being an enduring presence on screens of all sizes for years to come.
"I really just sort of experienced life to the fullest," she told E! News in September 2018. "I took a lot of classes and worked on myself, and hung out with my friends and traveled. Having a life outside of work has been something that's been always very valuable to me."
With that sort of hindsight, as well as her attempt to give up caffeine, one might have mistaken her for being older than 18 at the time.
Happily, today, as Shipka turns 20 and officially puts her teenage years behind her, life seems no less full of friendship, promise, purpose and pizza than it did a year ago.
The already veteran star, who grew up before viewers' eyes playing wide-eyed kid turned jaded teen (thanks, Mom and Dad) Sally Draper on Mad Men, is now bewitching audiences as the star of Netflix's Chilling Adventures of Sabrina, which premiered last year and already has been renewed for a third and fourth season.
And just in time for, er, Thanksgiving, she can also be seen starring in the Netflix Christmas movie Let It Snow, in which friends get snowed in at the local Waffle House and shenanigans ensue.
"I play the Duke, she has always been best friends with this character named Tobin," Shipka explained to MEA Worldwide at the film's premiere, held while she had a week off from filming Sabrina in Vancouver. "A new romantic interest comes into her life and that forces her to confront her feelings for her best friend. It's a beautiful journey about love and appreciation within friendship and people who are also scared about taking the next step, as they fear ruining something. It's a tale as old as time, and I feel it will really resonate with a lot of people."
What more does one want from their Yuletide entertainments?
In the four years since Mad Men signed off, Shipka has deftly managed the weight of expectations, dealing with fame in the age of social media and any pressure she may put on herself and—so far, so good—coming out seriously poised on the other side.
And not that she-looks-like-she's-about-to-crack kind of poise.
Shipka was doing commercials in her native Chicago at 5 months old, was 6 when she auditioned for Mad Men and then 15 when the show signed off. That allowed for some pivotal in-between time to figure out what was next—and aside from taking on another daughter-of-a-prickly-mom role in Feud: Bette and Joan, she did use that ultimately brief break to try out comedy and horror, and be a "kid." Albeit a kid with a pre-royal-Meghan Markle-level Instagram account, an epicure's palate and impeccable taste in fashion.
"I'd take classes and vacillate between going out and having fun and being a total introvert, because that's kind of who I am," she told the Los Angeles Times last year. "Sixteen was a really formative year. It was definitely a figuring-out period. Nothing new was quite on the horizon and I was sort of like, 'What's happening? What will I do?' I learned to at least try to live in whatever moment I was in."
Having never gone to a regular school and spending so much time on set, could have (and has) taken its toll on a lot of other actresses, but luckily it turned out that Shipka loves what she does, and it became her full-on chosen profession, rather than a profession that was chosen for her.
"Obviously, I started when I was very, very young," she told the New York Times in 2015. "But when I got older, and actually started acting, I loved it. And that's why I stuck with it."
Asked if she ever had a Sally-esque moment where she all of a sudden saw her parents in an oh-my-god-they're-people light, Shipka said, "We're all products of our environment. So, of course I watch my parents. But Sally and I are very different people, growing up at very different times. And my family is a lot happier than hers. But I admire her a lot, and I adore having her in my life."
Mad Men creator Matt Weiner said that he would meet with Shipka's mom, Erin, before every season to run through what Sally was in for, to ensure that everyone was OK with what was expected of Kiernan. 
Perhaps seeing so many cautionary tales unfold long before she was old enough to drive also helped steer the teen onto her own, productive path. She saw where trouble could be lurking and it wasn't over a perfectly poached egg at brunch, or co-starring with Timothée Chalamet in One and Two, or popping up on The Unbreakable Kimmy Schmidt, or on her travels to Monaco, France and Italy.
But much like with the Draper family, behind the picture-perfect exterior lurked some serious angst after Mad Men.    
"I was all frustrated actor, just feeling like, 'I don't know what I want to do and nothing seems to be panning out,'" Shipka recalled her late 2017 self to WWD.com. "It was just sort of the unknown. It was that 'oh, my god, what is next?' There is a lot of uncertainty in this industry and you can create your own opportunities and take control of that, but that also takes a lot of time. So I was sort of in the middle of figuring out what I wanted to do."
Then an offer to help reinvent the cheesy and beloved ABC sitcom Sabrina, the Teenage Witch for the streaming generation came along, and it was an offer she found particularly enticing. In no small part because the plan was to basically drop everything but the characters' names and draw up a whole new, dark game plan for the Archie comics-spawned universe.
It helped, actually, that Shipka wasn't born yet when the original show premiered, and she has yet to catch up.
"This Sabrina is my Sabrina, and I've gotten to know her very well," the actress told E! News. She had four months after signing up for the part until they started filming, so she could "spend some time in her shoes. And it's been freakin' amazing." (Minus being allergic to Salem the cat. "At this point, I'm just sponsored by Zyrtec®," she cracked.)
She's engaging in the time-old TV tradition of playing younger—Sabrina is about to turn 16 when the series starts—than she is in real life, but Shipka certainly doesn't feel as if she's just playing a kid. Nor will anyone mistake Chilling Adventures of Sabrina, two seasons of which are streaming now, for a simple kids' show. (And the fact that Sabrina's journey starts, age-wise, where Sally Draper's ended is just a fun coincidence.)
"I can remember back to when I was 12, 13, and any show that I watched I wanted to be the main character and embody them, and I think the fact that Sabrina is, in so many ways, such a positive role model for young girls, is really cool," she told WWD. "I'm really excited for young girls growing up to see the show and feel like their stories are being told and like they're being represented. Teens are being portrayed with depth because they are multidimensional and they deserve to be portrayed as such. I'm just excited because I feel like this show has a lot of good behind it."
At the same time, Shipka told Britain's Press Association, "She's still a 16-year-old girl for all intents and purposes, and I like that younger quality to her as well. Being 18, I definitely find it fun to play someone that's a little bit younger than me."
While she has refrained from talking politics since arriving at the legal voting age in 2017, Shipka has hinted at issues that matter to her, telling the PA that Sabrina's message of female strength and owning who you are rings true to her. "It's amazing. I feel proud and excited to be part of a show that aligns so much with my beliefs," she said. "And yeah, it's cool."
One of her other great loves, fashion, also plays a role in Shipka's new show, as it did on Mad Men. "The style on this show also really tells a story, and we're kind of able to chronicle Sabrina's growth through her fashion choices in a lot of ways," Shipka, who has widely credited Mad Men costume designer Janie Bryant with sparking her own interest in clothes, told E! News. "Besides there just being some really cute outfits and fun moments, you can certainly see how she finds herself over the course of these first 20 episodes."
As for herself, she laughed, "My style has deteriorated quite a bit working on this job, showing up every single day in whatever I woke up in." 
Albert L. Ortega/Getty Images
Sounds like a lot of grown-ups we know. (Except for that, during the interview, Shipka was wearing a cashmere Valentino sweater that retailed for $1,250.)
Also leaning toward the mature side of her late teens was her attention to her well-being, evidenced by her stated concern about her stress levels and the homemade matcha-and-mushroom brew she was drinking in the morning while trying to avoid caffeine.
"My body has been under more stress than ever before," Shipka told Vulture before Sabrina premiered in October 2018. "I don't think the adaptogens are helping, I really don't. Every morning after I drink my drink, I'm like, I'm still so stressed out! Come on, chaga, pull your weight over here."
Shipka got an apartment in Vancouver for herself and her dog, Frankie. She has also continued the culinary odyssey her Instagram followers have been counting on for years, with stops for sushi, burgers, soufflés, Thai food at the famed Lotus of Siam in Paradise, Nev., and pizza in—where else?—Rome inducing some serious cravings.
Last year Shipka declared that she was too busy to date, but Sabrina Spellman has had her share of romantic quandaries as she navigates half-witch, half-mortal life.
"I know a lot of people like Harbrina," she told E! News, referring to the ever-popular name mashup between her character and O.G. dearest friend Harvey Kinkle, played by Ross Lynch, "but I think Sarvey Spinkle wins. I came up with that and I'm so proud of it, I'm going to trademark it forever and ever."
Lately, she's been toying with fans, serving up fodder for both Harbrina purists and Nabrina shippers, the pictures and video of her and Gavin Leatherwood, who plays Nicholas Scratch, simply just too cute.
Now, however, it's Mitchell Hope, who plays Tobin in Let It Snow, who's taking up prime real estate on Shipka's Instagram.
"We clicked absolutely immediately," she told EW.com about her latest onscreen love interest. "The first time we met it was a little bit before filming. We were up in Toronto and we were just going to go practice the song that we sing with the director in a low-key, sort of 'let's just lay this down and see what it sounds like together' way and we both couldn't find the house where Luke [Snellin] was staying.
"I was lost. He was lost. All of a sudden, I see this figure down a pathway that I'm like, 'I think that might be Mitch.' I yelled his name and we found the house together and after got coffee and went to a music store and the rest is history—he's one of my best friends."
That also sounds like the beginning of a Christmas movie.
Let It Snow and episodes of Chilling Adventures of Sabrina are streaming now on Netflix.
(Originally published Oct. 30, 2018, at 3 a.m. PT)