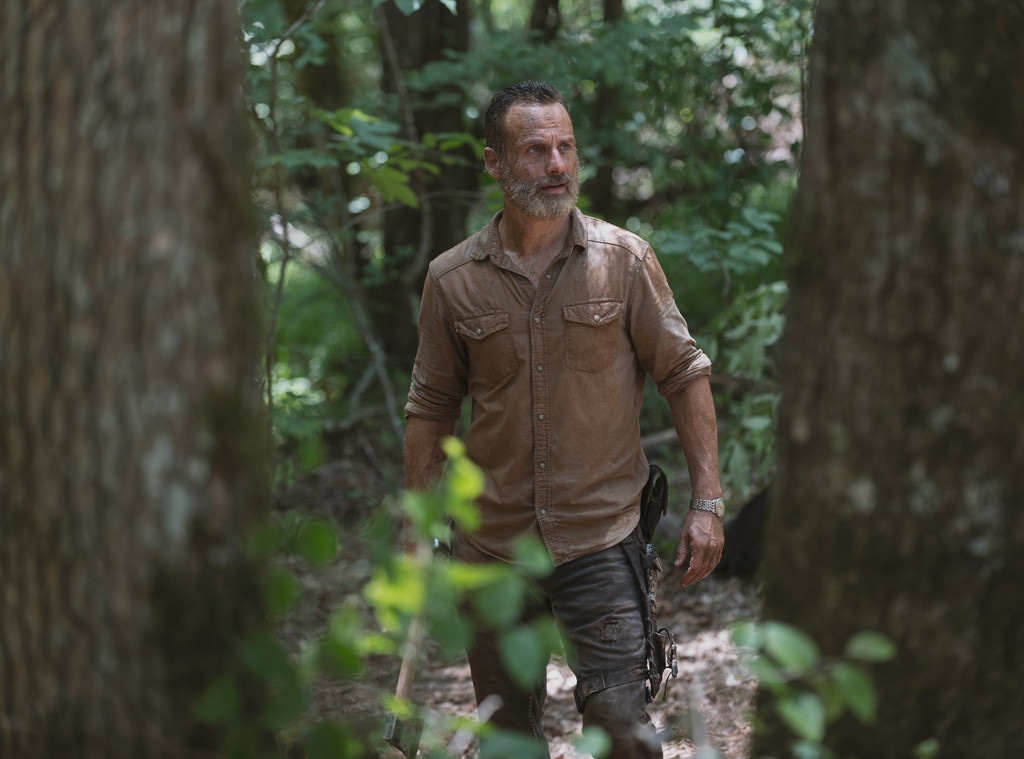 AMC
Goodbye to you, Rick Grimes. Andrew Lincoln officially says goodbye to The Walking Dead in the Sunday, Nov. 4 episode of the AMC drama, but his swan song has already begun.
In the Sunday, Oct. 28 episode of the zombie apocalypse series, Lincoln's character was tossed off a horse, impaled on concrete and trapped between two walker herds. Did you think Rick would go without a cliffhanger? And is this it for The Walking Dead's fearless leader?
"I cannot confirm or deny that," showrunner Angela Kang told The Hollywood Reporter when asked to confirm whether Lincoln's character lives or dies. "What I can confirm is what's already been confirmed: episode five will be his last episode on the series. I think there's a really emotional and exciting story awaiting the fans. We'll see what happens!"
Whatever happens to Rick Grimes, it looks like it'll be emotional. In the preview of the Sunday, Nov. 4 episode, Rick seems to be on quite the trip, confronting his past and hallucinating. See a preview below.
Kang told THR there were a number of discussions between comic book creator and series executive producer Robert Kirkman and executive producer Scott M. Gimple about how the show would say goodbye to its main character.
"We obviously care so much about this character and so much about this actor. We're going to do whatever it takes to let [Lincoln] live his life and pay tribute to his legacy on the show. I'll say that many discussions happened back-and-forth, and they went different ways," Kang revealed, noting Lincoln had planned his exit for some time with Gimple. In fact, Lincoln has been involved with planning the character's exit as well.
"He's a great collaborator who thinks deeply about character. He and I had really interesting conversations as well. Of course, he very much trusts the writers to go off and tell the story. There are definitely things that he definitely helped us deepen, which I'm grateful for," she said.
As for what happens, you'll have to watch the Sunday, Nov. 4 episode to find out for sure, but it will be emotional, however it turns out.
"We wanted to pay tribute to the fact that Rick Grimes is a character who he is a survivor. He will fight as hard as he can for the people that he loves. That's been one of his defining characteristics and that is a part of the story," Kang told EW. "We'll see his grit and his heroism. We'll see what happens. I'll say that Andrew Lincoln… just amazing, amazing stuff this season. I love the work he's done and I'm excited for people to see his last episode on the show."
The Walking Dead airs Sundays, 9 p.m. on AMC.