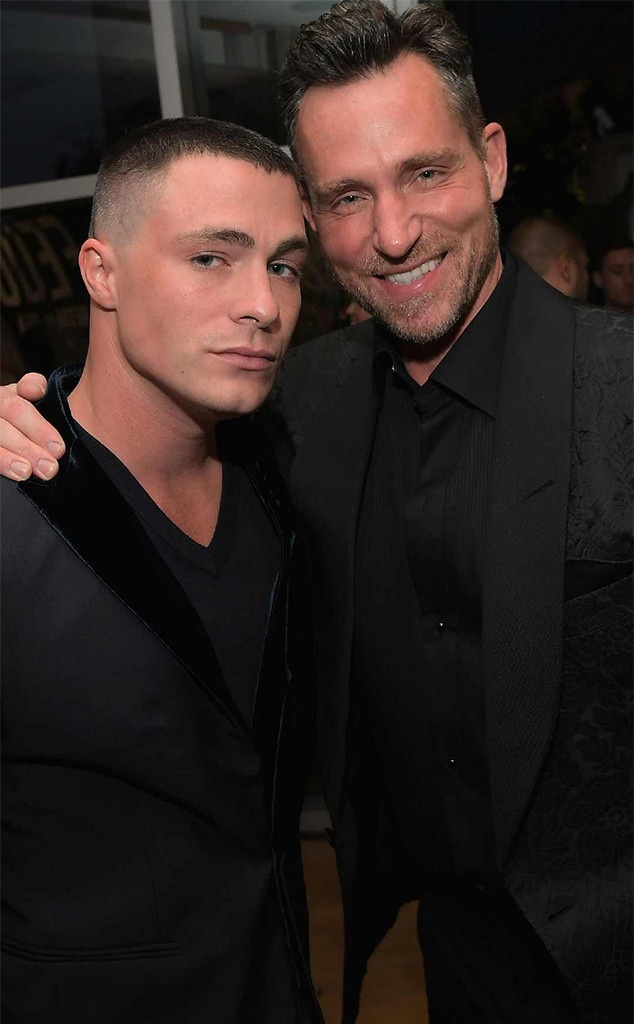 Charley Gallay/Getty Images for Vanity Fair
Colton Haynes looks like he hit the bullseye with Cupid's arrow on his 1-year wedding anniversary to Jeff Leatham.
Haynes and Leatham posted moving tributes to each other on Instagram with photos from their wedding day. Both men wore dapper white tuxedos with black bow ties and were surrounded by red roses. It's no surprise the floral arrangements were out of this world, seeing as how Leatham is the floral designer for Four Seasons Hotels.
"Can't believe it's already been 1 yr. since we got married," Haynes wrote. "Happy Anniversary my beautiful husband."
Another one of Haynes' photos shows the two of them dancing together wearing what looks like sequin long-sleeve shirts.
Leatham shared similar words in his post. "I can't remember what it was like before you, and I don't even know how we got here but maybe that's exactly what I needed," he wrote. "Someone who could make me forget where I came from and someone who could make me love without knowing how to fall."
If that wasn't enough to melt your heart, he added more. "Happy Anniversary My Beautiful Husband," he continued. "Life is a beautiful place with you beside me. I LOVE YOU."
Leatham and the Arrow star tied the knot on Oct. 27, 2017 in Palm Springs, Calif. and the wedding was officiated by none other than Kris Jenner.
In March 2017, Leatham proposed to Haynes  during a romantic getaway in Los Cabos, Mexico, and he even got a little help from Cher. In May, Haynes proposed right back to Leatham and the two of them donned matching diamond engagement rings. Haynes paid homage to Leatham's proposal by playing Cher's song "I Got You Babe."
In May 2018, the Teen Wolf actor filed for divorce from Leatham. A few months later in July, the two of them were spotted at the airport after returning from Vancouver. 
According to insiders, the death of Haynes' mom had a big impact on him and their marriage. A source told E! News earlier, "Friends say Colton has been struggling greatly with grief since this loss of his mother earlier this year, however Jeff and Colton have remained in touch off and on since their split."
The source added that some of Haynes' friends believed he "impulsively ended things with Jeff too soon as a result of his grief."
The two have since reconciled. 
Later that month, Haynes revealed to Anna Faris on her podcast that he's working on being more positive. He said, "I'm going through something and I'm learning to be more positive and learning that the basic thing is people change."
There were murmurs of them getting back together after they were seen wearing their weddings rings throughout the summer.
In September, sources told E! News that Leatham and Haynes were still mending their relationship. The source told E! News at the time, "They love and care about each other immensely and would love to find a way to make it work. They aren't rushing to make it official and are just taking their time working on their relationship. Things are a lot better and its going well for them."
The insider also mentioned Haynes' mom's death and how he's slowly healing. They said, "Colton has continued to go through rough patches since his mother's death but he is getting better day by day and as he continues healing from his loss. He is realizing that no one will love him like his mother, but no one will love him like Jeff has as well."
Happy anniversary, Colton and Jeff!