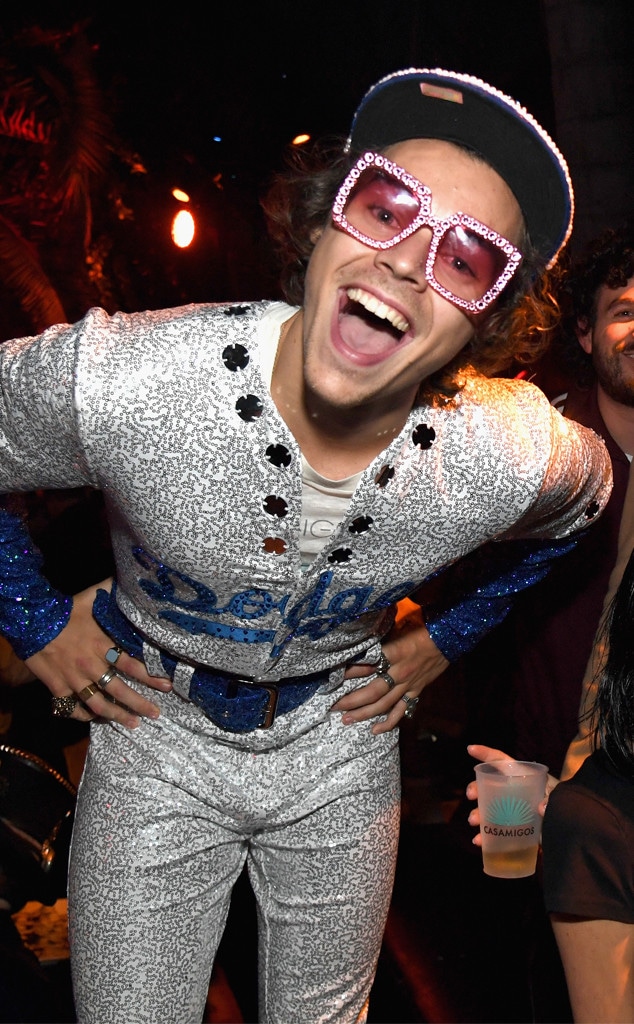 Kevin Mazur/Getty Images for Casamigos
Halloween is still days away, but stars are getting an early start on their partying!
Harry Styles, Paris Hilton, Nicky Hilton, Jenna Dewan, Ryan Seacrest, Cindy Crawford, Kaia Gerber, Presley Gerber and Rande Gerber were among the A-list attendees at the annual Casamigos Halloween party, held this year at co-founder Mike Meldman's Beverly Hills house. For the celebration on Friday evening, Styles dressed up in a sparkling Dodgers uniform and sunglasses, similar to the ensemble Elton John wore in 1975 during his performance at Dodgers Stadium in Los Angeles.
Many guests at the party, including Styles, were spotted in host Meldman's sports room, watching the Dodgers play in the World Series.
"Harry spent majority of his time in the main room with the big huge TV where everyone was watching the Dodgers game," a source tells E! News. "He did not care if anyone recognized him and he was having a lot of fun it seemed like."
Party attendees enjoyed signature cocktails including the Casamigos Margarita, Black Magic and Smoke Show, which were served from bars lined with hundreds of bottles of Casamigos tequila and were accompanied by a massive 8-foot by 10-foot collage of House of Friends photos.
Take a look at the gallery above to see all of your favorite celebs celebrating Halloween!