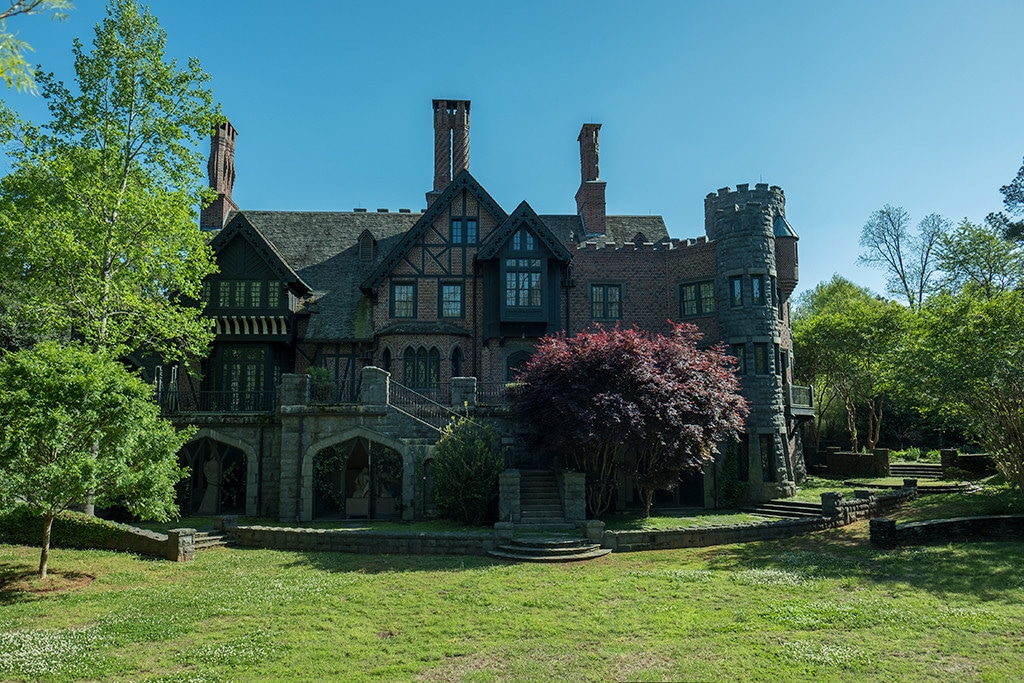 Netflix
It turns out the Crain family wasn't the only meal Hill House was craving.
Netflix's The Haunting of Hill House, based on Shirley Jackson's 1959 novel of the same name, tells the story of the five Crain siblings, who are all various levels of f--ked up after their time living in Hill House as kids. Throughout the stellar 10-episode season, we slowly see just how each of the siblings were slowly eaten away at by the house in their own way while the family lived there in 1992, along with seeing how their mother Olivia (Carla Gugino) was perhaps its most desired family member of all. 
Given that the house was built over 100 years prior to the Crains making the no-good very-bad decision to try and flip the house, the family was far from the first to be haunted by it. And while we got a few glimpses at the other former residents of Massachusetts' scariest house ever, we never learn about what happened to them. But we almost did. 
In an interview with Entertainment Weekly, series creator and director Mike Flanagan revealed he had actually planned to explain the back story of some of Hill House's resident ghosts (which appear subtly in the background of scenes throughout the first season).
"We had actually written and planned to shoot a complete history of Hill House. Every other episode would open with about a five-minute history thing narrated by Steven, from his book," he revealed, "and we did take from Jackson that the first victim of the house died before anyone had ever really stepped foot in it."
So yes, each ghost eagle-eyed fans have been spotting in the background were inhabitants of Hill House at some point and all had a rich backstory. Even this creep in the top corner of the photo below!
In Jackson's novel, the House's first victim was the wife of the man who actually build the house: Hugh Crain, which the show turned into the Crain family patriarch. Instead, they used Jacob Hill as that character and had planned on telling the history of the Hill family. Alas...the demands of making a TV show got in the way. 
"We had built a really complex history of the Hill family that we ultimately didn't shoot," Flanagan told the mag. "We didn't have the time or the money to shoot it, which really broke my heart at the time, but we figured if we had to focus on anything, we had to focus on the Crain family." 
Flanagan said in an interview with Thrillist that the ghost short stories were "the one thing I wish we had gotten to do, kind of visually watch Hill House come to life and learn more about the ghosts. Learn who they were before we encountered them as ghosts. But there's also something nice, at the end of the day, about not knowing. That there's some ambiguity there, too." 
While many of the house's ghosts make blink-and-you-might-miss-them appearances, one in particular gets some juicy scenes. 
Poppy Hill (Katie Parker), a jazzy flapper ghost with a maternal edge, shared a pivotal conversation with Olivia Crain (Carla Gugino). We learn from Mrs. Dudley (Annabeth Gish) that Poppy and her husband William Hill (aka the tall man in the bowler hat) met at a mental hospital after they were both committed by their families. They fell in love and ended up at Hill House, but we never really learn what happened to her children. 
"As we got rid of that history section and were leaning into that ghost we would bring into frame, she kind of embodied the insanity of Hill House, and she brought to it the femininity and the kind of twisted maternal instinct of it," Flanagan said of Poppy making the cut. 
Another back story that wasn't ultimately filmed but proved pivotal in the audience's learning about Hill House was the longtime caretakers, the Dudleys, tragic reason for never working after dark and for being so crazy-protective of their daughter, Abigail (Luke's not-so-imaginary best friend). 
In episode seven, Horace Dudley (Robert Longstreet) delivers a searing and Emmy-worthy monologue about having a stillborn baby after Clara (Gish) spent long hours working in the house for the Hill family. 
In the series, they are tragic and serious supporting characters, a stark difference from their largely comedic relief purpose in Jackson's original novel. 
"I don't think anybody wanted anything to be silly, comic relief didn't seem like anything that was really necessary for them," producer Jeff Howard explained to Bloody Disgusting of the major change. "Plus, Annabeth Gish makes such a great different tone Mrs. Dudley that I can't imagine her being used as a yokel to be made fun of."
And for Flanagan, Mr. Dudley's heartbreaking monologue was his favorite of the series and one he fought to keep as long shot rather than cutting away, a rare feat for an almost six-minute long speech. 
"Robert Longstreet hit it out of the park. The crew was riveted as we shot it, and even the grips and electricians were applauding him when he finished," he told Vulture. "Keeping that monologue intact was a hill I was determined to die on, if necessary." 
And finally, another moment Flanagan & co. decided to leave out is small but huge and has to do with the finale's final moments, so spoiler warning for those of you who have super-human patience and have yet to binge-watch all 10 episodes. 
Surprising many and subverting expectations, The Haunting of Hill House ends on a mostly uplifting note, with the surviving Crain family members all achieving a happy ending. It almost felt too good to be true...and that's because it almost was.
In the final moments, we see that Steven (Michiel Huisman) and his estranged wife reconciled and are now expecting a baby. If you were suspicious of this, given that Steven had lied to his wife about getting a vasectomy, your gut wasn't entirely wrong.
"One thing I can say is that we talked for a very, very long time about putting the Red Room window, that weird vertical window, in the background of this shot," Flanagan revealed to Thrillist. "And I ultimately decided not to. It was too cruel." 
Hey, there's always season two. (Fingers crossed.) 
The Haunting of Hill House is available to stream on Netflix.