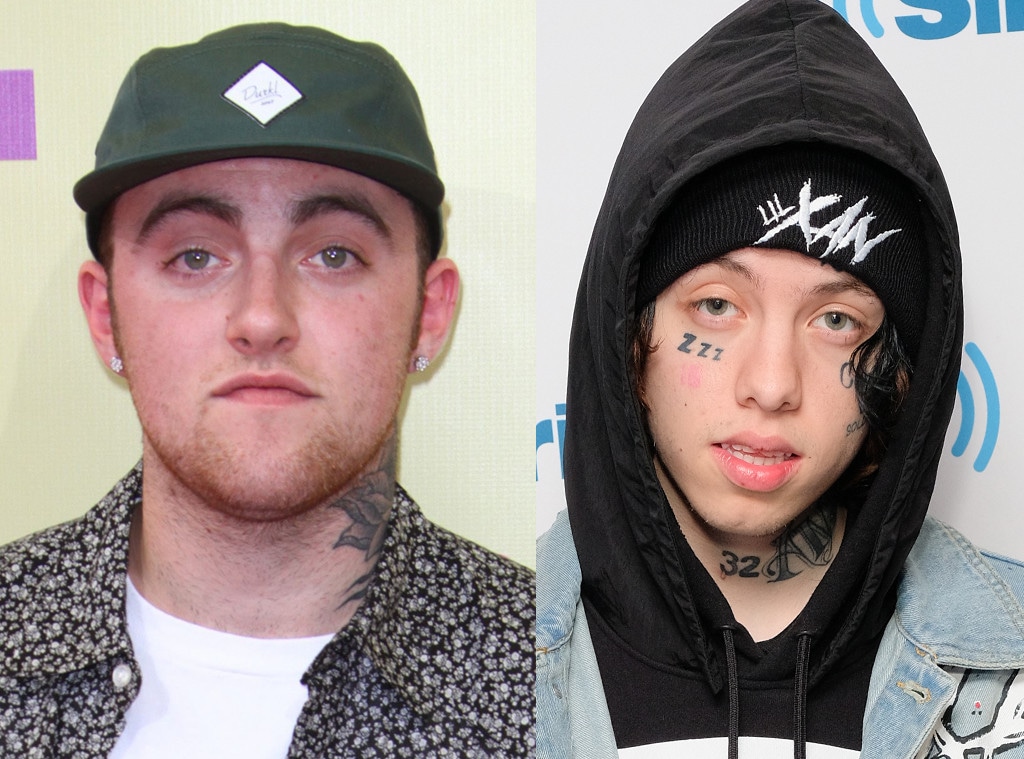 Matt Baron/BEI/Shutterstock Matthew Eisman/Getty Images
Lil Xan is paying tribute to his late friend Mac Miller.
The artist, whose birth name is Diego Leanos, is honoring the rapper's memory by making him the focal point of the cover for his new album, "Be Safe." In the newly-released artwork, Mac Miller, dressed in a bright orange sweatshirt and round glasses, takes on a God-like image as he cradles a graveyard in his cupped hands. The name of the sophomore album, which also takes inspiration from Miller, is inscribed upon a single headstone, along with a broken heart.
Diego told his Instagram followers, "This Album is for everyone and anyone you lost in life."
"Be Safe" were reportedly the last words Mac Miller spoke to Diego before his unfortunate and shocking death. "Before I left, he was like, 'Be safe.' People say that you know, like, 'be safe'," he shared in a recent interview. "But he grabbed me, and he pulled me back and he was like, 'No, I mean be safe.'  That almost made me cry, that's my idol right there."
Following Mac's death, Lil Xan publicly mourned the loss of his "hero" and friend. "I'm so f--king mad rn at the world,I F--KING MISS YOU MAC," he wrote on Instagram. The loss he felt was apparently so profound that he is considering leaving the music industry. "When your hero dies, f--k that s--t, I don't want to make music no more," he said in the same interview.
Lil Xan later embarked on a national tour, which gave him the opportunity to visit Mac Miller's hometown of Pittsburgh, Pennsylvania. While there, the artist got the chance to see the Blue Slide Park that inspired some of Miller's work and was a place Miller frequently played at as a child.
Mac Miller died on Sept. 7, 2018 of an apparent overdose. He was only 26.