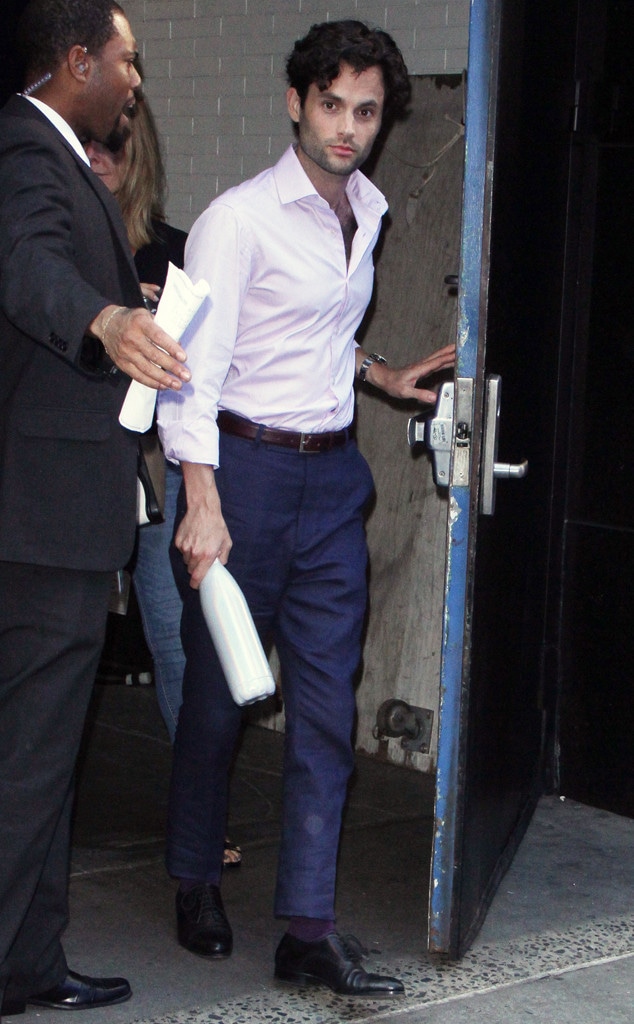 MediaPunch/Bauer-Griffin/GC Images
Spotted: Lonely Boy stalking a beautiful blonde around New York City. Except, this time, it's not Serena van der Woodsen.
Penn Badgley, who turns 32 today, has made his return to TV with a new role on the Lifetime series You, the thrilling screen adaptation of Caroline Kepnes' book that even legendary horror writer Stephen King described as "hypnotic and scary". Badgley plays Joe, a bookstore manager who becomes obsessed with aspiring writer Beck (played by Elizabeth Lail) the moment she walks into his store.
In case you've been sleeping on Lifetime, the network isn't just addictive trashy made-for-TV movies anymore. You, helmed by super-producers Greg Berlanti and Sera Gamble, joins Unreal as another envelope-pushing show that is pivoting the network toward prestige TV. Which makes it a perfect fit for Badgley, whose career has been pivoting away from being associated with Dan Humphrey, the brooding hipster he played on Gossip Girl.
It's no secret Badgley wasn't exactly thrilled about his iconic role by the end of the series. He once made a dig at the show while promoting his role in the indie film Greetings from Tim Buckley, telling Salon, "To be proud of something is a really nice feeling... And it's a new feeling, and it's something that I wanna keep going with. I can walk a little taller feeling that I don't have to be constantly apologizing for the work that I've done in the past."
To be fair, while Gossip Girl was a massive success and cultural fixation, even the most loyal fans can't deny the show's plot lines went from campy to confusing, especially with the surprise ending. Badgley himself openly expressed his issues with the finale. In an interview with People, he said his character being revealed (spoiler alert for those 6 years behind) as the titular blogger exposing the uber-rich of the Upper East Side, "Doesn't make sense at all. It wouldn't have made sense for anybody. Gossip Girl doesn't make sense!"
XOXO, agreed. In any case, it was still the show that launched Badgley to super-stardom, both for his onscreen portrayal as Dan and off-screen romance with co-star Blake Lively. In some ways, becoming the fantasy boyfriend for millions of fans may have prepared Badgley for his role in You. When Gossip Girl blew up, Badgley described the fandom around him as "obsessive" and that he has "literally been molested" by fans. In an interview with E! News, Badgley said, "Emotional and physical boundaries are violated for someone in the public eye, who is seen as an object of desire." That type of concerning behavior is something explored in You, except the object of his character's obsession isn't a public figure but rather the private life of a woman he projects his desires onto.
Seth Browarnik/startraksphoto.com
Badgley's foray back into television is exciting because, at one point, he seemed to threaten it wasn't going to happen at all. "I think there was a phase where I was really upset. I was 23 years old and wanting to be an artist, and I was on a f--king TV show. Going to fashion parties and stuff. I was like, 'What the fuck am I doing?'", he stated in an interview with Vulture. And minus a minor stint in the short-lived miniseries The Slap, Badgley did disappear from television sets to focus on other projects.
One of those included taking on more serious roles in film, including beating out Robert Pattinson and Jared Leto for the role of Jeff Buckley in the indie picture Greetings From Tim Buckley. Badgley was thrilled to land the role stating, "To play a man who was singularly gifted as an artist, greatly misunderstood and mythologized as a human being...It's something very special and sacred."
In addition to more taking on more artistic film projects, Badgley dove into music as well. He serves as the front man in his indie band MOTHXR, where he's performed in such venues as Miami's Art Basel. During his TV hiatus, he also got married to Domino Kirke in a Brooklyn courthouse. The two had a second wedding celebration a few months later with Heidi Klum, Mariska Hargitary, and other celebrity guests in attendance.
Isadora/BFA.com/REX/Shutterstock
His ambivalence isn't the only thing that qualifies him for the creepy but charismatic part. While he has put Gossip Girl in his rearview mirror, there's still a pretty clear parallel between Dan Humphrey and his new role as Joe Goldberg. Dan Humphrey wasn't exactly breaking into apartments and stealing underwear like Joe Goldberg ends up doing, but he was exposing intimate details of his supposed best friends on a blog predated social media platforms like Instagram. "The question is, if any real person actually did the things that Gossip Girl did, is that person, no matter who they are, a sociopath? Aren't they manipulative? Aren't they abusive?" Badgley asked in an interview with HuffPo.
And You, already renewed for a second season, continues to deep-dive into exploring that kind of manipulation. Throughout the first few episodes, Badgley's character projects assumptions and expectations onto Beck and takes matters, sometimes violently, into his own hands when things don't go his way. The brilliance of the show is exploring how his actions toe a thin line between "acceptable" romance movie tropes and downright disturbing behavior.
If Gossip Girl explored how anyone's life can be blasted on the Internet, You explores how terrifying it can be even when someone takes control of their own narrative online. We're living in the age of the anyone-can-become-an-influencer #sponCon where millions of people editorialize their digital brands in a way that was reserved for celebrities just a few years ago. In the show, Badgley's character takes full advantage of this phenomenon. He's able to track down where Beck lives based on the address in the background of one of her photos. Hours later, he is masturbating on her street while he spies on her having sex through the window.
"So much of what Joe does is like what we do, the stalking and desperate for love, the desperate to be close to someone, and hating this other person, or whatever it is," Lail, who plays the object of Joe's desires, tells E! News.
Shay Mitchell, who also stars in the series, agreed in some ways. "In some moments, I could maybe say it'd be a love story. But, then there's other moments where you're like that is just creepy. But, I've done a similar version of that. We've all researched and creeped on people using different social media platforms, it's just he takes it a little further than that", she expressed to E! News.
While everyone is guilty of going down the Instagram rabbit role, Badgley's describes his character to us as someone who gets to, "Live out the fantasy. He's like a troll, like a real troll, like an internet troll." The entitlement Badgley's character has toward Beck, such as assuming she wants him to know her name when she pays for a book with her credit card, is strikingly similar to "nice guy" mannerisms that have been called out in the #MeToo era. And the question of if Joe's actions are romantic gestures or male privilege is something Badgley himself acknowledges.
"I personally feel it is a bit of a social experiment. It's a litmus test to see the mental gymnastics that we're still willing to perform on a cultural level, to love an evil white man," he said during the 2018 Summer TCA Press Tour. 
Watch:
Is Penn Badgley's "You" Character Just Dan From "Gossip Girl?"
The litmus test is made harder because Badgley's performance as Joe is often charming and in many ways very human. This was an artistic choice Badgley made. "Initially I really didn't want to make [Joe] human at all and I was prepared to make him a much more chilling portrait, I thought. And then I think I realized maybe what's more chilling is that he's so human seemingly at some points that he doesn't see where he's wrong and at some points, if you're not careful, you might not either," he explained in a Paleyfest interview.
Either way, its clear Badgley is a long way from his teen drama roots. You can see for yourself by watching You on Lifetime. In the meantime, we will be turning off our Instagram geotags for the foreseeable future.