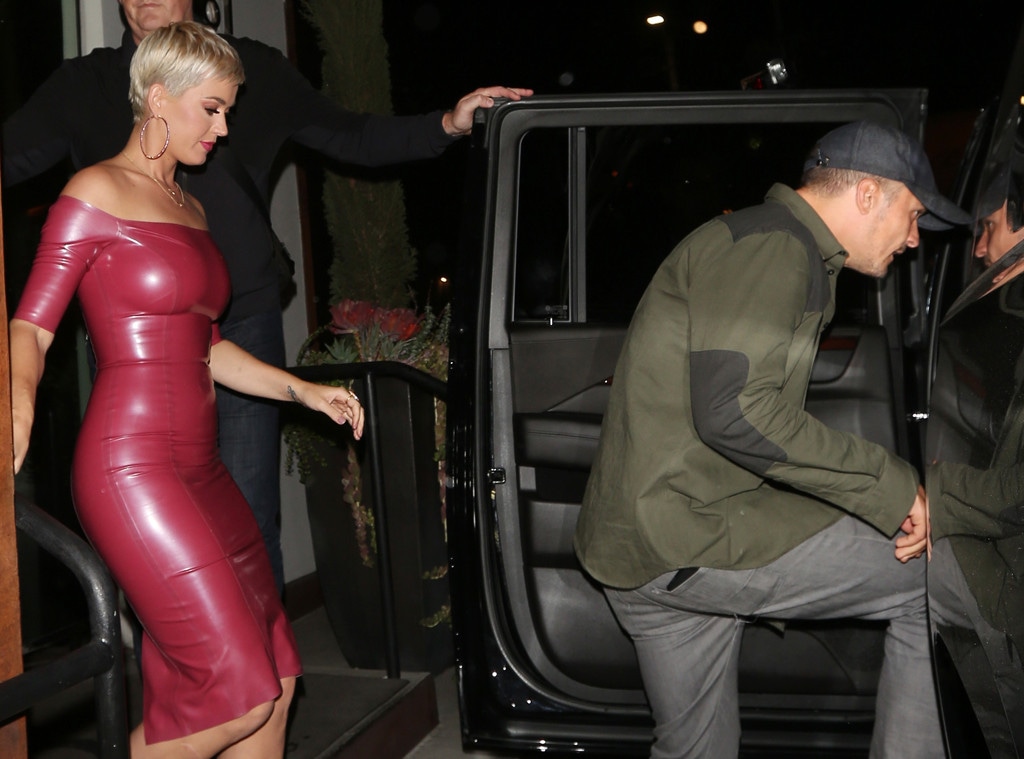 MEGA TheMegaAgency.com
Katy Perry and Orlando Bloom are still going strong!
The "Firework" singer and the Pirates of the Caribbean star stepped out to celebrate her 34th birthday on Thursday evening. Perry, wearing a pink latex dress by Vex, was photographed while out for dinner with her actor beau at Barton G. in West Hollywood, Calif.
"Orlando was seen walking into the restaurant with a bouquet of flowers in a vase," a source tells E! News. "They were in a very happy mood, smiling a lot."
Cameras later spotted the couple with Bloom's son, Flynn, and his ex-wife, Miranda Kerr, who appeared to be picking him up. Video posted on TMZ shows Bloom and Perry saying goodbye to Flynn as he hopped in Kerr's Aston Martin. Before driving off, Kerr gave Perry multiple birthday gifts for her special day.
Bloom and Kerr tied the knot in 2010 and welcomed their son a year later. The duo called it quits in Oct. 2013, and Kerr has since moved on with Snapchat CEO Evan Spiegel. The couple tied the knot in 2017 and welcomed a baby boy, Hart, a year later. As for Bloom and Perry, they've been dating on and off since 2016, most recently walking their first red carpet together as a couple last month.
"Katy has a great relationship with Miranda and Evan. She is very close to Flynn and has been a constant in his life the last several years," a second source tells E! News. "She's always around at his activities and parties. She's great with him and they are extremely comfortable together."
David Fisher/Shutterstock
"Miranda and Orlando do a great job of co-parenting and figuring things out that will best serve Flynn. Their families are friendly and have remained close," the insider continues. "Miranda's parents have met Katy and been to her concerts. It's really like one big happy family that works well together. Miranda is extremely generous to Katy and vice versa. They have given each other gifts often and been at many different functions where they hang out together."
Bloom and Perry, who split in Feb. 2017 and reunited shortly after, have been inseparable in recent months, so will they be taking the next step in their relationship soon?
"Katy and Orlando want to get engaged very soon," the source tells us. "They have talked about it a lot and she is hoping it will come soon. Their time apart made them realize they want to be together."