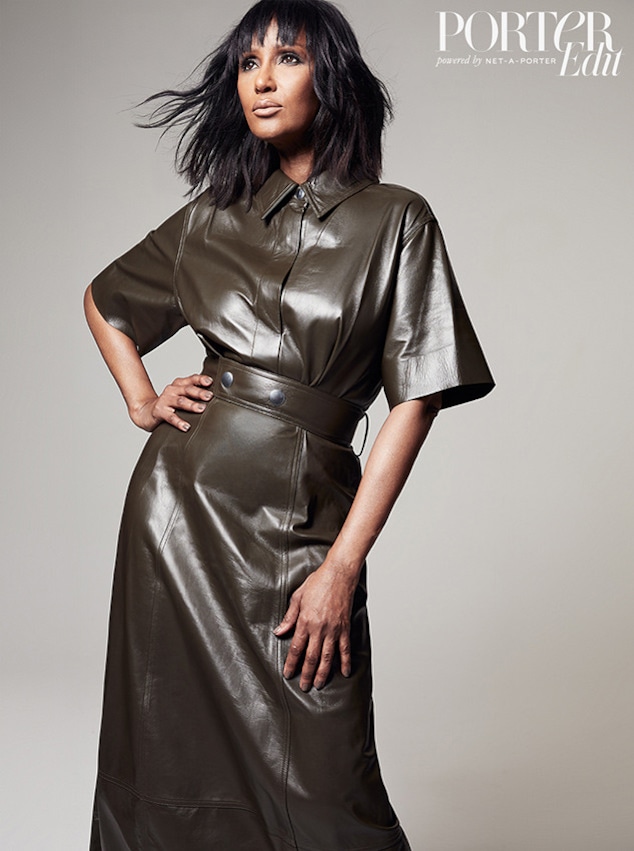 Hanna Tveite/PorterEdit/ NET-A-PORTER.COM
Iman married the love of her life when she wed David Bowie in 1992. Now, over two years after his death, the supermodel says she'll never tie the knot again.
 "I will never remarry," she told Net-A-Porter's digital magazine PorterEdit in a new interview released Friday. "I mentioned my husband the other day with someone, and they said to me: 'You mean your late husband?' I said, 'No, he is always going to be my husband.'"
While the fashion icon hasn't ruled out entering another relationship completely, she can't see herself doing so in the near future.
"I do feel very lonely," she admitted. "But do I want a relationship? I can't say never, but no, not now."
Bowie passed away from liver cancer in 2016—bringing an even greater level of public attention to Iman and her family.
"People take pictures of me in the street, and say [touching my arm]: 'I am so sorry for your loss,'" she told the publication. "I'm like, don't touch me. You just took pictures of me, how can you be sorry?" 
While she recognizes the death was difficult for fans, she can't equate it to the loss she experienced.
"I get the fans' grief, but it's not the same," she added. "They have lost someone they look up to; we have lost a husband and a father." 
"And sometimes, I don't want people to know how sad I am," she continued. "People say to me, 'Oh, you're so strong.' I'm not strong—I am just trying to keep it together."
Hanna Tveite/PorterEdit/ NET-A-PORTER.COM
Over the course of their more than two decades of marriage, the couple raised their daughter named Alexandria (Lexi), as well as Iman's daughter Zulekha and Bowie's son Duncan from previous marriages. Iman has always tried to keep her personal life private and she advised Lexi to do the same.
"She says I am overprotective," the model noted. "But I told her, this can all wait, it isn't going anywhere. Have a life that is private while you can, because one day soon it is going to be public, so enjoy this."
To read Iman's full interview, check out PorterEdit.