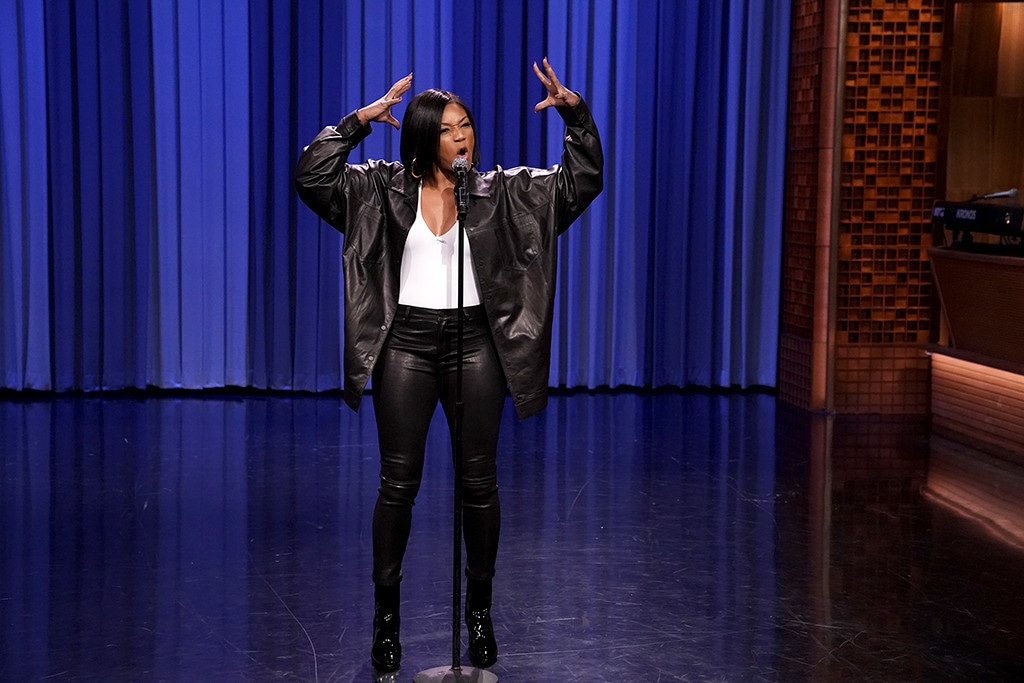 Andrew Lipovsky/NBC
Jimmy Fallon never stood a chance.
The Tonight Show host challenged Tiffany Haddish to a lip sync battle Thursday—something he hadn't done in quite some time. Per usual, they each performed twice without letting the other know which songs they had picked. Fallon kicked things off by covering Deee-Lite's '90s dance classic "Groove Is in the Heart." It took a lot of courage for a grown man to move the way Fallon did, but it was no match for Haddish's confident swagger. "When I was growing up in Los Angeles, this artist was one of my favorite MCs, and she still is today," the Nobody's Fool actress, 38, explained. "Her name is The Lady of Rage and the name of this song is 'Afro Puffs.'"
Even Fallon couldn't believe how convincing Haddish was. Just look at his face!
"Really?" he asked. "You're going rough with your 'Afro Puff.'"
"We goin' gangsta, baby!" Haddish told him. "We goin' gangsta, baby!"
Coincidentally, Fallon was about to "go gangsta" for his next song: Post Malone's "Psycho." It started off simple, but Fallon upped the ante when he stopped the song to apply temporary face tattoos that mimicked the rapper's. Impressed, Haddish asked, "Impromptu tattoos, huh?"
Haddish had her game face on, and she wasn't going down without a fight. "For my final song, I had to go deep, so I decided to go with the Godfather of Soul, Mr. James Brown. Can we make it look like old school TV? Like the first time people ever saw James Brown perform?" she asked a cameraman, who gave her a black and white filter. "Thanks. This song is called 'Sex Machine.'"
The comedienne channeled Brown's spirit, mimicking his famous footwork (and even doing The Robot, randomly). By the time it was over, Fallon readily admitted defeat. "Oh, my goodness!" he marveled. "Tiffany Haddish, everybody! The clear winner! The champion! Tiffany Haddish!"
(E! and NBC are both members of the NBCUniversal family.)