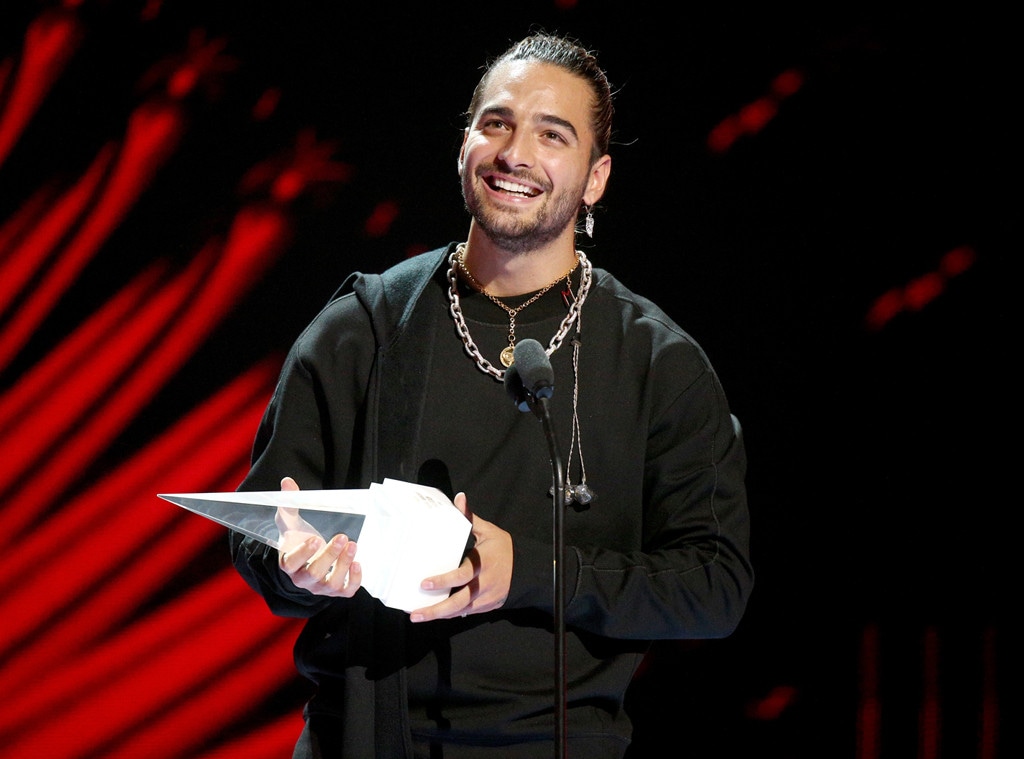 Rich Fury/Getty Images
Maluma really is having an epic night at the 2018 Latin American Music Awards.
In addition to performing and his many nominations, the 24-year-old Colombian singer has just received the Extraordinary Evolution Award for his growing fan base and "brilliant future" in the Latin American community. In a grand entrance, the artist and his crew ascended the stage to perform his hit song, "Mala Mia." Clad in black and rocking his new blonde hair, the artist and his all-female back-up dancers. He then blessed Dr. Ana Maria Polo with a peck on the lips before accepting his award.
"First of all, I want to thank all of you, because it's been very few years of my career, but I've been able to live a lot of things," he shared onstage, per ET. "And it's because of you that I wake up everyday with more motivation and hunger to persevere and dream. Thank you to God, because without him, I'd have nothing."
Maluma continued, "Thank you to the fans, without you, nothing would ever happen. I wake up everyday for you, to work and accomplish my dreams. On the other hand, women, listen to what I have to say. Long live gender equality. And as you know, you do whatever you want with us men."
Ahead of the award show on Thursday evening, Maluma opened up to E! News about receiving the honor. "That's gonna be an epic night," he shared with us. "I feel very, very grateful, honored to be here. Latin American Music Awards, I remember the first time that they opened the doors and they let me sing for the first time in this beautiful state. So I feel very, very grateful and I think it's going to be a beautiful night, for all of us, we're gonna enjoy it like crazy."
Maluma is rocking his new blonde hair at the award show, just days after debuting the new look on Instagram. "R E N A C E R / R E B O R N," Maluma captioned a photo of himself over the weekend, debuting his new 'do. 
In response, Maluma received love from his celeb pals and his girlfriend, model Natalia Barulich, who commented, "Te amo."
Maluma and Natalia have been going strong since 2017 after meeting on the set of his "Felices los 4" music video.
(E! and Telemundo are both part of the NBCUniversal family.)