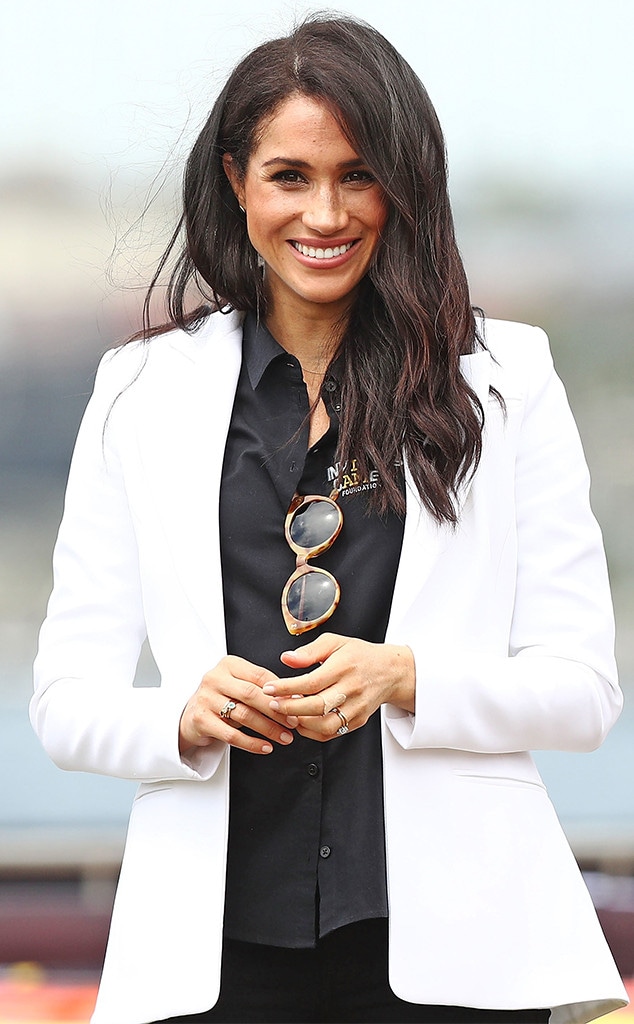 Mark Metcalfe/Getty Images for the Invictus Games Foundation
An April royal baby has a nice ring to it, don't you think?
Well, that may end up being the case for parents-to-be Prince Harry and Meghan Markle. While it's certainly no surprise at this point that the Duke and Duchess of Sussex are expecting their first child together, when the little one will arrive is much less clear. 
Kensington Palace kept the details to a minimum when it confirmed the pregnancy two weeks ago, noting that the newest addition to the royal family will be arriving in "Spring of 2019." Translation? Sometime as early as March and as late as the end of May. 
Of course, royal enthusiasts have been keeping their eyes peeled for any clues as to when we should expect the youngster—even inspecting Markle's jewelry. 
Chris Jackson/Getty Images for the Invictus Games Foundation
It's not a bad idea given Markle's accessories were assuring signals in the past of her budding romance with her now-husband. Back in November 2016, the duo stepped out separately with matching beaded bracelets adorning their wrists. A month later, she sported a gold Maya Brenner necklace with the letters "M" and "H" on it. 
Now, the attention is on her ring finger. Over the weekend, the couple stepped out in Sydney for the Invictus Games Sydney 2018 Jaguar Land Rover Driving Challenge. Donning dark jeans, an Invictus Games Polo and a white blazer layered on top, the mom-to-be looked casual chic as she also accessorized with a pair of cat eye sunglasses and donned three stackable, ethically-sourced Ecksand rings—one with a diamond, one with a blue sapphire and one with an emerald—all set in 18K recycled gold.
If we're going by birthstone, some online have suggested that the blue sapphire can represent Harry as it is the stone for his birth month, September. While the green peridot is traditionally the stone for August, Meghan's birth month, an emerald is close considering Ecksand does not appear to sell a peridot. As for the diamond, it signifies April, which some have interpreted as the possible birth month of the royal baby, particularly since it falls within the "Spring of 2019" range. An emerald typically represents May, another possibility. 
Markle later stepped out in Tonga wearing just the blue sapphire and diamond rings, adding more weight to the April theory. What do you think—are these rings a message beyond sustainable jewelry?