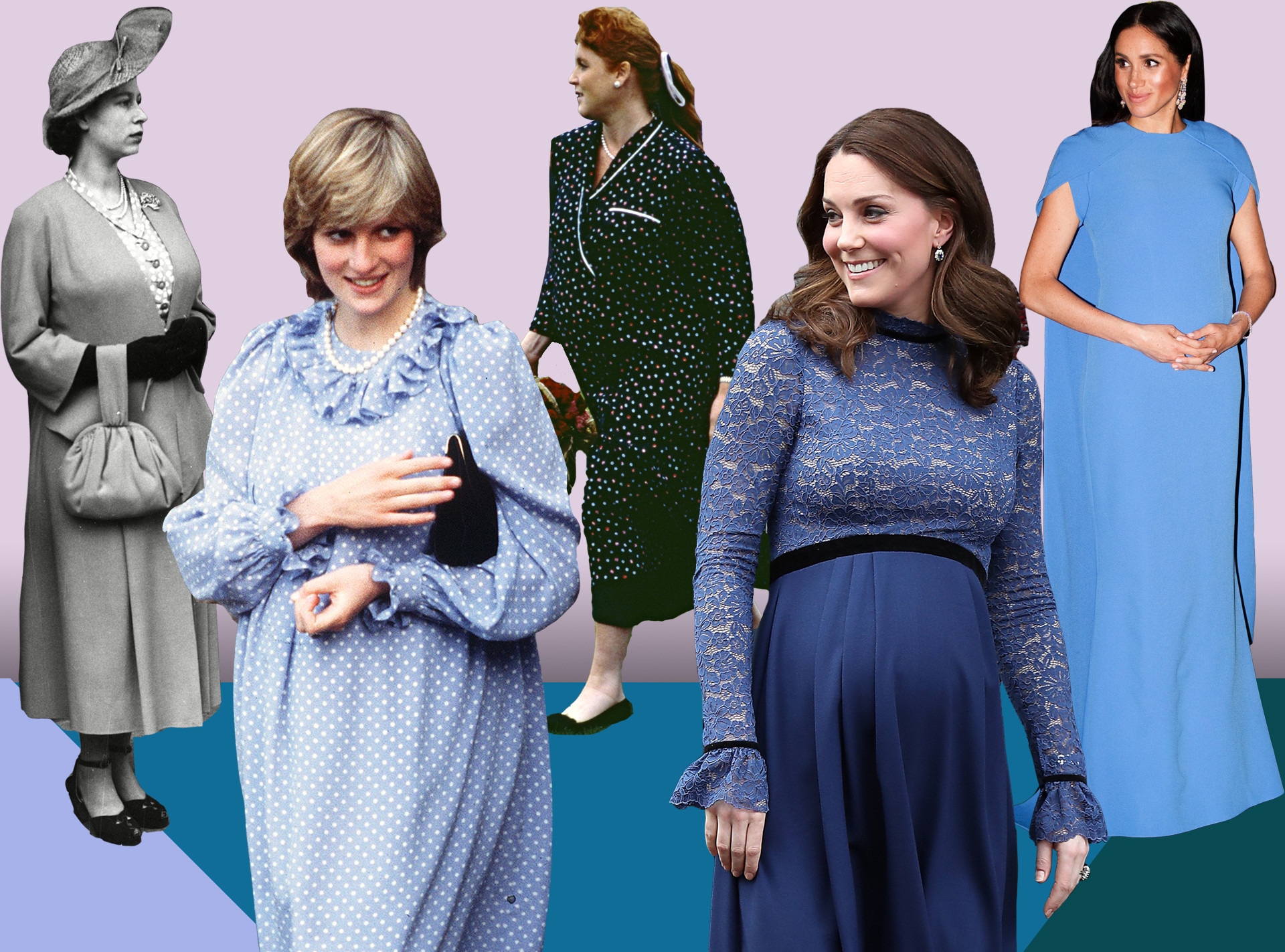 Shutterstock; Getty Images; Melissa Herwitt/E! Illustration
There were rumors that the prince wasn't living up to his manly duties in the royal bedroom.
He had been married for three months and the gossip, perpetuated by one of his wife's best friends, was merciless. Happily for the couple, however, that very summer his wife turned up pregnant.
Such was the atmosphere that greeted word of Queen Victoria's first pregnancy in 1840, joyous news for her and the entire country, but news that had to be leaked and whispered about—because you just didn't do pregnancy announcements in the 19th century. 
Princess Victoria was born to Victoria and her beloved husband, Prince Albert, on Nov. 21, 1840, at Buckingham Palace—less than 9 1/2 months after their Feb. 10 wedding. The future princess royal arrived three weeks early, but it was obvious—that all was quite sound in the marital bedroom. Albert, Prince of Wales and the future King Edward VII, popped out Nov. 9, 1841.
The iconic monarch had nine children in 17 years, all delivered via natural childbirth and all of whom lived into adulthood—so if Prince Louis one day thinks that the fanfare surrounding his birth as Kate Middleton's third child was a little muted, imagine people trying to get into a lather over the arrival of no. 9, Princess Beatrice of the United Kingdom, in 1857.
Social norms when it comes to talking about pregnancy have changed monumentally over the past 178 years—albeit not quite as much for royals, considering how talking about certain things, or too much at all, is still frowned upon (if Meghan Markle reveals plans to eat her placenta, the British tabloids may spontaneously combust)—and obsession over royal issue has steadily become one of our favorite pastimes. 
But certain things haven't changed a bit.
Victoria is said to have suffered from what we would now call postpartum depression, exacerbated by any time spent away from Albert. But according to biographer Elizabeth Longford, after Beatrice's birth the queen "felt better and stronger than ever before...There was no black depression...as had been the case with most of the children." And Prince Arthur, her seventh child, was said to be her favorite son of the bunch.
Princess Diana was the first royal to open up about experiencing postpartum depression, a mildly revolutionary act for the family even in the 1990s. She in turn paved the way for Kate Middleton being able to admit to having "complex emotions" after Prince George's birth, not to mention her own son Prince Harry eventually feeling comfortable enough to reveal that he sought counseling for anger issues and depression that had been bottling up since his mother's death.
Albert's behavior as a family man, meanwhile, sounds quite modern. He wasn't called upon to snip umbilical cords (or witness any of the nine births for that matter), but when Victoria was pregnant he attentively helped her blot her papers as the ink dried and put her stockings on when she couldn't bend down. Albert, or "Bertie" as the queen affectionately called him, was a fairly affectionate, present father for the times, playing the organ with a kid on each knee and giving them rides around the nursery, using a basket for a sled.
One of multiple assassination attempts on the queen also occurred while she was pregnant in June 1840, when a disturbed 18-year-old fired a shot in her direction on the Mall (around where a kidnapping attempt would be made on Princess Anne in 1974). Looming childbirth and that close shave prompted the monarch to make Albert her regent, meaning he would rule in the case of her death. (She would outlive him by 40 years.)
Upon arrival, the princess royal, familiarly called Vicky, had a nanny, or nursery manager, and a wet nurse, breastfeeding also something that upper-class ladies, let alone queens, didn't regularly do at the time.
When Vicky got married, the queen hoped that her daughter would wait a year or two to have children (as the queen's own mother had advised her, to no avail). Instead, Vicky's first child (Prince William, incidentally) arrived almost exactly a year after the wedding.
"What you say of the pride of giving life to an immortal soul is very fine, dear," Victoria wrote to her daughter, per Longford's 1964 book Queen Victoria, "but...I think much more of our being like a cow, or a dog at such moments when our poor nature becomes so very animal and unecstatic." While she expounded on the grotesqueries of childbirth in no uncertain terms, Longford wrote that the queen also considered most babies to be "frog-like" (rather than just think that all babies were beautiful).
In May 1948, almost a century after Victoria's ninth child was born, the queen's great-great-granddaughter Elizabeth was on her first official visit to Paris with Prince Philip, her husband of less than a year (who also, as it goes, counted Victoria as his great-great-grandmother). And Elizabeth feeling awfully nauseous.
The media didn't know that the princess was four months pregnant with her first child. The young couple kept a full social schedule, full of dancing, dining and staying out into all hours, so no one was the wiser—and because she was not yet queen, and there was no such thing as social media, Elizabeth was able to throw the press off the scent fairly easily. 
Central Press/Getty Images
So, with society still not quite comfortable talking about pregnancy (I Love Lucy never used the p-word the entire time its main character was expecting, in real life and on the show, in 1952), the people of Great Britain were most certainly not kept in the loop when it came to King George VI's eldest daughter. 
The press was limited to noting that she was in an "interesting condition," and they were discouraged from taking photos that would illustrate as much. And, in perhaps the biggest difference between then and now, they obliged.
Late on the evening of Nov. 14, 1948, BBC Home Service newsreader John Snagge announced exciting news (not from his staid, measured tone, but in theory) out of Buckingham Palace: "Her Royal Highness, Princess Elizabeth, Duchess of Edinburgh, was safely delivered of a prince at 9:14 p.m., and...her royal highness and her son are both doing well. Listeners will wish us to offer their royal congratulations to Princess Elizabeth and the royal family on this happy occasion. We play the national anthem in honor of the prince."
Prince Charles was born at Buckingham Palace, Elizabeth's bedroom having been converted into a hospital suite in preparation for the occasion (with anesthesia at the ready—and utilized). Philip spent the birth playing squash, winning three straight matches.
"I knew she'd do it!" Commander Richard Coville, the king's press secretary, exclaimed upon the arrival of a firstborn son. "She'd never let us down!" George VI was simply delighted with the success of everything," according to Sally Bedell Smith's Elizabeth the Queen: The Life of a Modern Monarch, while his wife, proud new grandmother Queen Elizabeth, was "beaming with happiness."
After Charles was born, she nursed him for several months, then started going back and forth between the U.K. and Malta, where Philip was stationed with the Royal Navy. He took up playing polo, and she took up her first video camera, recording happy family times becoming one of her most cherished hobbies.
Pregnancy, though not discussed in detail, did not prevent her from going about her royal duties—which, at the time, were still minimal. She was still attending engagements while six months pregnant with Princess Anne in 1950.
While it's unthinkable to imagine Prince William or Harry leaving their expectant wives (or children for that matter) home for long stretches at a time, Philip was away from London (and Charles) for almost a year and didn't return until about two weeks before Anne was born at Clarence House.
Elizabeth ascended to the throne in 1952 after her father, George VI, died at only 56 years old, which meant the end of Philip's naval career and a reshuffling of their plans. The couple ended up taking a decade-long break before having their third child, Prince Andrew, in 1960.
Even the queen herself wasn't excused from the most pernicious of rumors, one being that Andrew was fathered by her friend and fellow horse enthusiast Henry Porchester while Philip was on a four-month goodwill trip to India, Hong Kong and other Pacific locales in early 1959. Simple math, judging by Andrew's February birth date and Philip's return from his tour in late April, at least put that to rest (as, seemingly, would Andrew's resemblance to both parents as he grew up).  
In 1959, the queen and Philip were due to take two big trips, to Canada and later to Ghana. When she found out she was pregnant with Andrew, per Bedell Smith, the queen told her assistant private secretary, "I am going to have a baby, which I have been trying to do for some time." She told him he would have to "explain the situation" to the president of Ghana "and tell him to keep his mouth shut."
But the royals still took off for a six-week tour all over Canada, where the queen managed to conceal her morning sickness and blamed a stomach virus when she was forced to stay in bed for a few days during the 15,000-mile journey.
Hulton Archive/Getty Images
With no Internet, no 24/7 news cycle and mostly teeny-tiny TV screens, it's hard to say how much your average person obsessed over the possibility, or eventual arrival, of a royal baby.
But judging by human nature itself, we're guessing plenty of people who looked at pictures of the queen traded gossip over tea about suspicious cancellations, "stomach ailments," possible baby bumps, maternity fashion and how the existing royal kids were turning out. 
Once she was back in London, on Aug. 1, 1959, the palace announced that Queen Elizabeth II was pregnant. This time around, when she hit the six-month mark, she opted to withdraw from official duties until after the birth.
Unlike with Charles and Anne, when she had Andrew she was queen, and "within a very short time, 24 or 48 hours at most, she'd be asking whether there were any papers and would we care to send them up?" said her assistant private secretary Edward Ford, per Bedell Smith.
"Nothing, but nothing deflected her from duty," he said.
Hulton Archive/Getty Images
She retired even earlier from public duties when she was pregnant with Prince Edward in the second half of 1963, but at four months along, she agreed to attend a small 16-person dinner party in her honor. The chef was told ahead of time not to decorate dessert with Amorini, small heart-shaped candies covered in bright-colored coatings or edible silver.
She and Philip stayed until midnight.
Charles and Anne, being only a year apart, were companions in youth and did some traveling abroad together as adults, representing the family at a state dinner at the Nixon White House, but the Prince of Wales has never been particularly close with his brothers. And though the queen still wasn't demonstratively affectionate, Andrew and Edward were privy to a more relaxed, playful side of their mother when they were little. The queen got along better with their nanny, and she was just simply around more despite being consumed with the duties of the crown.
Unlike his own father, Charles was determined to be a hands-on dad when his shot came around.
Princess Diana got pregnant at some point toward the end of their months-long, reportedly quite amorous honeymoon, which they spent cruising around the Mediterranean and Aegean Seas before ending up in Scotland. The public obsession with the barely 21-year-old Princess of Wales already seemed to be operating at fever pitch, so where did it have left to go?
Kent Gavin/Mirrorpix/Getty Images
She found out she was pregnant right before she and Charles embarked on their first official married trip together, a short tour of Wales, in October 1981. It was widely regarded as a major success, Diana charming the locals left and right, but she threw up before every appearance.
"Wrong clothes, wrong everything, wrong timing, feeling terribly sick carrying this child, looking gray and gaunt and still being sick," she recalled later to biographer Andrew Morton.
Sure enough, when the announcement was finally made in November 1981 (a day after Diana and Charles had to cancel dinner and a concert following an appearance at the Victoria and Albert Museum), the public went nuts, jamming the Buckingham Palace switchboard with congratulations. Trying to pinpoint the day of conception joined cricket as a popular pastime. 
Diana's morning sickness lingered, however, and though the queen seemingly knew what she was going through, she apparently didn't think much of her daughter-in-law pulling out of numerous joint appearances with Charles to stay in bed. Not the royal fortitude the monarch was used to.
At least Diana knew ahead of time that she was having a boy, which was still widely considered the better of two options when it came to a firstborn child. Queen Victoria, upon having a girl first, is said to have waved off concerns with, "Never mind, the next will be a prince." (Which it was.)
In her 1995 interview with Martin Bashir for the BBC's Panorama, Diana admitted she felt "enormous relief" when she found out she was having a son. "I felt the whole country was in labor with me. Enormous relief."
On the flip side, the country was pretty darn excited in 1988 for the birth of the first little princess since Princess Anne 38 years beforehand. (Anne, who called pregnancy "very boring," decided not to give her son and daughter, Peter and Zara Phillips, royal titles.) Sarah Ferguson, Duchess of York, and Prince Andrew welcomed Princess Beatrice—and not a moment too soon for the queen, who quipped at a soap factory opening before the birth, "We hope it is soon. We are fed up with waiting." 
She added, "These wretched babies don't come until they're ready. They don't come to order."
Specialty cocktails were whipped up in the infant princess' honor, the royal baby (champagne and strawberry liqueur) and the new Yorker (dark rum, grenadine and Babycham).
But oh how the press' treatment of the royals had changed since the queen was a young mom.
Fergie reportedly craved cheeseburgers during her pregnancy and her weight gain was a subject of much-chronicled fascination. Also while she was expecting, her father was publicly named as a client of a massage parlor and a Ford Fiesta ran into her Jaguar while she was behind the wheel. Eventually the duchess was diagnosed with high blood pressure.
On a babymoon in the Bahamas with Charles in February 1982, paparazzi took long-lens photos of a 5-months-pregnant Diana in a bikini that ended up all over the tabloids, both annoying The Firm and titillating the country.
Prince William was born June 21, 1982, at St. Mary's Hospital—the first direct heir to the British throne to be born in a hospital. Protocol dictated that the queen be Diana's first visitor, ahead of her own mother.
Already unhappily married and both craving acceptance and defiantly wanting to do things her own way, Diana threw herself into being a mum, relieved that her difficult pregnancy was over. But she soon became "unwell with postnatal depression, which no one ever discusses," she told Bashir. She started self-harming as well, cutting her arms and legs.
"Postnatal depression, you have to read about it afterwards, and that in itself was a bit of a difficult time," she said. "You'd wake up in the morning feeling you didn't want to get out of bed, you felt misunderstood, and just very, very low in yourself."
She felt for a long time afterward that her in-laws (and Charles, and perhaps the public too) never stopped viewing her as unstable.
"Well maybe I was the first person ever to be in this family who ever had a depression or was ever openly tearful," Diana recalled. "And obviously that was daunting, because if you've never seen it before how do you support it?"
Dominic Lipinski/Pool Photo via AP
"Personally, becoming a mother has been such a rewarding and wonderful experience. However, at times it has also been a huge challenge," Kate Middleton said last year at an event for the charity Best Beginnings. "Even for me, who has support at home that most mothers do not. Nothing can really prepare you for the sheer, overwhelming experience of what it means to become a mother. It's full of complex emotions of joy, exhaustion, love, and worry, all mixed together."
And that's just when everything goes according to plan.
Waiting until after the first trimester, or 12 weeks, to share the news is over is a pretty common approach for most expectant parents, not just royals, but it wasn't an option for Will and Kate with any of her three pregnancies.
Kate was shy of 12 weeks along in December 2012 when they confirmed they were expecting; she was suffering from hyperemesis gravidarum, acute morning sickness that can cause dehydration and other debilitating side effects, and she required hospitalization—so, the palace was forced to hasten the announcement. (With Internet, the 24/7 news cycle and Ultra HD, there was no escaping it.)
Ben Pruchnie/Getty Images
Happily, after seven months of parading around in the most admired maternity wear ever to be examined with a sartorial microscope, she was "safely delivered of a son," Prince George," in July 2013—and again "of a daughter," Princess Charlotte, in May 2015 after experiencing the same condition early on.
The same timeline applied—announcing less than three months in—with their third child as well. Morning sickness even caused Kate to stay home on George's first day of school last September.
Prince Louis was born in April, and with everyone all worked up over his Uncle Harry's then-upcoming wedding, aside from the usual protocol (which now includes a simultaneous birth announcement on social media) and photo session on the steps of the hospital before his parents took him home, he practically snuck into the world when compared with his big brother.
Press Association via AP Images
But now, it's about to get bonkers all over again.
Harry and Meghan started sharing the good news a couple weeks ago at his cousin Princess Eugenie's wedding, since the entire family was gathered in one place. And, with the Internet already worked up over the shape under the blue coat Meghan wore that day, the Duke and Duchess of Sussex confirmed their first child was on the way on Oct. 15.  
And nowadays, there's none of this polite tiptoeing around the subject. Commentary is pouring in from all corners of the globe, and will likely persist nonstop until the second Meghan is delivered of a son or daughter this spring. Harry won't be exempt from the conversation, either, and like his father and brother before him, every amiable reply will be duly recorded.
Just yesterday, while in Tonga, a doctor in attendance at a reception for the couple encouraged Meghan to take care.
As scheduled, Meghan and Harry embarked on their first royal tour together, of Australia, New Zealand, Fiji and Tonga, with the duchess determined to press on despite lingering Zika concerns in the tropical climes. 
Meghan said "pregnancy was like having jet lag," an Australian who met the duchess at Bondi Beach told Sky News afterward. "She said she was up at 4:30 a.m. this morning doing yoga in her room as she couldn't sleep."
Dr. Miriam Cato, the wife of a New Zealand judge at the reception, told the Press Association that she asked Meghan how she felt and the royal replied, "'Very well, thank you.'" Cato recalled telling her she saw "no visible signs yet!'" that she was pregnant, which prompted an agreeable laugh from Meghan. "As a doctor, I was a bit concerned about her taking all these long trips," Cato added. "I'm a mother of two. I know how it feels. I asked her to take care of herself. She promised to do so."
While the first-time parents will, as per tradition, keep the sonograms and ultrasounds to themselves, there's no need to put a cork in one's feelings these days.
"I hope it's a girl!" a well-wisher shouted to Harry in Australia. At which the prince shouted back, "So do I!"