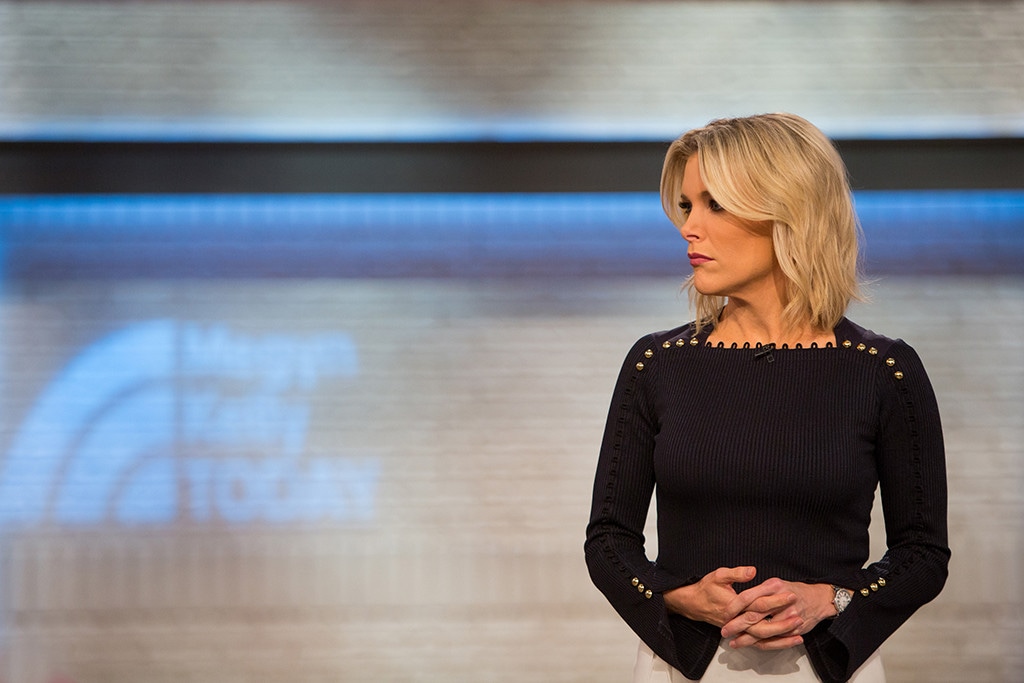 Nathan Congleton/NBC
From the start, Megyn Kelly's tenure at NBC News has been troublesome.
Lured away from Fox News—thanks to a reported $23 million per year three-year contract—Kelly replaced Tamron Hall and Al Roker in Today's 9:00 hour. As part of the deal, she was also given her own hard news show, Sunday Night With Megyn Kelly. After its splashy launch in June 2017, she came under fire for interviewing Alex Jones. Ratings continued to plummet, and after eight episodes, production went on hiatus. But contrary to popular belief, Sunday Night With Megyn was never officially canceled, airing sporadically in the spring and summer of 2018.
The more high-profile gig, of course, was her morning show.
After Megyn Kelly Today premiered on Sept. 25, 2017, critics immediately pounced on the fledgling talk show host, calling her "awkward" and "chilly." One of Kelly's first celebrity guests, Will & Grace star Debra Messing, later said she regretted appearing on the show—and things only worsened when, apropos of nothing, Kelly asked actress Jane Fonda about her past plastic surgery. It became a point of contention for Fonda, who was asked about it for months. Fed up,  Kelly reportedly surprised higher ups when she decided to defend herself—and, appealing to her conservative base, randomly referenced Fonda's "Hanoi Jane" controversy from the 1970s.
It didn't help that tabloids constantly pitted Kelly against fellow female anchors Savannah Guthrie and Hoda Kotb (who replaced Matt Later after his abrupt firing for sexual misconduct). But Kelly's colleagues were quick to defend her, with Guthrie telling Bravo's Andy Cohen in September 2017, "She's got the eyes of the world upon her. I think everybody can relate to how nerve-wracking that is. I think she's awesome. I think the show looks fantastic."
And then...Harvey Weinstein happened.
Allegations about the movie producer's sexual misconduct (which he has denied, via his legal team) led to a reckoning in Hollywood and the birth of the #MeToo and Time's Up movements. Given her history with Roger Ailes at Fox News, Kelly leaned into topics surrounding gender equality and sexual harassment. And as a result, Megyn Kelly Today's ratings improved steadily.
But everything changed Tuesday when Kelly hosted a panel discussion and wondered why it was inappropriate for white people to dress up in blackface on Halloween. The backlash was swift, and she apologized to her colleagues via e-mail later that afternoon; NBC News shared that e-mail publicly. The next morning, Craig Melvin and Al Roker condemned her comments, with the former calling them "indefensible" and the latter saying she should've known better.
Kelly herself appeared on-air later that morning. Admitting she was wrong, she fought back tears as she publicly apologized for offending viewers. "One of the great parts of sitting in this chair each day is getting to discuss different points of view," she said. "Sometimes I talk and sometimes I listen—and yesterday, I learned. I learned that given the history of blackface being used in awful ways by racists in this country, it is not OK for that to be part of any costume, Halloween or otherwise. I have never been a PC kind of person. But I do understand the value in being sensitive to our history, particularly on race and ethnicity. This past year has been so painful for many people of color. The country feels so divided, and I have no wish to add to that pain and offense. I believe this is a time for more understanding, more love, more sensitivity and honor. And I want to be part of that. Thank you for listening and for helping me listen, too."
(Celebrities including Padma Lakshmi, Patton Oswalt, Wanda Sykes, Wendy Williams also called her out. NBC Nightly News With Lester Holt and Late Night With Seth Meyers didn't shy away from covering the controversy, and both mentioned her claim that Santa Claus is white.)
Wednesday only got worse for Kelly after she went off the air.
The Hollywood Reporter blasted out the news that she had been dropped by CAA. The outlet reported she then hired attorney Bryan Freedman, one of Hollywood's top talent litigators. However, NBC News later claimed Kelly fired her agent, Matt DelPiano. Kelly's representative, Davidson Goldin, said she will now be returning to UTA, the agency she previously called home.
Meanwhile, a Netflix spokesperson confirmed to The Hollywood Reporter that several cast members from House of Cards were scheduled to appear on Megyn Kelly Today next week, but canceled in light of the blackface scandal; NBC News didn't respond to a request for comment.
At a town hall meeting Wednesday, NBC News chairman Andy Lack voiced concern over Kelly's comments, saying, "There is no other way to put this, but I condemn those remarks. There is no place on our air or in this workplace for them. Very unfortunate. I think that Nightly covered the story well last night and appropriately so. This morning on the Today show, the team did an excellent job covering it properly. I thought Craig and Al brought a thoughtfulness and a context to it that was sorely missing, and they really did this company and our audience a real public service. That is the Today show and Nightly at their very best. As we sort through this with Megyn, let there be no doubt that this is a workplace in which you need to be proud and in which we respect each other in all the ways we know are foundational to who we are."
Meanwhile, The New York Times reported Kelly's show will likely come to an end in December 2018; NBC News has not commented on reports that the show is possibly being axed. The Hollywood Reporter had similar information, and also revealed Kelly had met with network executives in recent weeks to discuss the future of her show and "expressed a desire to cover more news and politics"—long before the blackface controversy blew up in her face. As a source close to Kelly noted in Variety, "Where do you think Megyn Kelly would be happier: As part of big breaking news or forced to cover light-hearted stories that traditionally work at 9 a.m.?"
Kelly, who has not commented on the reports, did not appear on TV Thursday. "Given the circumstances," a spokesperson said, "Megyn Kelly Today will be on tape the rest of the week."
(E! and NBC are both members of the NBCUniversal family.)