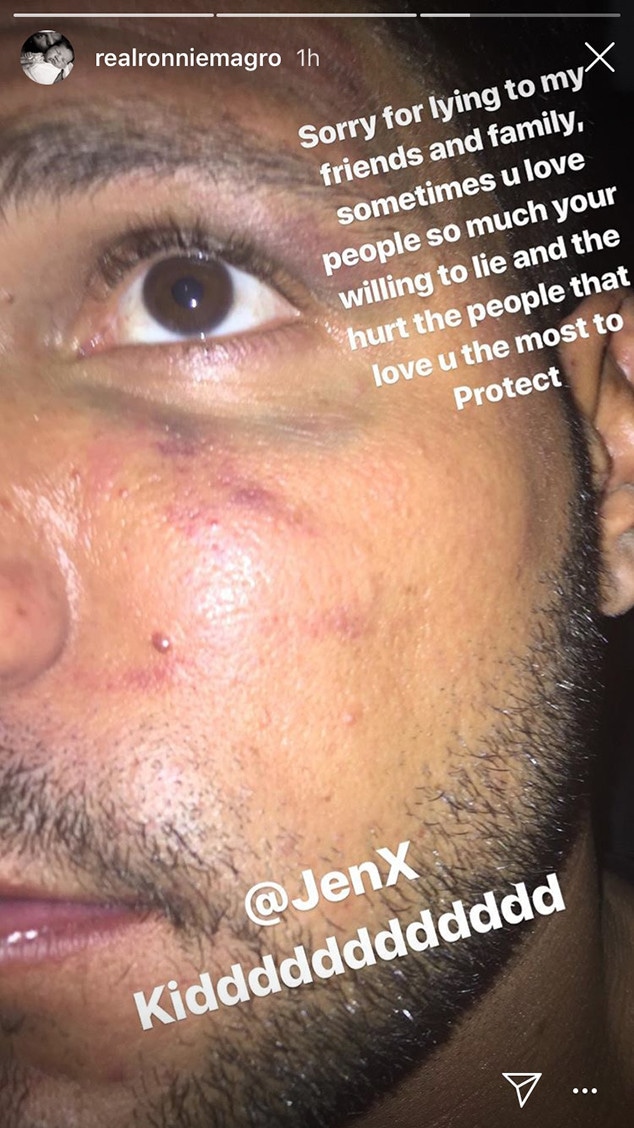 Instagram
It looks like there is once again trouble in paradise.
Ronnie Magro-Ortiz debuted a black eye on his Instagram Story on Wednesday and it seems like he's saying his girlfriend, Jen Harley, might be to blame. He captioned the up close and personal selfie: "Sorry for lying to my friends and family, sometimes u love people so much your (sic) willing to lie and hurt the people that u love the most to protect."
Following Ronnie's post, Jen seemingly made reference to the incident in the comments section of her Instagram, which is set to private. In screenshots obtained by E! News, Jen told a follower, "I don't post my s--t on IG lol. He's lying. I'll prove it again with the car thing I can't deal with a drug addict anymore it's getting so out of control (sic)."
The pair's relationship drama kicked off in April, when the two engaged in a public spat on social media. 
Ronnie initiated the fight when he said, "Note to self, can't turn a natural born HOE, into a HOUSEWIFE, if you find them in the gutter then leave them in the gutter."
Jen fired back, "You can't turn a coke head into a father."
Ronnie and Jen continued the nasty back-and-forth over social media, with Ronnie eventually apologizing for his actions. Days later, the mother and father decided to breakup. 
Drama then ensued a month later, when the parents once again got into an argument at a Las Vegas hotel. At the time, Ronnie was uninjured and declined to press charges.
However, Harley was later arrested for the incident after police determined, through conversations with the reality star and hotel security, that she had been the "aggressor."
And even after all that drama, the duo ended up reuniting over the summer, as a source previously told E! News, "they want things to work out for the baby's sake." 
Fans have been able to see their drama play out on this season of Jersey Shore Family Vacation, which Jen says doesn't accurately depict their relationship. She once told fans, "I'm with him because I love him and we have a connection that most people do not have and it sucks you guys do not get to see it on JS but it's there and it's real and I do believe he's my soulmate."