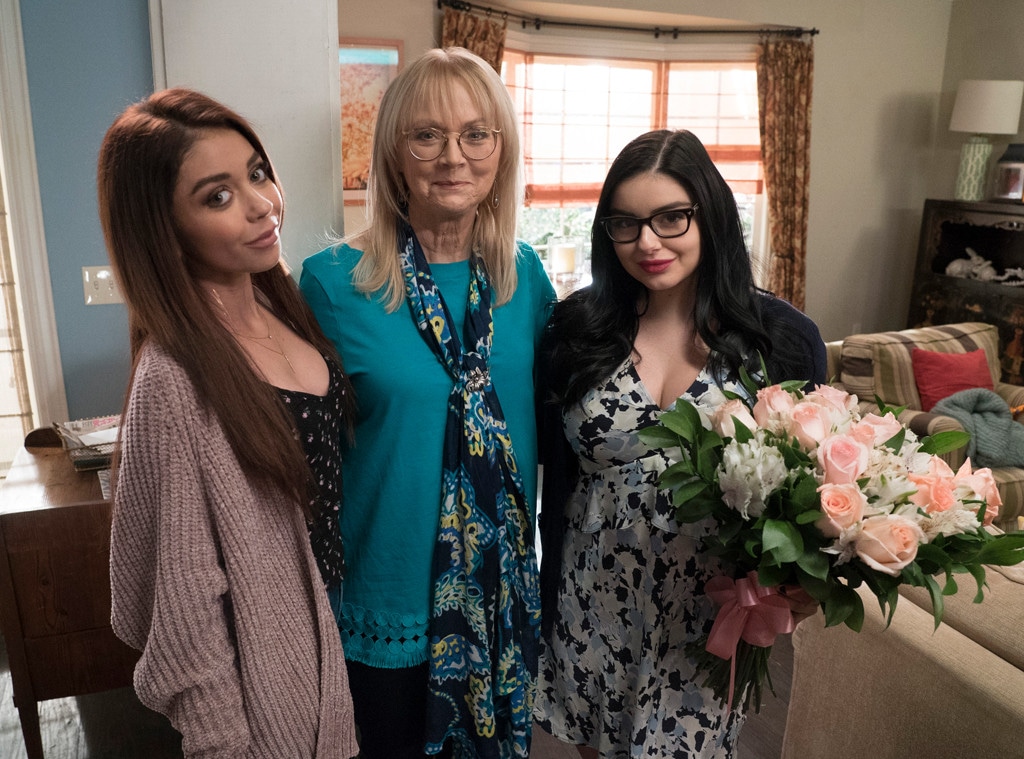 ABC
It may be weird to say this, but it's true: The moment Modern Family fans have been waiting for (dreading) is here: the big death.
So, who kicked the bucket? Spoiler alert! It was Shelley Long's DeDe Pritchett, mother to Claire (Julie Bowen) and Mitchell (Jesse Tyler Ferguson), ex-wife of Jay (Ed O'Neill).
Reactions were...mixed. DeDe was never the most popular member of this extended family, and that fact paired with the fact that everyone was wearing complicated Halloween costumes made for a lot more comedy than tragedy, and a lot more arguing than crying. Claire and Mitch were troubled by childhood memories in the wake of their mother's death, but the rest of the fam had their own way of coping. 
Haley (Sarah Hyland) couldn't stop eating, which apparently made her brain start working for the first time. Luke (Nolan Gould) couldn't stop telling jokes, Alex (Ariel Winter) got mad at them and then had sex with her boyfriend, and Gloria was being haunted by tiny DeDe dolls that all the kids had been given once as gifts, by DeDe. Meanwhile, Phil (Ty Burrell) and Cam (Eric Stonestreet) made the mistake of trying to go to West Hollywood on Halloween night. 
Everyone spent the evening waiting for an explanation for the death, which came at the very end of the episode. After befriending a pack of wolves and being saved by one of those wolves after falling through some ice and then offending a tribe of Inuits and being briefly swallowed by a whale, DeDe died peacefully in her sleep with a smile on her face and a list of suggestions for the hotel staff in her hands. 
"That is so mom," Claire said as the episode ended. 
Fans have known it was coming for months after series executive producer Christopher Lloyd said a "significant character" would die and it would be a "moving event" with effects felt throughout several episodes.
"We're handling some bigger life events in this season," Lloyd told EW. "We do deal with a death, which is certainly a topic that families have to deal with, and on television, it's not easy to do because that's a heavy subject. But at the same time, it would seem unusual for a family not to go through it."
Rumors have run rampant since Lloyd teased the death in early September 2018, with many fans speculating it would be Stella, Jay's dog.
"It's definitely a person, not the dog. I've been hearing rumors about the dog, it's not the dog. It's no animal, it's a human being," Ferguson told E! News at the Children's Hospital of Los Angeles gala.
Death is nothing new to sitcoms, especially ones on ABC. The Conners recently killed off Roseanne Barr's character, Roseanne Conner, by way of opioid overdose after Roseanne was canceled.
Modern Family airs Wednesdays, 9 p.m. on ABC.