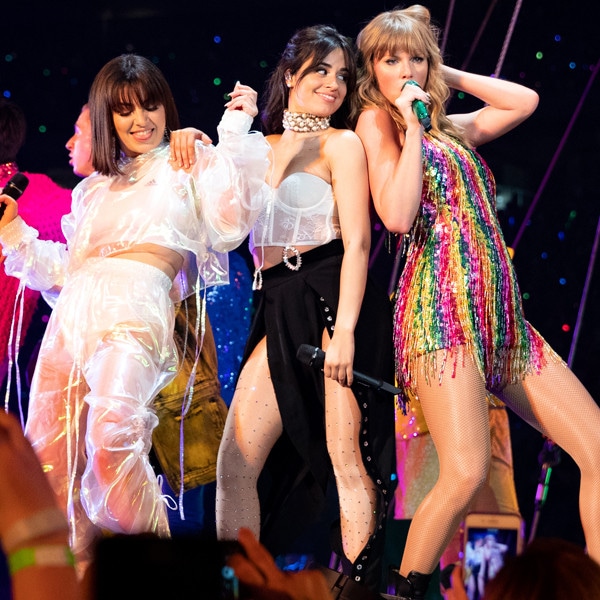 Christopher Polk/Getty Images for TAS
Taylor Swift is officially the queen of surprises...surprise guests that is!
The 28-year-old singer can't stop bringing her friends and fellow musicians out to sing with her during her Reputation Tour and judging from the fans' screams, they don't mind at all. 
We know this is just one of the reasons why the show is up for Concert Tour of 2018 at the E! People's Choice Awards. Swift is also a finalist for Female Artist of 2018 and Social Celebrity of 2018, so clearly she's getting a lot of love from her fans. Perhaps it's because she shows them lots of love in return via her surprise on-stage collaborations!
Throughout this tour, there has been no shortage of stars ready to join Swift on stage and they've all been big pulls. 
For starters, the "Look What You Made Me Do" singer always had her two openers, Camila Cabello and Charlie XCX, ready in the wings to hop on stage and perform "Shake It Off" with the blonde beauty.
The legendary songwriter also had a few of her other pals including, Selena Gomez, Shawn Mendes, and Troye Sivan all grace the stage to sing their hits with her during the artist's Los Angeles tour stops.
During another performance this year, Swift decided to return to her country roots and brought out two of country music's biggest names to help her do it. She enlisted Tim McGraw and Faith Hill to help her sing her debut single, "Tim McGraw" in Nashville and it was flawless.
Maren Morris and Sugarland took the stage to surprise audiences in Texas during the final two nights of the Reputation Tour's U.S. leg and gave country and pop fans something to sing along to.
Check all the best of Swift's special guests on this tour thus far below and don't miss the People's Choice Awards airing live on E! next month.